This game was released on March 01, 2019 and is no longer available to pre-order. Any incentives that were offered are listed below.
Dead or Alive 6 is a fighting game developed by Team Ninja and published by Koei Tecmo. It features the series' archetypal triangle system (strikes beat throws, throws beat holds, and holds beat strikes), while introducing new combat mechanics called Break Gauge and Fatal Rush.
Break Gauge is a new special attack meter that, once filled, can be used to execute Break Blow and Break Hold moves, whereas Fatal Rush is a powerful combo system that uses simple commands to allow new players to get in on the action.
Pre-order Bonuses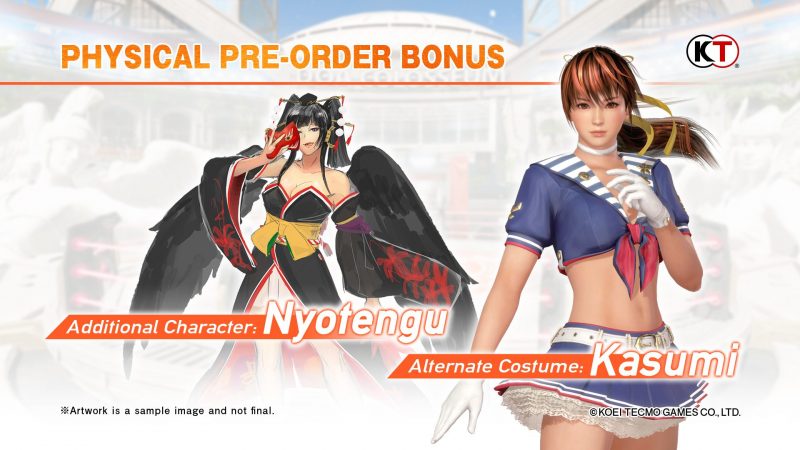 First off, pre-ordering any version of Dead or Alive 6 grants an additional playable character: the female tengu, Nyotengu, who first appeared in Dead or Alive 5 Ultimate Arcade.
Digital pre-orders come with further incentives depending on the platform:
Xbox One: bonus costume for Ryu Hayabusa.
PlayStation 4: Dead or Alive 6 theme.
Then there are assorted bonuses offered by the retailers:
GameStop: an exclusive Steelbook case.
Best Buy: $10 e-gift card delivered via email.
Newegg: $10 discount after adding to cart for specific versions of the game.
Lastly, there's an Early Purchase Bonus program which will go on even after release. Gamers who purchase DOA6 prior to March 14, 2019, will receive a bonus costume for Kasumi. Early purchasers on Steam will also receive the Nyotengu playable character through this program, thus not missing out on any content.
To clarify, either pre-ordering or purchasing before March 14 entitles you to the Early Purchase bonus. If you miss it, Team Ninja has noted that the bonus content will be available to purchase individually after the launch.
Digital Deluxe Edition ($79.99)
The digital Deluxe Edition of DOA6 comes with the following on top of the base game:
Deluxe Costume Set (25 costumes)
Additional character, Phase-4
Three bonus musical tracks
Exclusive Kasumi costume
After a two-week delay, Dead or Alive 6 is scheduled to launch worldwide on March 1, 2019 for Xbox One and PlayStation 4 consoles, as well as Windows via Steam.
Check out our other upcoming fighting games and upcoming pc games.