This game was released on December 06, 2016 and is no longer available to pre-order. Any incentives that were offered are listed below.
Dead Rising 4 is an upcoming zombie brawler developed by Capcom and published by Microsoft for Xbox One and Windows 10. Set in an open world, the game once again stars the badass photojournalist Frank West. It picks up a year after the events in Dead Rising 3, and also takes place in Willamette, Colorado during the holiday season.
The game is said to have a huge array of weapons and vehicles to combat the horde with. New features include a larger, seamless 4-player co-op, new and more dangerous types of zombies, and powered exosuits which allow Frank to deliver devastating melee attacks.
Pre-order bonuses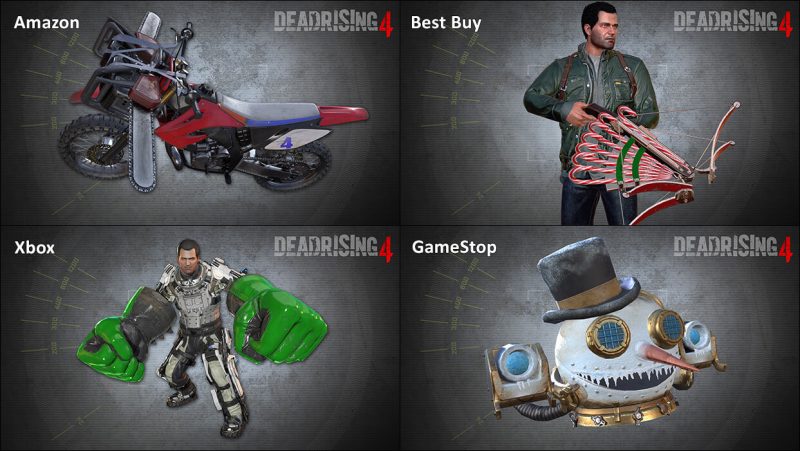 Pre-order Dead Rising 4 at one of the following retailers to get an exclusive weapon usable in Story and Multiplayer modes:
GameStop: Steampunk Snowman Head combo weapon, which launches snowballs at zombies to freeze and shatter them. In addition, receive a Zombie Snow Globe (while supplies last).
Amazon: Slicecycle, an improved and upgraded chainsaw bike.
Best Buy: Candy Cane Crossbow, which allows Frank to share the holiday cheer by firing candy canes. Gamers Club Unlocked members also get an Undead Mistletoe Ornament.
Microsoft Store (disc) or Xbox (digital): X-Fists, a massive combo weapon only equippable when wearing an Exo Suit.
Deluxe Edition
Bundling Dead Rising 4 with a Season Pass, this $79.99 digital edition grants access to new ways to play in Willamette, additional story content, and the exclusive Stocking Stuffer Holiday Pack.
E3 2016 trailer
Dead Rising 4 is scheduled to launch on December 6, 2016 worldwide. It will be out on Xbox One and Windows 10 as a timed exclusive (3 months for Win 10 and one year for the console), so a release on Steam and PlayStation 4 is likely in the future.
Check out our other upcoming action games and upcoming pc games.