This game was released on April 02, 2013 and is no longer available to pre-order. Any incentives that were offered are listed below.
Defiance is a multi-platform MMO shooter developed by Trion Worlds. The game is set in the same universe as Syfy's TV series of the same name. The action takes place on a future Earth which is devastated by a war with Votans – aliens who sought refuge on our planet after their sun went nova. Neither side managed to gain the upper hand, and the Earth was rendered nearly uninhabitable by the decades-long warfare.
By the time the game takes place, various human and Votan factions are starting to work together in order to survive on the less-than-hospitable planet. Incidentally, both humans and aliens are playable in Defiance.
Pre-order bonuses
Pre-order Defiance at participating retailers and you will receive a beta invite, 3-day XP boost, in-game "Outlander" outfit, and an "Iron Demon" title. Each retailer also has an exclusive weapon to offer:
Amazon: The Plague Bringer sniper rifle with a "potech bolt action system which allows you to deliver a high powered toxic round with greater distance and accuracy". In addition, you'll also receive $20 Amazon Instant Video credit.
GameStop: Sporeshot bio-warfare weapon which "utilizes a VBI designed viral loading chamber to inject your enemy with experimental flesh eating bio-organisms". You also get a red Dodge Challenger car.
Best Buy: Magforce BMG weapon which "features a tachmag siphon system for tapping into the power of a hostile horde".
GamersGate, GameFly, and GreenManGaming: Legionaire, a Votan-designed weapon which "will zap and tap the power of your enemy with its exclusive Siphon-Grip technology". (Standard Digital and Digital Deluxe Edition only).
Collector's Edition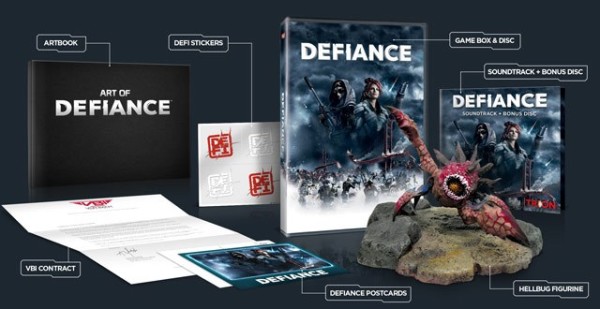 The Collector's Edition of Defiance costs $99 and includes the following extras:
Collector's Box
"Making-Of" DVD
The Art of Defiance Art Book
Limited Edition Hellbug Figurine
Defiance Soundtrack by composer Bear McCreary
Von Bach Industries Ark Hunter Contract
Defiance Postcards and Stickers
Digital items:

Ark Infiltrator Outfit
Rare VBI Sentinel Shield
Hydra rocket launcher
7-Day XP Boost
7-Day Scrip Boost
+5 Inventory Space
"Badlands Drifter" Title
Lock Box
Ultimate Edition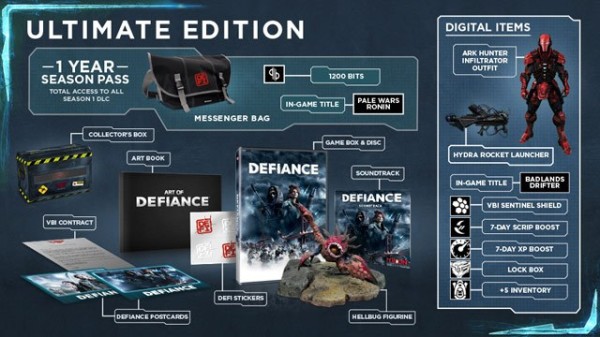 Ultimate Edition includes everything listed under the Collector's Edition, plus the following:
Defiance Messenger Bag
"Pale Wars Ronin" Title
1,200 Bits
Season Pass for DLC
Unlike the Collector's Edition, this one's exclusive to GameStop and costs $149.99.
Digital Deluxe Edition
The Digital Deluxe Edition of Defiance costs $99.99 and comes with the following in-game bonuses:
Ark Infiltrator Outfit
Hydra rocket launcher
Rare VBI Sentinel Shield
+5 Inventory Space
30-Day XP Boost
30-Day Scrip Boost
Lock Box
Unique Vehicle Color
The aforementioned Legionaire weapon is also included if you pre-order from digital distributors like GameFly.
Game and TV show interaction
One of the most interesting aspects of Defiance is that events in the TV series will affect the game – and vice-versa. Nick Beliaeff, the Senior Vice President of Development for Trion Worlds, gave this example in his interview with GamesIndustry:
In one of the episodes of the show, we have an Indogene doctor who figures out there's this nanite contagion spreading and it could doom the town. So she reaches out to her counterpart in the game in San Francisco and now the players in the game have a series of missions that they can fulfill, getting reagents an trying to help the doctor in San Francisco create the cure. The time pressure on the players is they need to do it before next week's episode airs.
It's also worth noting that the game has no subscription fee, but there will be an "item mall" of some sort which will offer premium in-game content for cash.
"Join the Fight" trailer
This trailer depicts the life of an ark hunter, and individual who searches for valuable arktech in the pieces of fallen Votan spaceships.
https://youtu.be/J30hfNT_uf4
Defiance the game is slated to launch on April 2nd, 2013. Defiance the TV show will follow with a two-hour premiere episode on April 15th.
Check out our other upcoming shooter games and upcoming pc games.