This game was released on November 12, 2020 and is no longer available to pre-order. Any incentives that were offered are listed below.
Bluepoint Games is remaking the original Demon's Souls for PlayStation 5. The upcoming remake is exclusive to next-gen hardware and features much improved visuals, faster loading times, 3D audio, and haptic feedback via the new DualSense controller. It can be played in 4K Mode and High Frame Rate Mode.
In Demon's Souls players venture to Boletaria, a land shrouded in mist and beset by ravenous demons, and hone their skill in the arts of sorcery and war to ultimately send The Old One back to its slumber.
Pre-order Bonuses

Pre-order Demon's Souls via PlayStation Store to receive an exclusive bonus weapon: the Reaper Scythe. As per PlayStation Blog:
Once wielded by sorcerers who commanded the spirits of the dead, the Reaper Scythe is a pole weapon with a curved blade on one end that is so sharp that they say it can sever your soul from your body. It can mow down many targets in a single blow, but is difficult to handle and requires both strength and dexterity to use.
The standard edition of the game is priced at $69.99; there is also a digital Deluxe Edition detailed below.
Deluxe Edition ($89.99)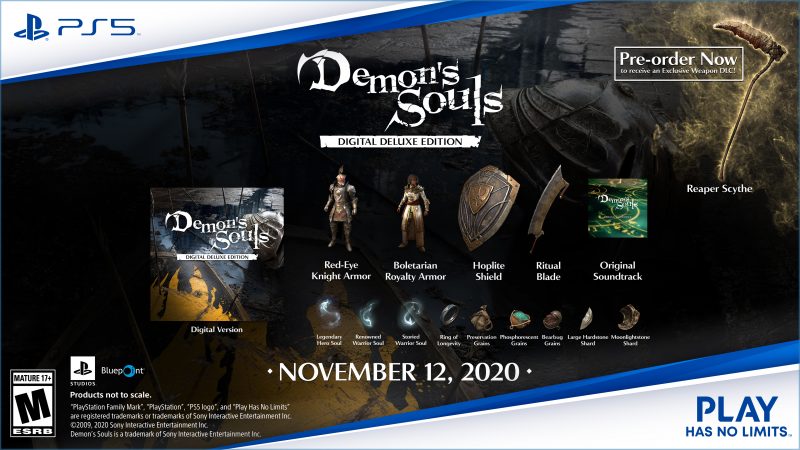 On top of the base game, the digital Deluxe Edition of Demon's Souls includes the following:
Legendary Hero Soul
Renowned Warrior Soul
Storied Warrior Soul
Red-Eye Knight Armor
Boletarian Royalty Armor
Ritual Blade
Hoplite Shield
Ring of Longevity
Preservation Grains
Phosphorescent Grains
Bearbug Grains
Large Hardstone Shard
Moonlightstone Shard
Original soundtrack
These items are exclusive to the Deluxe Edition and will not be available in the regular version of the game.
As a PlayStation 5 launch title, the rebuilt Demon's Souls is coming out on November 12, 2020.
Check out our other upcoming action games and upcoming playstation 5 games.