This game was released on September 09, 2014 and is no longer available to pre-order. Any incentives that were offered are listed below.
Destiny is an online multiplayer FPS with a flavor of RPG developed by Bungie and published by Activision. While the game does have some MMO elements – such as its massive, persistent world – it is referred to as a "shared-world shooter" instead.
Destiny offers the player a choice between three playable races and three classes, the latter of which gives access to different subclasses, abilities, gear, and so on. Multiple game modes are available, such as Campaign (a story mode) or Raid (endgame 6-player coop mission of high difficulty). PvP fans will enjoy the Crucible, which includes multiple competitive game types (Skirmish, Control, etc.) and rewards the players with reputation and special currency.
Pre-order bonuses
Pre-order any edition of Destiny to get early access to Vanguard weapons and gear, as well as a Vanguard player emblem. The following retailers also have some extra bonuses to offer:
GameStop: exclusive upgraded Sparrow vehicle.
BestBuy: $10 in reward certificates for My Best Buy members, and 20% off the game for Unlocked members.
Microsoft Store: $10 Xbox gift card.
In addition, PlayStation owners will get exclusive access to Exodus Blue Competitive Multiplayer Map, Dust Palace Strike, and several weapons, ships, and armor.
Limited Edition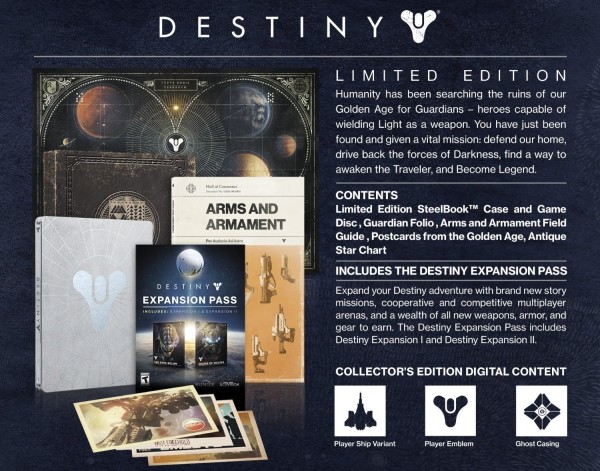 Of course, no AAA game release would be complete without a plethora of special editions packed with collectibles and digital content. The first one is the $99.99 Limited Edition, which comes with the following:
SteelBook Case
Guardian Folio
"Arms and Armament" Field Guide
Postcards from the Golden Age
Antique Star Chart
Digital content:

Exclusive Player Emblem
Exclusive Player Ship Skin
Unique Ghost Casing
Destiny Expansion Pass

Ghost Edition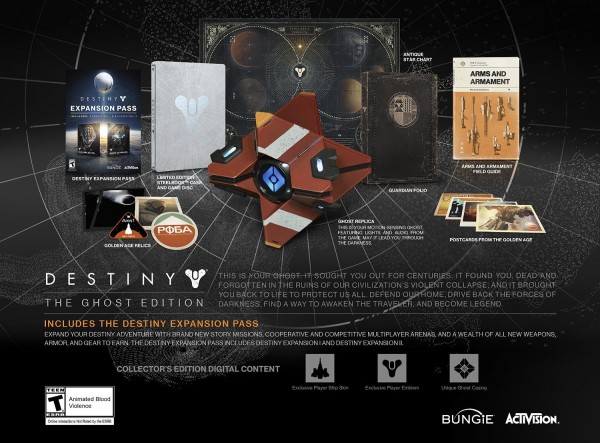 The more expensive ($149.99) Ghost Edition includes all the aforementioned contents of the Limited Edition, plus a motion-sensing Ghost Replica, a Letter of Introduction, and Golden Age Relics (an antique Patch, Sticker, and two Chrome slides of the Traveler).
Digital Guardian Edition
Like the name suggests, this is a downloadable Collector's Edition which includes only the digital exclusives, namely the Player Emblem and Ship Skin, Ghost Casing, and the Expansion Pass. Of course, the Vanguard Armory and Emblem pre-order bonus is also included if you reserve the game in advance.
Venus trailer
In Destiny, players will get to visit most of the planets in the Solar System.
Destiny is scheduled for a worldwide launch on September 9th this year for Xbox and PlayStation consoles.
Check out our other upcoming rpg games and upcoming playstation 3 games.