This game was released on March 08, 2019 and is no longer available to pre-order. Any incentives that were offered are listed below.
Devil May Cry 5 is the latest installment in Capcom's hack'n'slash series Devil May Cry. Dante and Nero make a return as protagonists, and along with a new playable character, V, battle their way through hordes of demons. The franchise is renowned for fast-paced, stylish action, and DmC 5 should be no exception, aided by the fact that it's running at a slick 60 FPS.
Story-wise, the game takes place several years after the Order of the Sword incident. Young Devil Hunter Nero and his partner Nico race into the Red Grave City, where a giant tree has pierced through the surface and is draining the citizens of their blood. On arrival, he crosses paths with the veteran demon hunter Dante and his mysterious client, V.
Pre-order Bonuses

Pre-order any version of Devil May Cry 5 to receive a set of alternate costume colors for Nero, Dante, Nico, Lady, and Trish as depicted above. Further bonuses are available with digital pre-orders depending on the platform:
Xbox One: early access to one of Nero's new Devil Breaker weapons, Buster Arm.
PlayStation 4: a Devil May Cry 5 theme.
PC (Steam): a Devil May Cry 5 wallpaper.
Deluxe Edition ($69.99)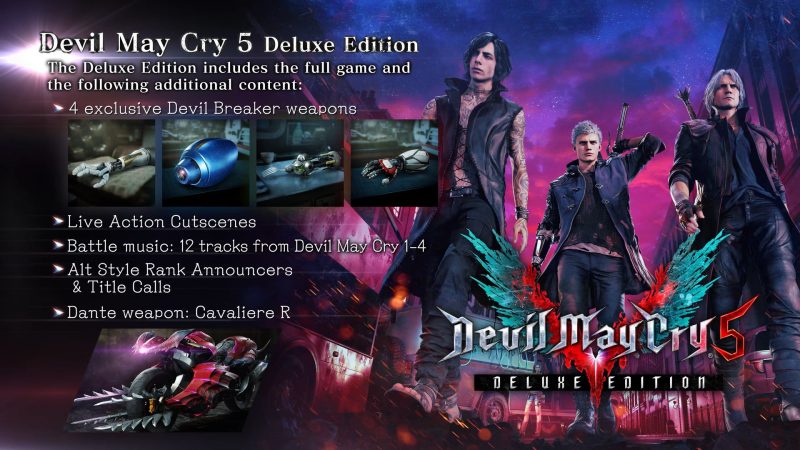 Available both digitally and at retail, the $69.99 Deluxe Edition adds the following extras on top of the base game:
 Devil Breaker weapons: Gerbera GP01, Pasta Breaker, Sweet Surrender, Mega Buster
Dante's enhanced motorcycle weapon: Cavaliere R
Battle music: three tracks each from the original Devil May Cry, DmC 2, DmC 3, and DmC 4
Alternative voices for Style Rank Announcers and Title Calls
Live Action Cutscenes
100,000 Red Orbs (used to acquire new skills and power up your characters)
Devil May Cry 5 hits PC and consoles on March 8, 2019.
Check out our other upcoming action games and upcoming pc games.