This game was released on November 11, 2016 and is no longer available to pre-order. Any incentives that were offered are listed below.
Dishonored 2 is an action-stealth game developed by Arkane Studios and published by Bethesda. It gives the players a choice of stepping back into the shoes of Corvo Attano, the protagonist of the previous installment, or playing as Emily Kaldwin, the daughter of the Empress. Both characters have their own set of powers, gadgets, and uniquely-tuned weapons. Unlike in the original Dishonored, the protagonists are also fully voiced.
The missions in Dishonored 2 can be approached with stealth or violence, and the skill upgrade trees as well as bonecharm crafting allow the players to tailor their character to suit their playstyle. In addition, the sequel is said to have more in-depth gameplay and difficulty options aimed at those looking for a more challenging (or easier) experience.
Pre-order bonuses
Pre-order Dishonored 2 before the release date to get a free digital copy of Dishonored: Definitive Edition, an enhanced version of the original title which includes all the DLC and features improved graphics. In addition, start playing a day early. This applies to all platforms and both physical as well as digital versions of the game.
Furthermore, physical editions from participating retailers come with the Imperial Assassin's Pack (make sure you're getting the "Limited Edition" if you want this bonus):
Duelist's Luck Bone Charm: bullet packs have an increased chance of holding one more bullet
Void Favor Bone Charm: supernatural powers have an increased chance of consuming no mana
Lore Book: A Musician's Farewell
Antique Serkonan Guitar
500 coins to use in black market shops
And now for retailer exclusives:
Best Buy: Dishonored comic book. Also offers an exclusive The Royal Protector Bundle ($74.99) with Collectible Steelbook, Corvo Keychain and Dishonored: Corroded Man Novel.
GameStop: a reversible mask.
Amazon: free Dishonored soundtrack.
Collector's Edition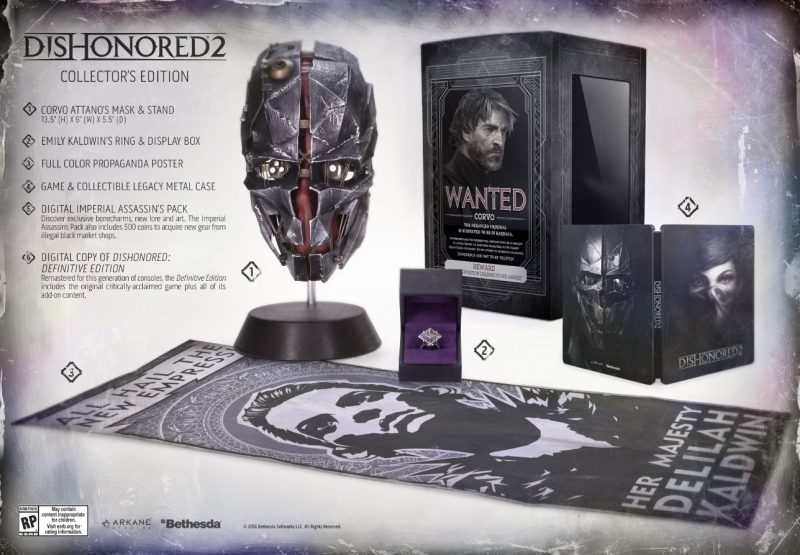 Dishonored 2 also comes in a Collector's Edition which retails for $100 and includes the following:
Corvo Attano's Mask Replica & Stand: a recreation of Corvo's in-game mask sized 13.5″ x 6″ x 5.5″.
Emily Kaldwin's Ring Replica & Display Box: a wearable replica of Emily's ring made of zinc alloy. Includes a premium, embossed black ring box with purple velvet inner lining.
Full Color Propaganda Poster Print: a limited edition full color print issued by the infamous Propaganda Office of Karnaca.
Collectible "Legacy" Metal Case: exclusive to the Collector's Edition, the limited-edition metal case is decorated with the portraits of Empress Emily Kaldwin and Royal Protector Corvo Attano.
Digital Imperial Assassin's Pack: earn exclusive bonecharms like Duelist's Luck and Void Favor and discover new lore & art including an Antique Serkonan Guitar and the book Goodbye, Karnaca – A Musician's Farewall.  Also includes 500 coins to acquire new gear and weapons within Karnaca's illegal black market shops.
Dishonored: Definitive Edition: this premium package also includes a digital copy of Dishonored: Definitive Edition. Remastered for this generation of consoles, the Definitive Edition includes the original critically-acclaimed game in the Dishonored series which won more than 100 'Game of the Year' Awards plus all of its add-on content: Void Walker's Arsenal, Dunwall City Trials, The Knife of Dunwall and The Brigmore Witches.
The CE can be found at major retailers and Bethesda Store. According to the publisher, the supply is limited.
The game is scheduled to be released on November 11, 2016 worldwide.
Check out our other upcoming action games and upcoming pc games.