This game was released on May 13, 2016 and is no longer available to pre-order. Any incentives that were offered are listed below.
DOOM is a reboot of the classic first-person shooter series by id Software. The new installment targets 1080p at 60 FPS on the consoles, with higher resolutions available on the PC (FPS is still locked at 60). The game features a large variety of weapons, including classics such as the chainsaw or the super shotgun. The new combat system encourages players to keep pushing forward, as enemies drop ammo and health packs when killed.
In addition to single player, DOOM also has multiplayer with several modes such as deathmatch and freeze tag. Furthermore, it includes a level editing tool called SnapMap, which allows the players to create their own maps and game modes.
Pre-order bonuses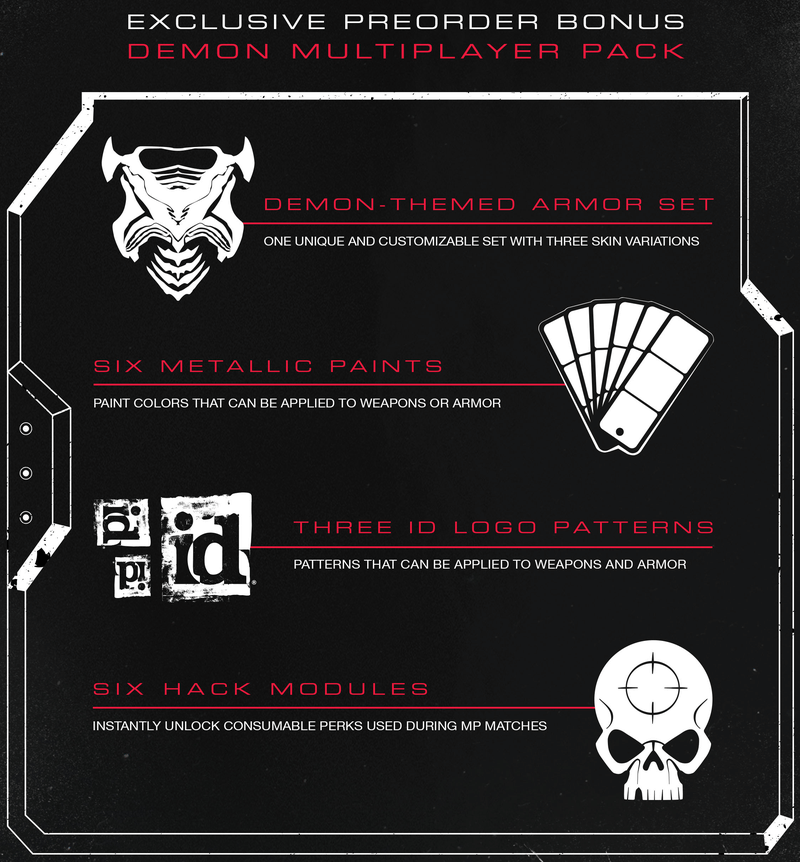 Pre-order DOOM to get the Demon Multiplayer Pack with these goodies:
Customizable demon-themed armor set with 3 skin variations
6 metallic paints for armor or weapons
3 id logo patterns that can be applied to weapons and armor
6 Hack Modules (single-use items which grant temporary perks in MP matches)
For additional bonuses, see the list below:
GameStop: exclusive double-sided poster (limited quantities)
Xbox Store: free copies of DOOM I and II, available on Xbox One via Backward Compatibility
Steam (pre-purchase): free copy of Wolfenstein: The Old Blood
Collector's Edition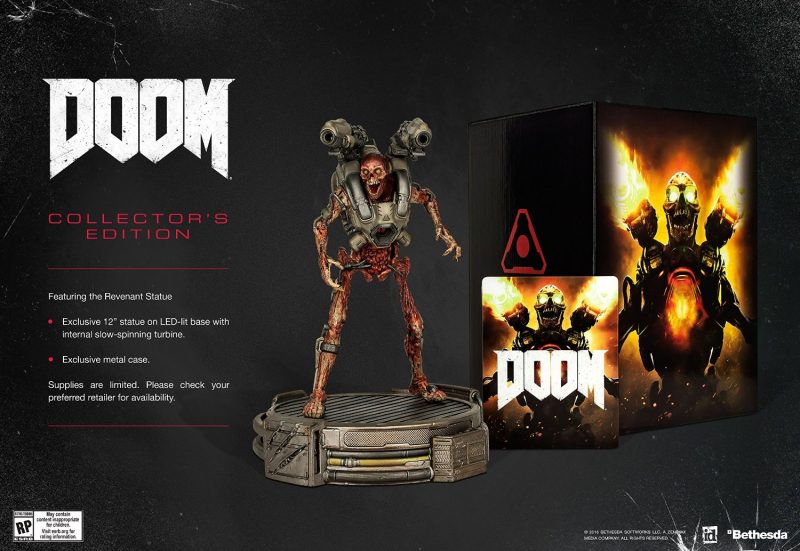 DOOM also has a $120 Collector's Edition, featuring a 12″ statue of the Revenant standing on a LED-lit base, and an exclusive metal case.
The new DOOM will be releasing worldwide on Friday the 13th in May.
Check out our other upcoming shooter games and upcoming pc games.