This game was released on November 18, 2014 and is no longer available to pre-order. Any incentives that were offered are listed below.
Dragon Age: Inquisition is an upcoming sequel to the highly popular Dragon Age franchise. After the success of Origins and a lot less well-received DA2, BioWare went back to the drawing board for Inquisition. The new game is said to combine the best elements of its two predecessors; for one, tactical view is making a return, although it is still possible to play in a more action-oriented style with over-the-shoulder camera. Then there's multiple playable races (including Qunari), more open world exploration, and improved customization for your gear. Finally, borrowing one of the better features of Dragon Age 2, the protagonist of the game – the Inquisitor – is fully voiced.
Inquisition is also the first installment of the series to include multiplayer. It offers cooperative quests which can be played with up to four players, and are separate from the main storyline.
Pre-order bonuses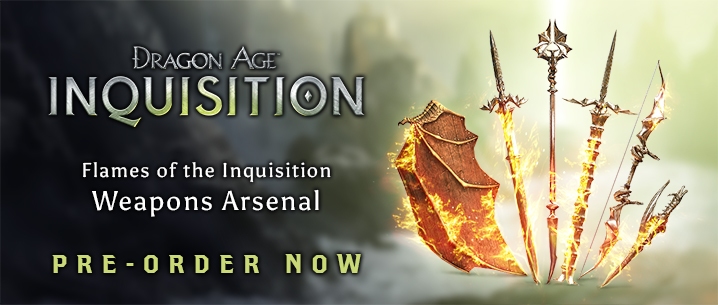 Reserving a copy of Dragon Age: Inquisition will allow you to deck your character out in Flames of the Inquisition gear. For the Standard Edition, this seems to be limited to the Weapons Arsenal displayed above, which includes a fiery implement of death suitable for each class. Pre-orders of the Deluxe Edition, on the other hand, will also be getting similarly-themed armor as well as a steed. These offers are not exclusive to any one retailer.
Deluxe Edition
The Deluxe Edition of Dragon Age: Inquisition is available for all platforms, including PC downloads. Costing $10 above the Standard one, it comes with the following in-game extras:
Skyhold Throne: a badass throne fashioned from an ancient dragon skull
Red Hart Halla mount: because you always wanted to ride a moose
Bog Unicorn mount: fearsome and not at all cute
Digital OST of the game
Furthermore, pre-orders of this edition will also be getting the rest of the Flames of the Inquisition DLCs, namely the armor and yet another mount: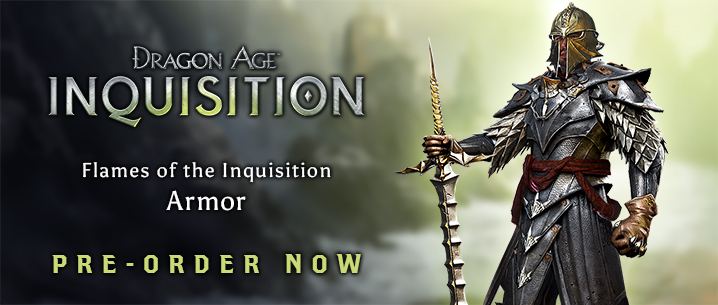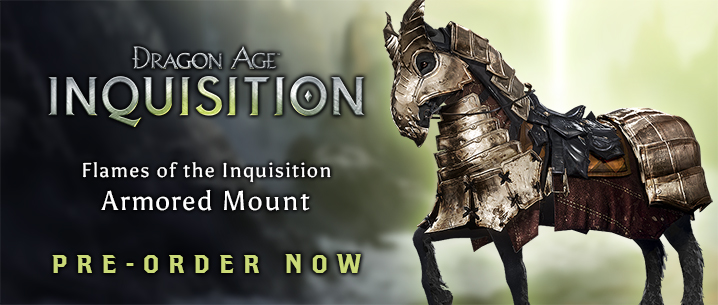 Naturally, the Weapons Arsenal is included here as well.
Inquisitor's Edition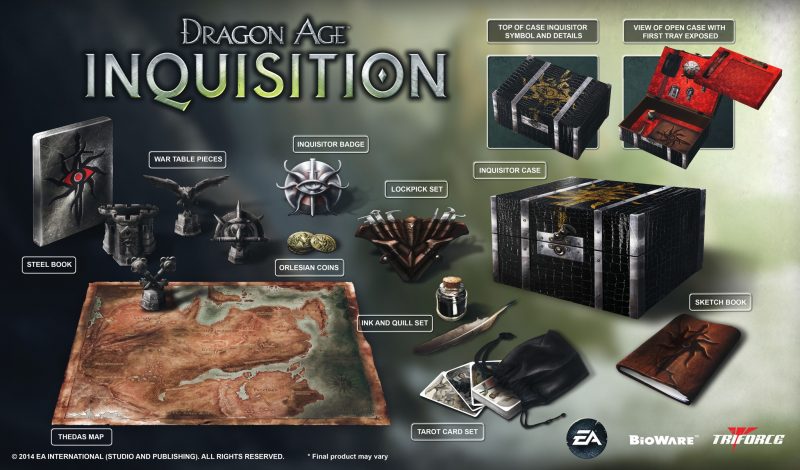 Lastly, we have the Inquisitor's Edition, which is exclusive to GameStop and comes with a hefty price tag of $169.99. In addition to all aforementioned digital items, it comes with the following physical goods:
Collector's Edition box wrapped in faux reptile skin and lined with red silk
SteelBook case to house your copy of the game
Cloth map of Thedas measuring 14″ x 17″
72 card Major and Minor Arcana tarot deck with Dragon Age artwork
Full scale set of six lockpicks
Four large map markers
Inquisitor's Badge
Quill and Inkpot
40-page Inquisitor's Journal
Orlesian coins
Gameplay trailer
After being delayed again, Dragon Age: Inquisition is now scheduled to be released on November 8th, 2014 in the US and November 21st in Europe for all major platforms.
Check out our other upcoming rpg games and upcoming pc games.