This game was released on February 24, 2015 and is no longer available to pre-order. Any incentives that were offered are listed below.
Dragon Ball Xenoverse is an upcoming fighting game developed by Dimps and published by Bandai Namco Games. It features large, fully 3D levels, environmental destruction, and battles in the air, on the ground, and under water. In addition to the online multiplayer with up to 3v3 team matches, it will also be possible to play locally.
The game's Story Mode follows an original player-created character (customization options include race, gender, clothing, voice, etc.) and is said to offer 10+ hours of gameplay. The plot revolves around a pair of villains who attempt to rewrite the history of the Dragon Ball universe, while the player attempts to restore it.
Pre-order bonuses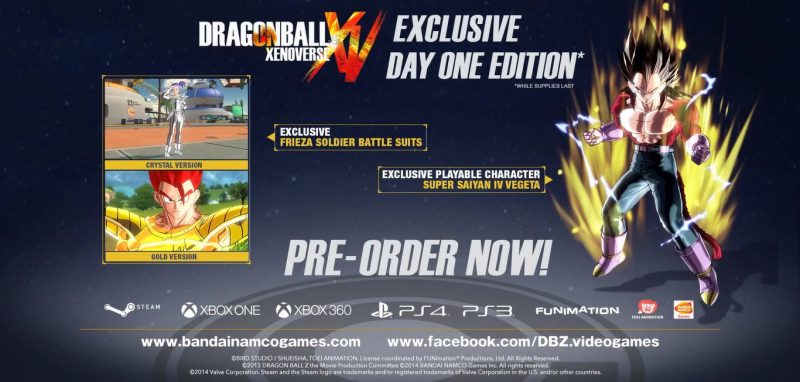 Pre-order Dragon Ball Xenoverse to get a free upgrade to Day One Edition, which includes the following:
Super Saiyan 4 Vegeta playable character
Two Frieza Soldier's Battle Suits (Gold and Silver versions)
Jump Festa trailer
Dragon Ball Xenoverse will be released on current-gen as well as previous-gen Xbox and PlayStation consoles. PlayStation 4 and Xbox One versions of the game will feature better graphics and possibly additional features as compared to their predecessors. Xenoverse is also going to be the first Dragon Ball game to launch on PC (via Steam). The release date in North America is set for February 24, 2015.
Check out our other upcoming fighting games and upcoming pc games.