This game was released on April 25, 2017 and is no longer available to pre-order. Any incentives that were offered are listed below.
Dragon Quest Heroes II is a hack-and-slash action RPG which combines the world and characters of Dragon Quest with combat mechanics from Dynasty Warriors. Players will set out on a new adventure to protect the Seven Realms, battling hordes of monsters and exploring diverse and expansive environments. The playstyle is said to be more customizable than in the first installment thanks to the ability to change vocations (Warrior, Priest, Mage, and so on). The game supports online co-op for up to 4 players.
Dragon Quest Heroes II is developed by Omega Force and published by Square Enix. The Western release is limited to PlayStation 4 and Steam platforms.
Pre-order bonuses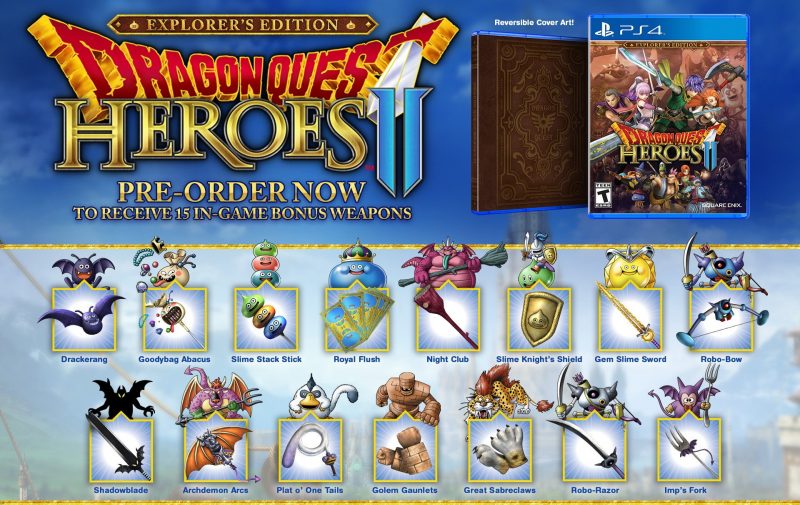 A special Explorer's Edition of Dragon Quest Heroes 2 is available for pre-order, which includes a special inlay with a reversible cover so you can make your copy of the game resemble the Adventurers Logbook. It also comes with the following 15 DLC weapons, as depicted in the image above:
Archdemon Arcs
Drackerang
Gem Slime Sword
Golem Gauntlets
Goodybag Abacus
Great Sabreclaws
Imp's Fork
Night Club
Plat o' One Tails
Robo-Bow
Robo-Razor
Royal Flush
Shadowblade
Slime Knight's Shield
Slime Stack Stick
Reserving a digital copy through PlayStation Store also gets you the following items inspired by other games in the franchise:
Dragon Quest I Hero Costume
PS4 Theme
Healix the Hero Recipe for Dragon Quest Builders PS4 version (allows Dragon Quest Builders players to build a statue of Healix)
Dragon Quest Heroes II will be out on April 25 in North America.
Check out our other upcoming action games and upcoming pc games.