This game was released on November 10, 2015 and is no longer available to pre-order. Any incentives that were offered are listed below.
Fallout 4 is an upcoming action RPG developed and published by Bethesda. The game takes place in the post-apocalyptic Boston, two hundred years after the Great War. Unlike its predecessors, this fifth major installment in the series uses a new graphics engine (modified Skyrim's Creation Engine), bringing visual improvements and 1080p gameplay on the current-gen consoles.
While the gameplay mechanics remain similar to those of FO3, there are many new features like a fully-voiced protagonist, base building, more complex crafting, and a split-piece armor. The S.P.E.C.I.A.L. character system is also overhauled, resulting in significantly faster leveling and better-balanced perks, according to the devs.
Pre-order bonuses
All physical pre-order copies of Fallout 4 include a Vault-Tec Perk Poster showcasing all the Perks from the game's SPECIAL leveling system. In addition, reserving a copy grants you an entry into the Enter the Vault Sweepstakes on Facebook (you'll need the code on your receipt). Prizes include a VIP trip to Boston, custom Xbox One consoles, and more.
As for retailer bonuses, Best Buy is offering their usual 20% discount for Gamers Club Unlocked members.
There are also some platform-exclusive bonuses available: Xbox One version of the game comes with a free downloadable copy of Fallout 3 (limited-time offer, lasts for up to 90 days following FO4's launch), whereas PS4 owners can get a Fallout 4 Garage Theme by pre-ordering via PlayStation Store.
Pip-Boy Edition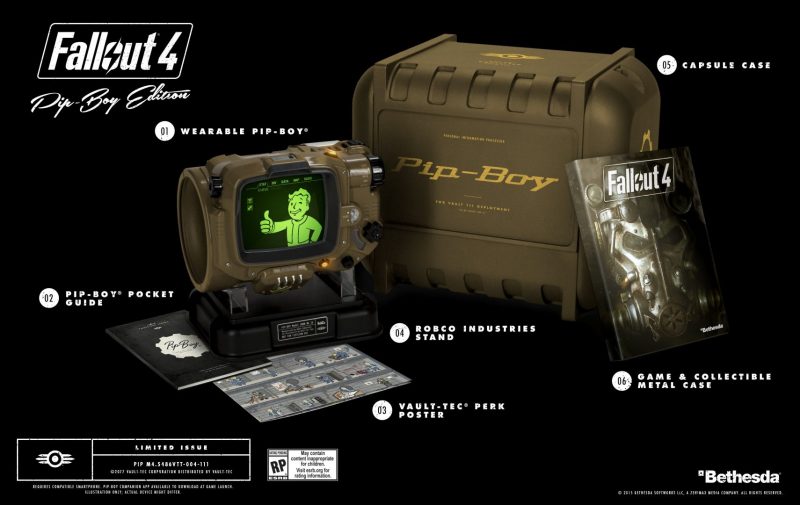 The main appeal of this $120 Collector's Edition is the wearable Pip-Boy replica. Housing a compatible smartphone, it works with the official Pip-Boy mobile app, allowing the players to manage their inventory, perks, and more on a second screen. The companion app will be available to everyone, not just those lucky few who managed to snag the CE (which sold out in record time following its announcement).
Other extras include a Stand, a Capsule Case, and a Pocket Guide for the Pip-Boy, the aforementioned Vault-Tec Perk poster, and the game itself in a collectible metal case.
In-engine trailer
https://www.youtube.com/watch?v=GE2BkLqMef4
Fallout 4 is scheduled for a worldwide release on November 10, 2015.
Check out our other upcoming action games and upcoming pc games.