Genre
Survival
Platform

Release date
Nov 14, 2018
This game was released on November 14, 2018 and is no longer available to pre-order. Any incentives that were offered are listed below.
Fallout 76 is a multiplayer survival game set in West Virginia in year 2102, well before the events in the previous installments. It centers around Vault 76, the inhabitants of which are tasked with rebuilding society a quarter-century after the nuclear apocalypse.
The game is fully online, with a dozen or so players gathering resources and building bases in a shared world that is said to be four times larger than that of Fallout 4. It is possible to work at surviving alone, or in a party with up to four friends. If cooperation ain't your thing, it is possible to collect launch codes and nuke other players' bases. Progress isn't lost upon death, however, and the characters can be freely transferred between servers.
Pre-order Bonuses
Pre-ordering Fallout 76 grants access to what Bethesda calls B.E.T.A. (Break-It Early Test Application). This applies to every edition of the game. The beta runs in scheduled sessions from October 30 all the way until release.
Digital PC versions from Bethesda.net additionally come with the Fallout Classic Collection containing Fallout, Fallout 2, and Fallout Tactics: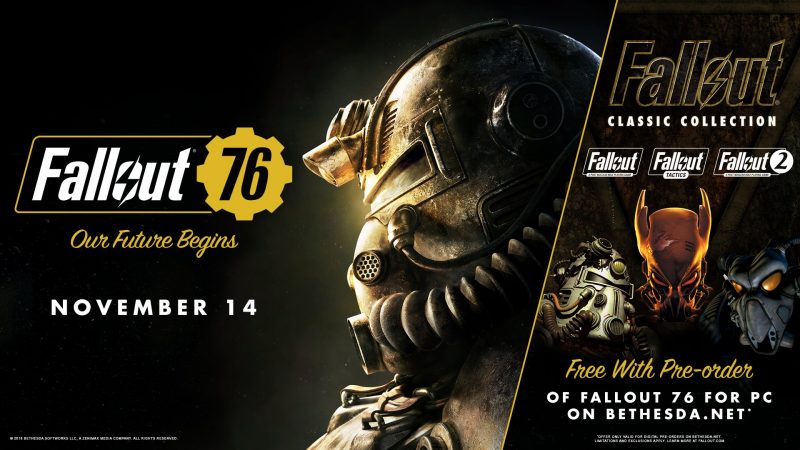 Lastly, any retailer-exclusive bonuses are listed below:
Best Buy: free SteelBook case and $10 in reward certificates to My Best Buy members.
Amazon: $10 promotional credit for Prime members.
Newegg: $10 discount on adding the game to cart.
Tricentennial Edition ($79.99)
The Tricentennial Edition celebrates 300 years of freedom, bringing the following digital bonus items on top of the base game:
Tricentennial Power Armor Customization for the T-51, T-45, T-60, and X-01 Power Armors
Tricentennial Weapon Customization for the 10MM Pistol, Hatchet, and Laser Rifle
Spectacularly Handsome Vault Boy Mascot Head
Patriotic Uncle Sam Outfit
Celebratory Vault Boy Saluting Emote
First-Class Tricentennial Workshop Posters
Tricentennial Commemorative Photo Frame
Power Armor Edition ($199.99)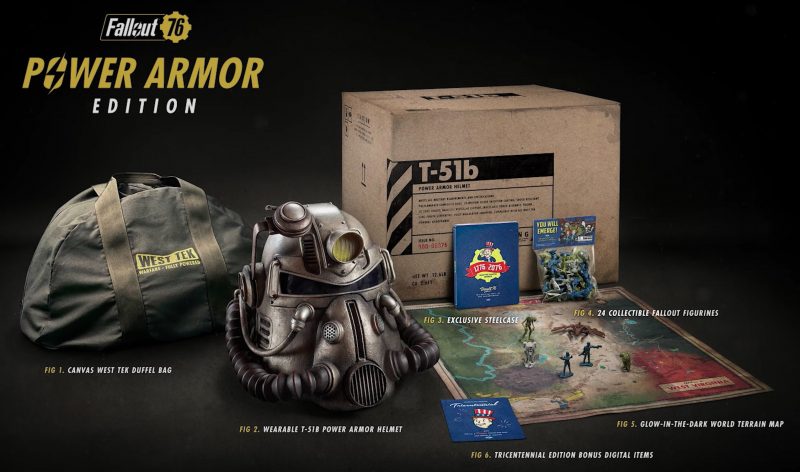 The hefty Power Armor Edition includes all the bonus in-game items from the Tricentennial Edition, plus these collectibles:
Full-Scale Wearable T-51 Power Armor Helmet: faithfully replicates the in-game model and comes complete with voice modulator speaker, functioning LED head lamp, and custom V.A.T.S. sound feature.
Glow-in-the Dark World Terrain Map: fully-colorized 21″x 21″ glow-in-the-dark vintage map showcases the six distinct regions of West Virginia complete with irradiated landmarks, towns, and wildlife.
24 Collectible Fallout Figurines: crafted from in-game 3D models, these detailed miniatures bring Fallout 76's Vault Dwellers, Power Armored Soldiers, and Creatures to life.
Tricentennial Steelbook: exclusive to the Power Armor Edition, this decorated metal case is the ultimate collectible celebrating America's 300 years of freedom.
West Tek Canvas Carrying Bag: it's a duffel bag.
Pip-Boy 2000 Construction Kit ($149.99)
For the sake of completeness, we're also going to mention the recently-announced Pip-Boy 2000 Mark VI kit. Shipping out as 150 separate parts packed in a faux-leather case along with tools and instruction manual, once assembled it becomes a highly accurate replica of the Pip-Boy Model 2000 Mark VI from Fallout 76. The kit is exclusive to GameStop & ThinkGeek, and ships this November.
The release date of Fallout 76 is set for November 14, 2018.
Check out our other upcoming action games and upcoming pc games.