This game was released on November 18, 2014 and is no longer available to pre-order. Any incentives that were offered are listed below.
The fourth installment in the popular Far Cry series takes the players to Kyrat, a fictional Himalayan region ruled by the game's antagonist Pagan Min. A power-hungry Hong Kong drug lord, Min used an ongoing civil war in the remote kingdom of Kyrat to claim the throne, and then proceeded to remake the country to his own liking. Yet not everyone in the land is willing to submit to his despotic rule. The parents of the game's protagonist – Ajay Ghale – were the leaders of the resistance movement in Kyrat. That's why, when Ajay returns to the country of his birth from America to scatter his mother's ashes, he gets a warm welcome from the unpredictable Pagan Min.
Pre-order bonuses
Pre-order Far Cry 4 for a free upgrade to the Limited Edition which comes with Hurk's Redemption DLC. This content pack grants three bonus missions and the Impaler harpoon gun. In addition, exclusive single-player weapons are offered by the following vendors:
GameStop: Driller Machine Gun
Walmart: Sandman 1911 Pistol
Amazon: Elephant Double-Barrel Rifle
Best Buy: The Butcher's Machete
There are also several premium editions of the game which offer more physical and digital goodies.
Kyrat edition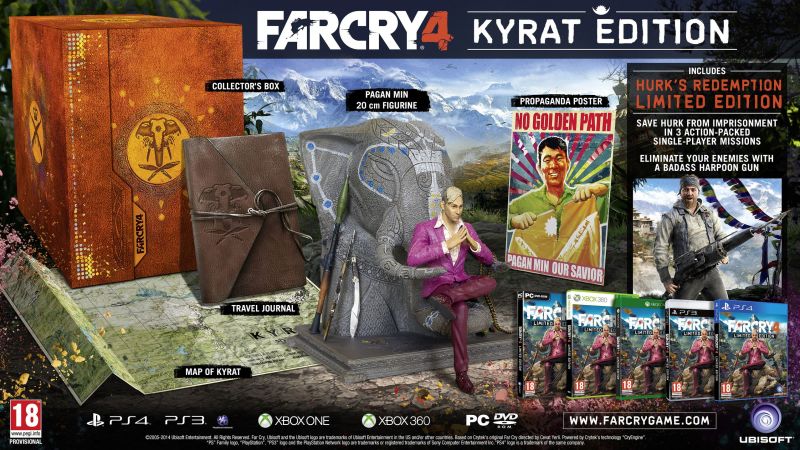 This Collector's Edition of FC4 costs $130 and comes with the following:
Collector's box
7.9″ Pagan Min figurine
Travel journal
Map of Kyrat
16.5″ x 30″ propaganda poster
The content from the aforementioned Hurk's Redemption pack is also included.
SteelBook edition
The more humble SteelBook Edition of Far Cry 4 is available exclusively at Uplay shop and adds SteelBook packaging, the map, and the propaganda poster to the base game. Lack of the more expensive collectibles also means that this edition will only lighten your wallet by $65.
Gold edition
The downloadable Gold Edition is basically Far Cry 4 bundled with the Season Pass and priced at $90. Amazon is currently offering a small bonus in the form of $5 store credit for video games if you pre-order this particular edition with them.
Survive Kyrat trailer
Far Cry 4 is scheduled to be released on November 18, 2014 for current and last-gen consoles as well as PC.
Check out our other upcoming action games and upcoming pc games.