This game was released on March 27, 2018 and is no longer available to pre-order. Any incentives that were offered are listed below.
The fifth main installment in Ubisoft's Far Cry franchise takes place in a fictional Hope County in modern-day Montana. Players take on the role of a local sheriff's deputy, and fight a radical doomsday cult known as Eden's Gate, which is led by the charismatic Joseph Seed.
Far Cry 5 features all the series' staples, such as open world, various vehicles, customizable weapons, and gadgets. The game also borrows the "Fang for Hire" system from Far Cry Primal, allowing the player to tame wild animals to assist them in battle. The entire single campaign can be played in a two-player online co-op.
Pre-order Bonuses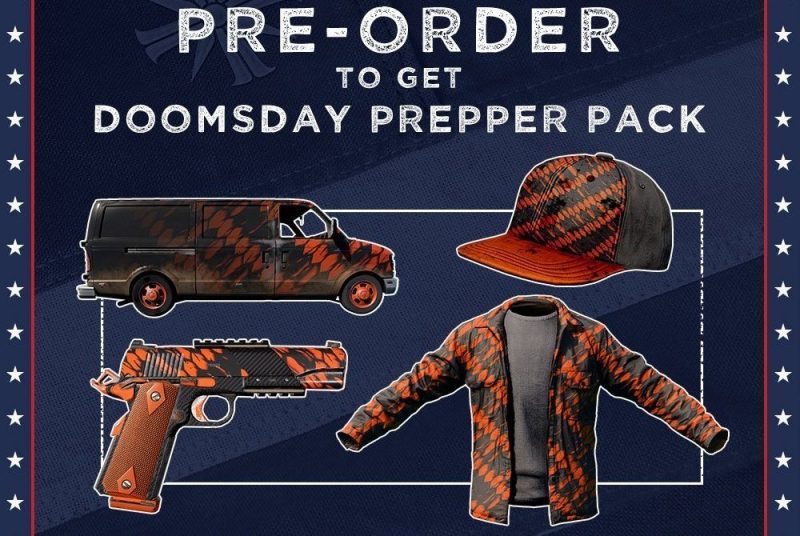 Pre-order Far Cry 5 to receive the Doomsday Prepper Pack, which comes with the prepper outfit, gun and vehicle skins, and additional consumables. Any bonuses in addition to that will be listed below:
GameStop:

an exclusive heat-changing Cult Mug (offer expired)
an entry to win a real-life, Far Cry 5-themed Polaris RZR

Best Buy: $10 gift card
PlayStation Store (digital): three Far Cry 5 Avatars
As usual with Ubisoft games, there is a number of premium editions to choose from.
Deluxe Edition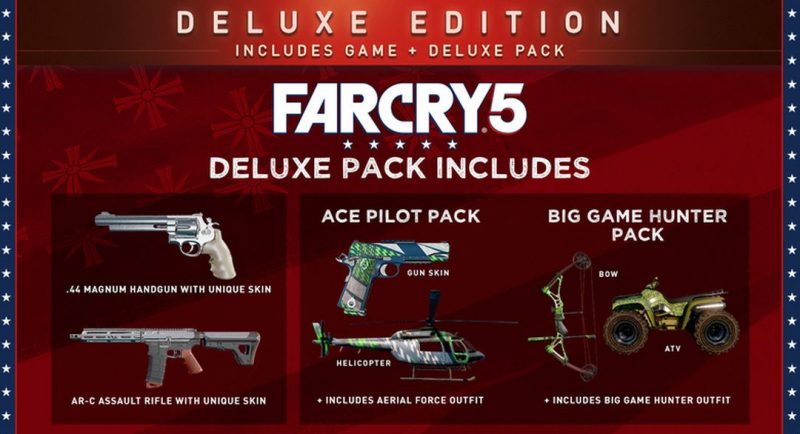 The Deluxe Edition ($69.99) comes with a Deluxe Pack of in-game content:
The Big Game Hunter Pack (Compound Bow, Outfit, ATV)
The Ace Pilot Pack (Handgun, Outfit, Helicopter)
The Explosive Pack (4 each of dynamite, C4, grenades, and proximity mines)
The Chaos Pack (4 each of Fast buffs, Furious buffs, Molotov cocktails, and animal bait)
AR-C Assault Rifle and .44 Magnum Handgun with unique skins
Gold Edition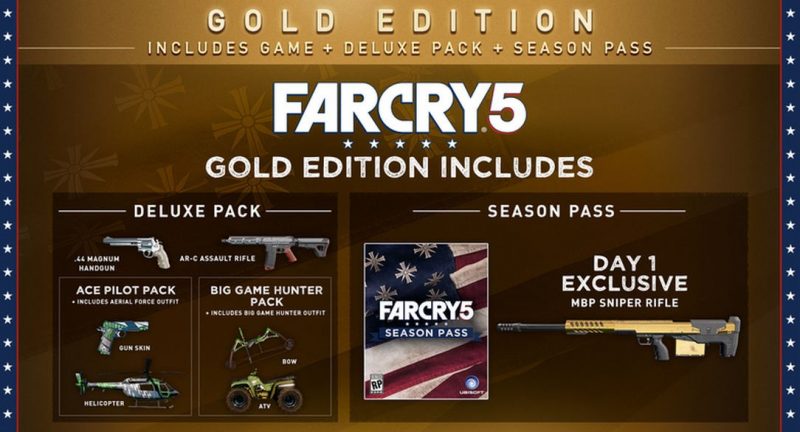 The Gold Edition ($89.99) includes all the Deluxe Edition content, and adds a Season Pass on top. It also comes with a day one exclusive MBP Sniper Rifle.
The Season Pass can also be purchased separately for $29.99. It contains a copy of Far Cry 3 Classic Edition and three add-ons for FC5:
Hours of Darkness: travel back in time to Vietnam War and fight the Việt Cộng.
Dead Living Zombies: face hordes of zombies in seven hilarious B-movie style scenarios.
Lost on Mars: stop the Martian Arachnid invasion on the red planet and get back home safely.
Steelbook Gold Edition
Finally, we have the $99.99 SteelBook Gold Edition, which includes all the previously mentioned digital add-ons, and comes in a collectible SteelBook case.
Mondo Edition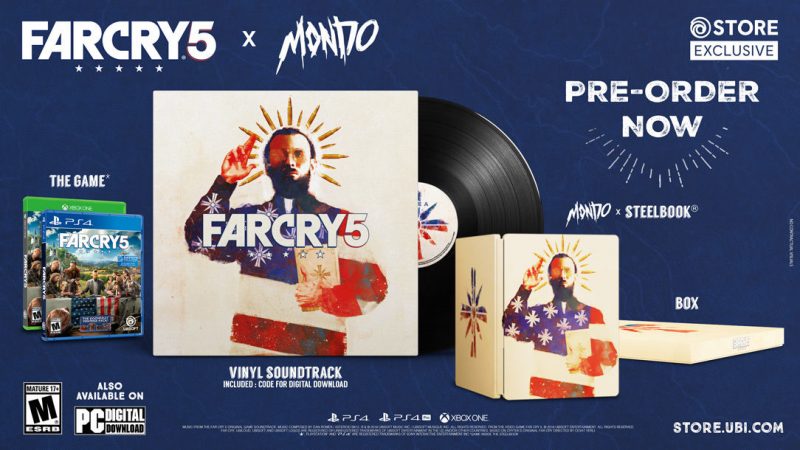 The Far Cry 5 x Mondo Edition is the latest to be announced. Available exclusively through Ubisoft store for $99.99, it will only have 4,000 units made worldwide thanks to a collaboration between Ubisoft and collectibles maker Mondo. The edition includes the standard edition of Far Cry 5 plus the following extras:
Doomsday Prepper and Chaos Packs
Exclusive Steelbook designed by Creative Director of Mondo Jay Shaw
Vinyl soundtrack with twelve songs that reflect the atmosphere of the game
A code to download the digital version of the vinyl tracks
Unique packaging with art depicting Joseph Seed
Father Edition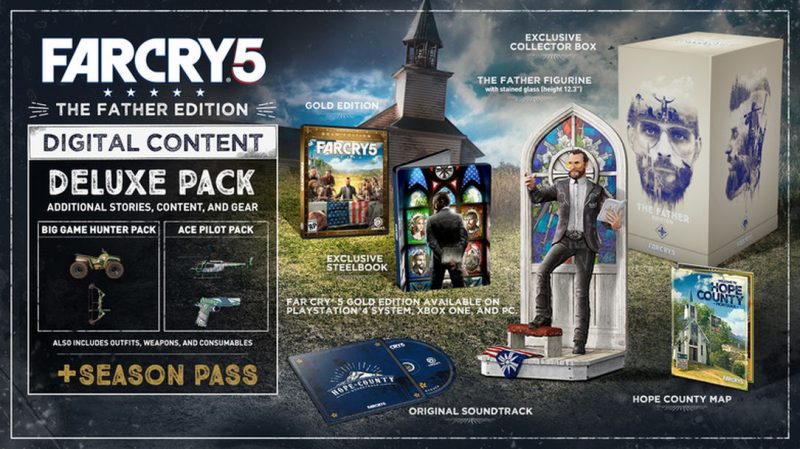 The centerpiece of the Father Edition is the exclusive 12.3″ tall figurine of Joseph Seed – also called "The Father" – and its colorized stained glass. Other contents include a double-sided tourist map of Hope County featuring points of interest and key locations, the original soundtrack of the game, premium collector's packaging with exclusive art of the Seed family, and everything from the previously mentioned SteelBook Gold Edition. The Father Edition costs $159.99 and is exclusive to Ubisoft Store.
Hope County Edition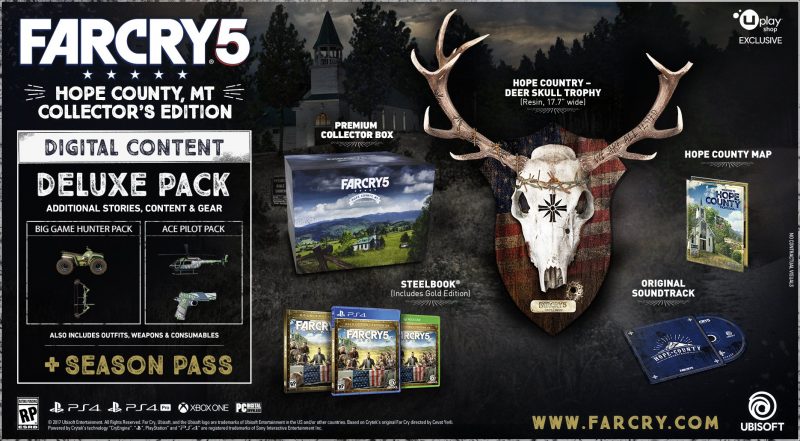 This premium edition is also exclusive to Uplay Store, and costs $179.99. It includes everything from the Steelbook Gold Edition, as well as premium collector's packaging, a 17.7″ wide deer skull trophy (made from high-quality resin), a double-sided tourist map of Hope County, and original soundtrack of the game.
Resistance Edition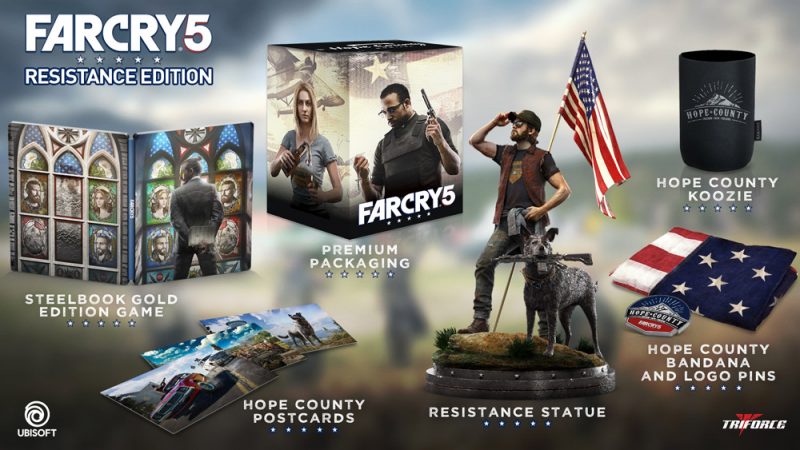 Last but not least is the Resistance Edition, which is exclusive to GameStop. Here's what you get for the hefty price of $199.99:
Full contents of SteelBook Gold Edition
16.5″ premium statue featuring highly detailed reproductions of Resistance members Nick Rye and Boomer the dog
Hope County flag bandana and logo pin collectibles
A souvenir Koozie and a set of three exclusive postcards to commemorate your trip to Hope County
Premium collector's box packaging
Inside Eden's Gate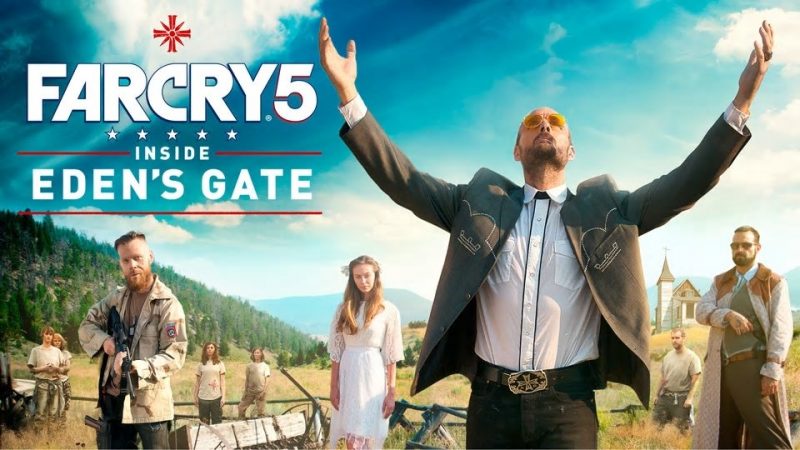 Inside Eden's Gate is a short film which follows three vloggers on their attempt to infiltrate the cult and investigate reports of missing people in the area. Produced in partnership with Asylum Entertainment, the film premiers exclusively on Amazon Prime Video on March 5.
Following a one-month delay, Far Cry 5 is now scheduled to be released on March 27, 2018.
Check out our other upcoming action games and upcoming pc games.