This game was released on October 22, 2019 and is no longer available to pre-order. Any incentives that were offered are listed below.
Farming Simulator 19 Platinum Edition is the latest iteration in the farming simulation game series from GIANTS Software. It adds 35 new vehicles and tools from CLAAS, one of the biggest farming brands in the world, for a total of 380 vehicles and tools from 100 manufacturers.
The game can be purchased standalone at a launch price of $49.99. Existing owners of FS19 should instead opt for the Platinum Expansion ($19.99) available digitally on all three platforms. Both options come with the same bonus pre-order content as detailed after the jump.
Pre-order Bonuses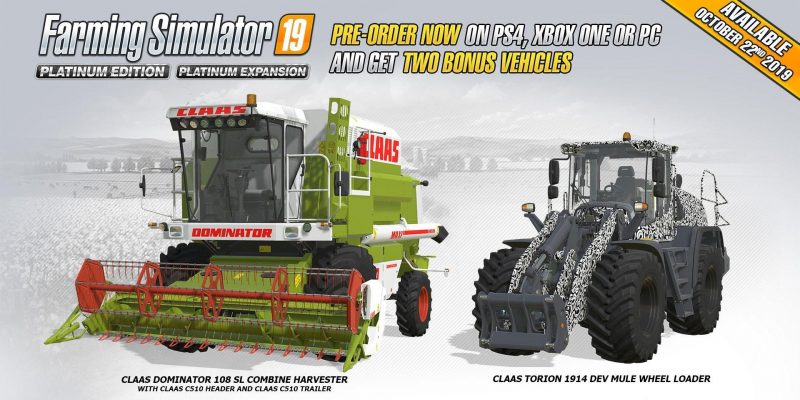 Pre-ordering Farming Simulator 19 Platinum Edition – either the standalone version or the expansion – nets you the CLAAS DOMINATOR & TORION Pack:
CLAAS Dominator 108 SL Maxi Combine Harvester DLC
CLAAS Torion 1914 Dev Mule Wheel Loader DLC
The bonus vehicles will appear in the in-game shop and will need to be purchased with the in-game currency.
Farming Simulator 19 Platinum Edition launches October 22 on PlayStation 4, Xbox One, and PC.
If you want to learn more about Farming games we recommend you to read our review Farming Simulator 22.
Check out our other upcoming simulation games and upcoming pc games.