This game was released on February 03, 2012 and is no longer available to pre-order. Any incentives that were offered are listed below.
The newest console RPG in the Final Fantasy series launches in December 2011 in Japan, but fans in the West will have to wait until 2012 to play this FFXIII sequel. The game introduces some changes to the combat and dialogue systems, as well as two playable characters: Serah, the younger sister of Lightning, and the new protagonist; and Noel Kreiss, a time traveler from the future who wields two combinable swords.
Final Fantasy XIII-2 features multiple endings and is said to have a darker story than FFXIII. It starts off in New Bodhum, from where Serah and Noel set out on a journey to find Lightning.
Final Fantasy XIII-2 pre-order bonuses
Preorder Final Fantasy XIII-2 at the following retailers to get some extra items.
United States
Amazon: $10 credit and the Omega boss battle, a unique coliseum battle against boss enemy Omega who will join your party after being defeated.
BestBuy: Final Fantasy XIII -Episode i- novella, a collectible hardcover book that ties the events of FFXIII and its sequel together.
Gamestop: an exclusive alternate outfit for Serah, visible during gameplay as well as cutscenes. In addition, PowerUp Rewards members get a Genji Bow which allows Serah to attack more frequently.
Walmart: $10 credit and an exclusive poster featuring the Battle of Valhalla.
United Kingdom
Amazon: a downloadable weapon for Noel – Muramasa – with special design and gameplay effects.
GAME: an exclusive steelbook case, Episode I novella, 3 exclusive art cards, and the following in-game content: Omega boss battle, and alternate outfits for Noel and Serah.
We'll update this list if more bonuses are announced. Now let's take a look at the contents of the European and North American special editions:
Collector's Edition (US)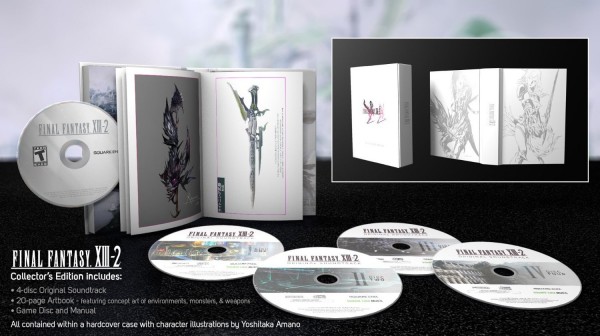 The Collector's Edition of Final Fantasy XIII-2 costs $80 and includes the following items (in addition to whatever pre-order bonus the retailer is offering):
Hardcover slipcase with character illustrations by Yoshitaka Amano
20-page concept art book bound into the packacking
4-disc OST
Game manual
According to Square Enix, this edition is available in "limited quantities" at Gamestop, Amazon, and BestBuy.
Limited Collector's Edition (EU)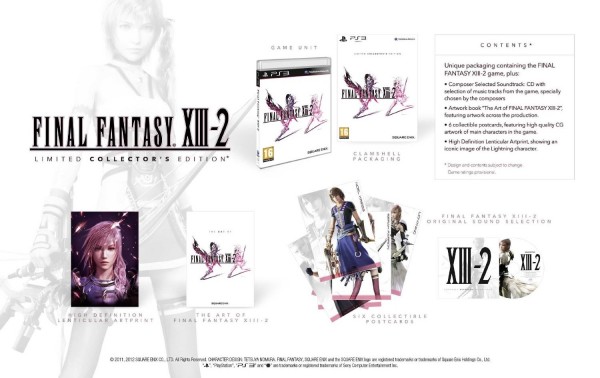 Limited Collector's Edition of Final Fantasy XIII-2 is available at various European retailers. Its contents are as follows:
Special packaging
Soundtrack CD with select tracks from the game
The Art of Final Fantasy XIII-2 artbook
6 collectible cards featuring CG artwork of the main characters
Lenticular art print of Lightning
Most UK retailers have it listed on their websites (with Amazon and GAME also offering additional incentives).
Crystal Edition (EU)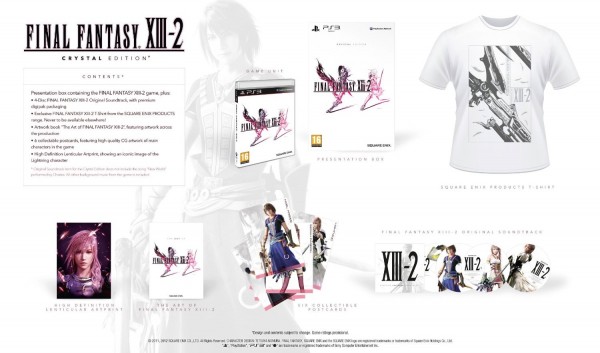 Crystal Edition is a step up from the previous special edition; it includes everything listed under Limited Collector's Edition, plus the following goodies:
"Presentation box" package
4-disc OST (instead of just 1 in the LCE)
Exclusive Final Fantasy XIII-2 T-shirt from Square Enix
Square Enix confirmed that this edition has recently sold out.
Game trailer
This Final Fantasy XIII-2 trailer from E3 2011 features some awesome CG as well as impressive gameplay sequences:
FFXIII-2 hits the store shelves on January 31st, 2012 in North America, and February 3rd in Europe – or on Tuesday and Friday, respectively, as is customary with most game releases.
Check out our other upcoming rpg games and upcoming playstation 3 games.