This game was released on July 02, 2019 and is no longer available to pre-order. Any incentives that were offered are listed below.
Shadowbringers is the third expansion pack to Square Enix's popular MMORPG, Final Fantasy XIV. The expansion raises the level cap to 80 and brings a plethora of new content, chief among which are the Gunbreaker and Dancer jobs, playable female-only Viera and male-only Hrothgar races, and expansive areas including Rak'Tika Greatwood, Amh Araeng, and Il Mheg.
Also new in Shadowbringers are three features to help the players experience the game in different ways. The Trust System allows the player to take on instanced dungeons with familiar NPCs on their side. The New Game+ system lets them replay previously completed or missed quests. Lastly, World Visit opens up the possibility of traveling to other servers on the same data center.
Ownership of the base game – FFXIV: A Realm Reborn – is required. Purchasing Shadowbringers grants access to the two previous expansions, Heavensward and Stormblood.
Pre-order Bonuses
Pre-order the standard edition ($39.99) of Final Fantasy XIV: Shadowbringers for PS4, PC, or Mac to receive the following bonuses:
Early Access: start playing on June 28, 2019.
Baby Gremlin Minion: a vanity pet that nips at your heels and badmouths your every move.
Aetheryte Earring: modeled after the aetherytes found in settlements across Eorzea, the earing grants a 30% increase in EXP when worn, and attributes that scale with the player's job level.
The two bonus in-game items will become available as early as March 1, 2019. See them pictured below:
Collector's Edition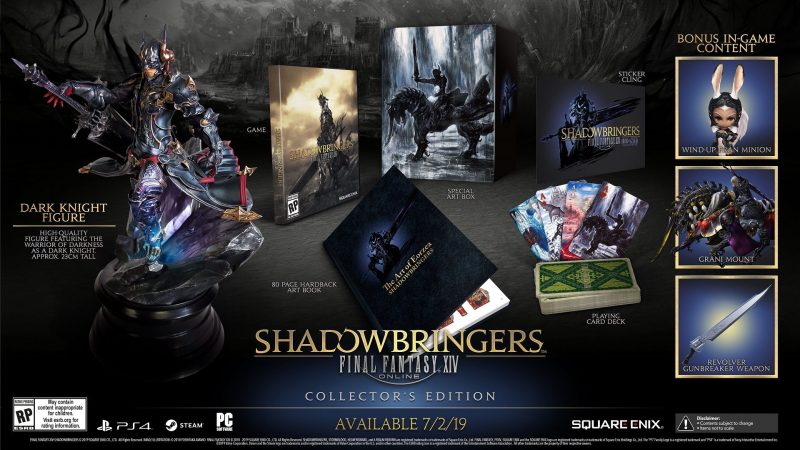 In addition to a copy of Shadowbringers expansion for either Windows or PS4, the Collector's Edition comes with the following:
Dark Knight Figure (approx. 9″ tall)
Special Art Box
80-Page "Art of Eorzea" Artbook
 Playing Card Deck
Shadowbringers Cling Sticker
Bonus In-Game Content:
The physical version of the Collector's Edition is priced at $199.99 for either platform, whereas the digital download will set you back $59.99. It should be noted that the physical Windows version of the CE does not include a game disc and is instead downloadable, but that does not affect the price.
Final Fantasy XIV: Shadowbringers will be out on July 2, 2019, with early access starting on June 28 as aforementioned.
Check out our other upcoming mmorpg games and upcoming pc games.