This game was released on June 20, 2017 and is no longer available to pre-order. Any incentives that were offered are listed below.
Stormblood is the upcoming second expansion to the Final Fantasy XIV: A Realm Reborn MMORPG made by Square Enix. It raises the level cap from 60 to 70, adding new areas, dungeons, gear, jobs, as well as new gameplay mechanics like swimming and diving. Stormblood takes place in the region of Ala Mhigo and features a new antagonist, Zenos yae Galvus.
With the 4.0 update, Final Fantasy XIV increases the system requirements for the PC version, and cuts PlayStation 3 support completely. A campaign is in place to allow gamers to carry over their account data to the PS4 version free of charge until the end of the year.
Pre-order bonuses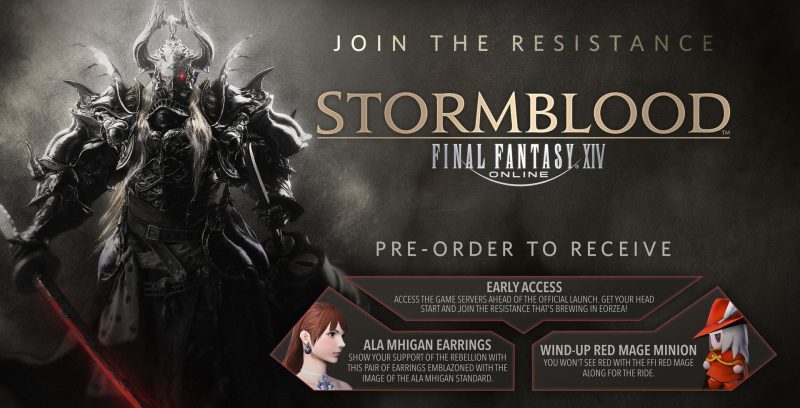 Pre-order the standard version of Stormblood ($39.99) to receive the following:
Early Access (starting 16th June)
Exclusive in-game items:

Wind-up Red Mage Minion
Ala Mhigan Earrings
On top of that, GameStop is offering an exclusive fabric banner.
Collector's Edition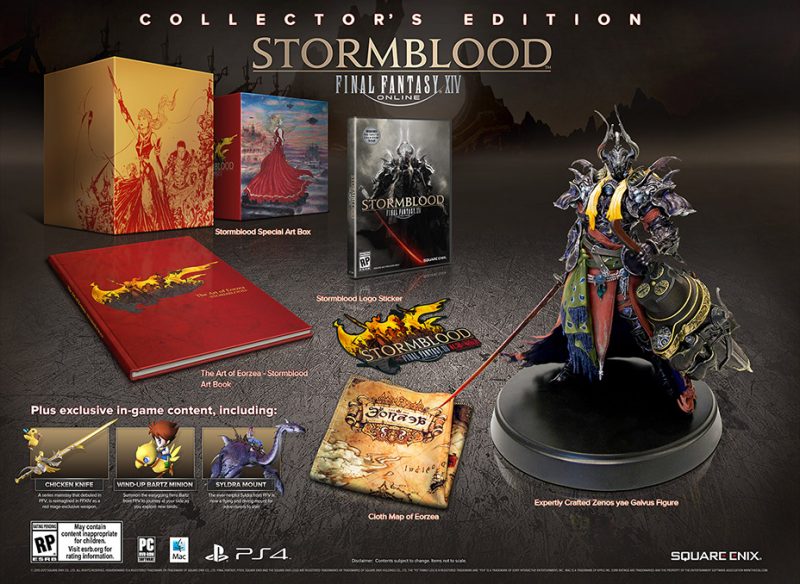 $200 gets you the Collector's Edition, which comes with the following:
Special Art Box
Zenos yae Galvus Figure
Stormblood Artbook
Cloth Map of Eorzea
Stormblood Logo Sticker
Exclusive In-game Items:

Syldra Mount
Wind-up Bartz Minion
Chicken Knife
A lower-cost option is the digital version of the Collector's Edition ($59.99) which only comes with the aforementioned exclusive in-game items. Naturally, the pre-order incentives including Early Access are also available for both CE versions.
Final Fantasy XIV: Stormblood will launch on June 20, 2017.
Check out our other upcoming mmorpg games and upcoming pc games.