This game was released on November 29, 2016 and is no longer available to pre-order. Any incentives that were offered are listed below.
Final Fantasy XV is the latest installment in the highly popular Japanese action RPG franchise. The game puts the player into the shoes of Noctis Lucis Caelum, the heir to the kingdom of Lucis, which is the last nation to possess a Crystal. Other countries in the game's world – a single landmass called Eos – have been conquered by the technologically-advanced Empire of Niflheim, which now threatens Lucis as well.
Final Fantasy XV features vast, open environments which can be explored on foot, using party's car, or chocobos, with loading screens only appearing when entering towns. The game uses a seamless, real-time battle system called AXB (Active X Battle); the players only control the protagonist, Noctis, but can issue commands to their companions.
Pre-order bonuses

Pre-order Final Fantasy XV anywhere to get the Day One Edition with Masamune DLC weapon displayed above. "Add the legendary Masamune to your arsenal and cut foes down to size," as the publisher says. Reserving your copy at one of these retailers will also net you additional bonuses:
GameStop: A King's Tale: Final Fantasy XV, a tie-in game which takes place 30 years before the main title and features retro-style graphics.
Amazon: Gold Chocobo Regalia. "Final Fantasy Road Trip" promo with DLC rewards on completion (Blazefire Saber from FFXIII, Mage Mashers from FFIX, Gae Bolg from FFXIV, and more).
Square Enix Store: a set of 5 Final Fantasy XV postcards and entry into Carbuncle Surprise Sweepstakes.
Best Buy: $10 in reward certificates and 20% off for Unlocked members. They also have an exclusive Best Buy Edition ($99.99) with a Collectible Beanie and a Season Pass.
Microsoft Store: $10 gift code
There also are incentives for pre-ordering FFXV digitally for either console. In both cases you get a 16-Bit Buddies car recolor, Masamune sword, and an Angler Set, plus the following:
Xbox: a special Noctis outfit for your Avatar
PlayStation: Final Fantasy 15 "Big Bang" theme
Deluxe Edition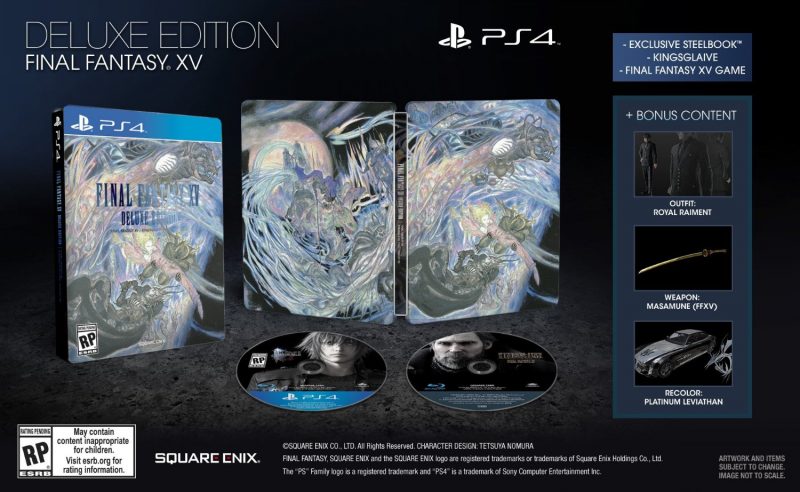 This $90 edition of FFXV is available at participating retailers and comes with the following:
Ultimate Collector's Edition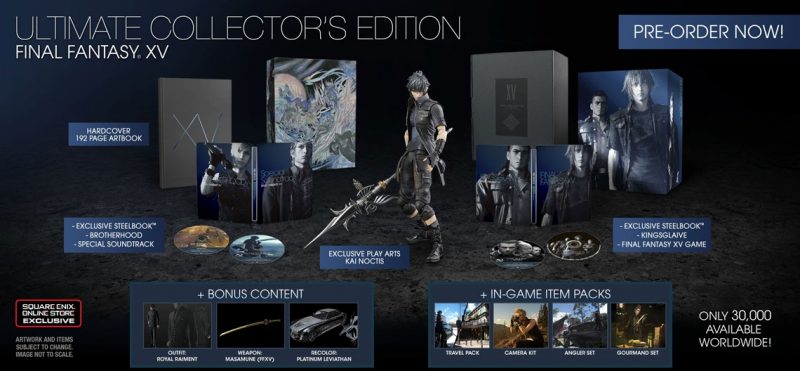 Priced at $270, this edition is only available at the Square Enix Online Store in limited quantities (30,000 total units will be made). It includes all Deluxe Edition content, plus a 12″ Noctis figure, another two-disk SteelBook (soundtrack and Brotherhood: Final Fantasy XV anime with an exclusive sixth episode), a hardcover art book, and some additional in-game DLC.
"Reclaim Your Throne" trailer
The game underwent numerous changes during its bumpy development history spanning ten years, but it finally has a release date. Final Fantasy XV will hit the market on November 29, 2016. The latest delay was reportedly in order to bring up the quality and avoid subjecting the players to a large a day-one patch.
Check out our other upcoming action games and upcoming playstation 4 games.