This game was released on January 20, 2023 and is no longer available to pre-order. Any incentives that were offered are listed below.
The era of peace is threatened once more with the coming awakening of the Fell Dragon in Fire Emblem Engage, The land of Elyos houses four kingdoms that fought In a great war 1000 years ago to imprison the Fell Dragon using a powerful seal with help from the emblems. As the years passed the seal grew weaker threatening the safety of the citizens of Elyos once again.
Fire Emblem Engage is a turn-based action role-playing game developed by Intelligent Systems and published by Nintendo Switch and will be playable on Nintendo Switch this autumn.
Emblems are legendary warriors from other worlds that are capable of taking on the dragon and fought alongside the citizens of Elyos in the first battle.
As a Divine Dragon, embark on a journey to find and collect Emblem Rings to summon the other emblems to assist you in your battles.
The game brings back the thrilling turn-based combat it is known for, implementing a new system known as "Engage" which allows you to inherit the powers, weapons and skills of past characters
Pre-order Bonuses
If you make a purchase through these links, we may get a share of the sale.
Fire emblem Engage Divine Edition ($99.99)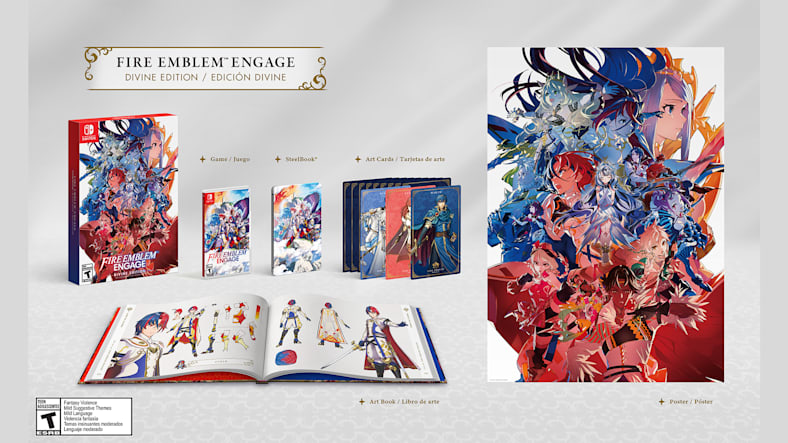 The Divine Edition of the game is the second version of the game and comes with additional cool items for fans such as:
Fire Emblem Engage base game
SteelBook
Art cards
Art book
Poster
Nintendo Switch
Fire Emblem Engage will be released on January 20th, 2023, and will be playable on Nintendo Switch.
Check out our other upcoming action games and upcoming nintendo switch games.