This game was released on October 02, 2018 and is no longer available to pre-order. Any incentives that were offered are listed below.
Fist of the North Star: Lost Paradise is an action-adventure RPG from Sega. Like its title suggests, the game is based on the famous manga series Fist of the North Star written by Buronson and illustrated by Tetsuo Hara – albeit set in an alternate universe rather than canon.
Players step into the shoes of Kenshiro, a practitioner of the Hokuto Shinken fighting style, and set out into the post-apocalyptic wasteland that Earth was turned into by a nuclear war in search of his lost love Yuria. The gameplay is said to resemble that of Sega's Yakuza series, with side missions and minigames found in the dilapidated city of Eden providing an occasional break from beating up thugs.
Pre-order Bonuses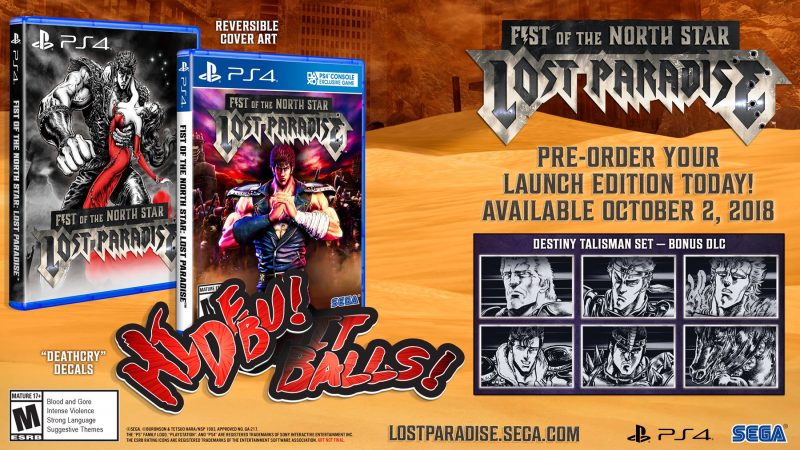 Pre-orders and first-run copies of Fist of the North Star: Lost Paradise come with two deathcry decals to add some flair to your console, reversible cover featuring artwork from Tetsuo Hara, and bonus DLC: Destiny Talisman Set. Look for the words "Launch Edition" at your favorite retailer to make sure you're getting the bonuses.
Fist of the North Star: Lost Paradise is coming to PlayStation 4 on October 2nd, 2018.
Check out our other upcoming action games and upcoming playstation 4 games.