Would you like to make some money playing video games? GamerSaloon offers just that. 
With GamerSaloon, you're able to join or create your own tournaments and play games for money with your friends or strangers. But is it a legit way to make money playing games? 
Read on to find out!
Is GamerSaloon legal?
The short answer is yes, and that's for a couple of reasons. 
The company has been in business since 2006. Within that time, they have given away prizes that total up to 70 million dollars. So they are trustworthy
The prizes are awarded based on the skills of the players. And since there's skill involved, it can't be labelled as gambling. Here's how it works:
Create/Join a Tournament. To make money on this website you need to join or create your own tournament. You will have to pay an entry fee ranging from a few dollars to a few hundred dollars. Additionally, you'll have to pay for the 14% service fee if it's above $5. Anything below that will have to pay 50 cents. To get to the next step all members must accept the rules and pay for entry.
Play the Tournament. After everybody has paid the entry fee and accepted the game rules, the fun part begins. Now you'll just have to play the game until you get a winner.
Report back the results. Now that you've finished your tournament, the results must be reported. Then every player must verify the results, so the prize can be given away fairly. After the results have been verified, the winner's account is automatically credited.
How do you get your money on GamerSaloon?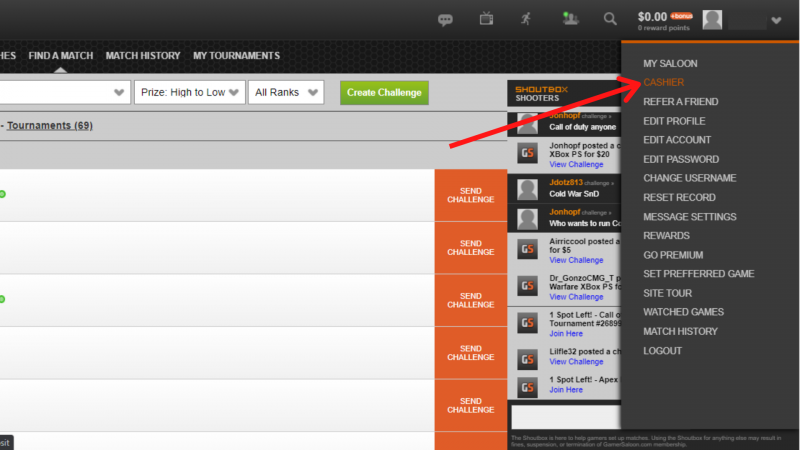 You have two options. 
The main difference is how quickly you get your money into your bank account.
With a normal withdrawal, you'll have to pay $3 for your money to be sent to your PayPal account. This will take you about 7 days. Alternatively, you can also ask them to send you a check, but that will cost you $24.95. You should get your check in 7 days.
What if you don't want to wait for those 7 days? I recommend you pick the express withdrawal. With express, you should see your money to your Paypal account the next day, and your check should be inside your mailbox by the next business day. But all that comes with a catch. You'll have to pay a $10 fee, and a $24.95 fee to get your check.
Withdrawing money is a bit expensive. So if you don't have thousands of dollars lying around, I recommend you keep the money on your GamerSaloon account or use the normal withdrawal and wait for the money to come to your bank account.
What Games Are On GamerSaloon?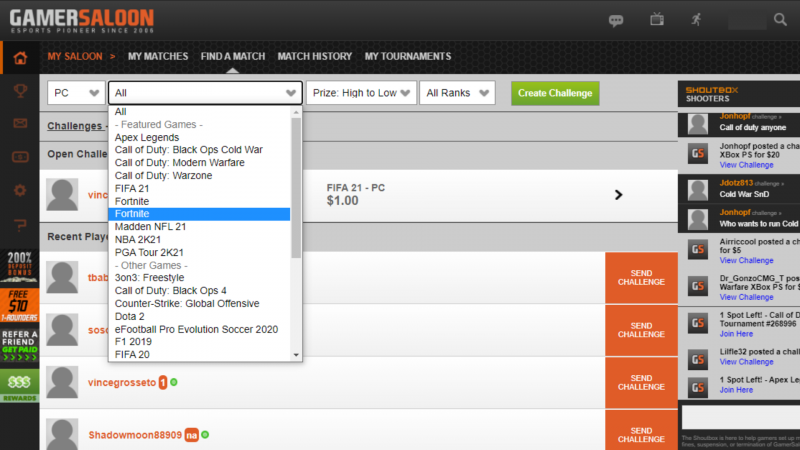 GamerSaloon has a good variety of games for you to play for money. 
The games are mostly sports game like FIFA, NBA 2K, or fighting games like Mortal Kombat, and Super Smash Bros Ultimate. 
But you can also find some games from other genres like First Person Shooter games, Racing Games, Battle Royales and much more. Plus, you can play on almost any platform, even mobile! 
The full list of the games are written down below:
Apex Legends
Call Of Duty Black Ops Cold War
Call Of Duty Modern Warfare
Call Of Duty Warzone
FIFA 2021
Fortnite
Madden NFL 21
NBA 2K21
PGA Tour 2K21 
Call Of Duty: Black Ops 4
CS:GO
Dota 2
eFootball Pro Evolution Soccer 2020
F1 2019
FIFA 20
Gears 5
League Of Legends
Madden NFL 20
Mortal Kombat 11
NBA Playgrounds
Need For Speed Heat
Overwatch
PUBG
R.B.I Baseball 20
Rocket League
Soulcalibur VI
Street Fighter 5
Tekken 7
Gran Turismo Sport
Injustice 2
Marvel Vs Capcom Infinite
Nascar Heat 5
WWE 2k20
Mario Kart 8 Deluxe
Super Smash Bros. Ultimate
8 Ball Pool
As you can see there's quite a selection of games you can play! You can find games for other platforms by logging on to your GamerSaloon account, opening the "Find a Match" tab, selecting your desired platform, and then you can find the games on the dropdown menu! 
And even if you can't find your favourite game like Rainbow Six Siege or Star Wars Squadrons, all hope is not lost. You can just contact GamerSaloon, and they might just add the game for you.
How do I contact GamerSaloon?
The easiest way to contact GamerSaloon for any of your questions is by writing them an email. You can find it on their contact page. 
Alternatively, you can email them here: customercare@gamersaloon.com
How Much Money Does GamerSaloon make?
According to Owler's estimates, they make less than a million dollars a year. This could very well be true, as they only seem to profit from the withdrawal fees and the 14% service fee.
Is it illegal to play games for money?
GamerSaloon isn't a gambling website, and here is why. For something to be called gambling, it needs to have these 3 characteristics.
Has a prize
Payable Entry
The winner is chosen by chance
While the first two are characteristics of playing games for money, the last one is not. You're betting on your own skills, not luck. 
But at the same time, you have to be careful as not everywhere it's legal. For example, in one of the states in the US, it's illegal to play games that way. So before joining GamerSaloon or anything similar to it, check the legality in your area.
As you can see, GamerSaloon is a real place, where you can make legit money. So if you'd like to make money from gaming, click here to learn more about GamerSaloon.