This game was released on October 11, 2016 and is no longer available to pre-order. Any incentives that were offered are listed below.
Gears of War 4 is a third-person shooter developed by Microsoft-owned The Coalition studio. The game takes place on the planet of Sera, 25 years after the Imulsion Countermeasure Weapon was used to great effect. The remainder of the population now lives in walled-of cities, excluding the Outsiders which raid the COG territories for resources. Gears of War 4 follows a new protagonist, JD Fenix (the son of Marcus Fenix and Anya Stroud) who, alongside his comrades Delmont "Del" Walker and Kait Diaz, has to deal with a new threat to humanity.
The fourth main Gears of War installment features overhauled cover mechanics and several new weapons. There is a two-player co-op where the second player can select either Kait or Del and play online or via split-screen. The game also offers competitive multiplayer at 60 FPS (the campaign runs at 30) with dedicated severs and new modes.
Pre-order bonuses
Pre-order Gears of War 4 anywhere to get the "Brothers to the End" Elite Gear Pack which consists of three character skins (Tomorrow Anya, Old Man Marcus, and Zombie Don) as well as two weapon skins (Gold Wave Lancer and Gold Wave Gnasher).
An additional "Vintage Del Elite Gear Pack" is available from the following retailers; this one includes a Vintage Del character skin, bounty cards, and a unique weapon skin for use in Horde or Versus multiplayer modes:
GameStop: Vintage Del and Vintage Reyna character skins, Foam Lancer and Hot Rod Gnasher weapon skins, 6 Bounty Cards. Physical Gear Pack with collectible physical cards which unlock digital items.
Best Buy: Vintage Del character, Black Walnut Gnasher weapon skin, 3 Bounty Cards. $10 in reward certificates, 20% off the game, and a GoW4-themed mug and coaster for Gamers Club Unlocked members.
Amazon: Vintage Del character skin, Warbird Gnasher weapon skin, 3 Bounty Cards.
Walmart: Vintage Del character skin, Outsider Lancer weapon skin, 3 Bounty Cards.
Target: Vintage Del character skin, Marcus Tattoo Gnasher weapon skin, 3 Bounty Cards.
Microsoft Store (disc) / Xbox (digital): Vintage Del character skin, multiplayer lobby emblem, two Vintage weapon skins, and a special Vintage Del bounty.
All copies of Gears of War 4 also come with the entire Gears of War collection – that's four titles – playable on Xbox One. Physical copies will include download codes inside the case, whereas those who purchase digitally will get theirs via an Xbox Live message.
Ultimate Edition
The Ultimate Edition of Gears of War 4 is available both digitally and at retail for $100 and includes the following extras:
Limited edition SteelBook
Early Access: start playing on October 7, four days before the launch
Season Pass ($50 value) which includes:

Vintage VIP Pack: Vintage JD character, and Vintage Gnasher & Dropshot weapon skins
24 additional DLC maps (two per month for a year) for private play on dedicated servers
Developer Playlist: access new maps, modes, and features prior to public release
6 Gear Packs: unlock character and weapon skins, emblems, equipment, and boosts
Collector's Edition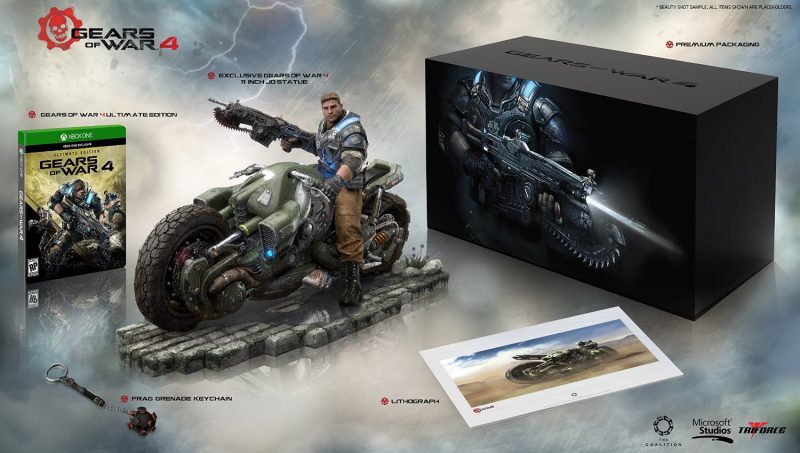 The massive Collector's Edition will set you back $250. It contains all the Ultimate Edition content, plus:
Premium packaging box
6″ Frag Grenade Keychain
19″ x 11″ JD Fenix on COG Bike Statue by TriForce
Exclusive Lithograph by TriForce
3 Gear Crates
There is also an "Outsider Variant" of this edition, which is exclusive to Amazon. The statue is slightly different in this version, with JD Fenix wearing a casual vest instead of COG armor.
Xbox One S Limited Edition Bundle
The Gears of War 4 Limited Edition Bundle includes a custom Xbox One S 2TB Console, Crimson Omen controller, vertical stand, Gears of War 4: Ultimate Edition, plus a Vintage Limited Edition Console Pack (Vintage Oscar character, Vintage Retro Lancer & Vintage Boomshot weapon skins, and more). The bundle is priced at $449.
Gears of War 4 is scheduled for a worldwide release on October 11, 2016. The game is Cross-Buy on Xbox One and Windows 10 as a part of Microsoft's new Xbox Play Anywhere initiative: a single purchase lets you play on both platforms.
Check out our other upcoming shooter games and upcoming pc games.