This game was released on March 07, 2017 and is no longer available to pre-order. Any incentives that were offered are listed below.
Ghost Recon: Wildlands is an open-world, third-person shooter developed by Ubisoft Paris. Set in Bolivia, the game puts the player in the shoes of an elite special forces operative tasked with destroying Santa Blanca, a massive drug cartel that is plunging the country into chaos. It is said to be one of the largest open world games from the company yet, featuring diverse South American landscapes ranging from mountains and deserts to rainforests.
The game has 100 missions which can be completed in any order and using different approaches such as stealthy infiltration, long-range sniping, or frontal assault. The player can tackle them with the assistance of an AI squad or alongside their friends; Wildlands supports up to four-player co-op with seamless drop-in, drop-out play. There is a large variety of vehicles (motorcycles, quad bikes, helicopters, etc.) used during missions as well as free roam.
Pre-order bonuses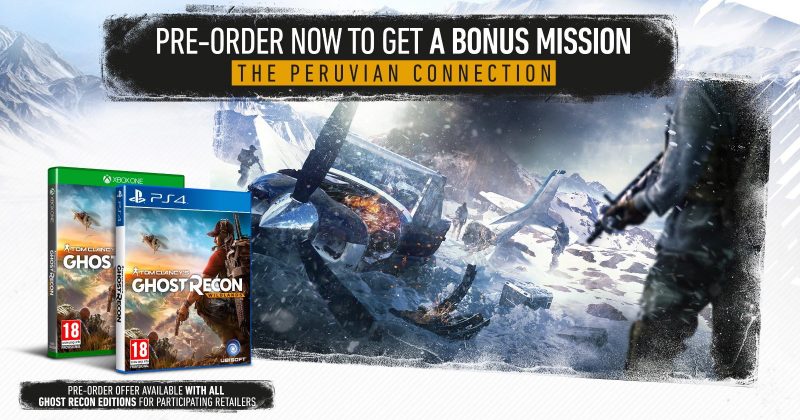 Pre-order Ghost Recon: Wildlands to receive The Peruvian Connection, a bonus mission which involves exploring the high mountains of Bolivia to break the alliance between Santa Blanca and the Peruvian cartels. This universal bonus is available with all four editions of the game.
There is also an additional bonus available via PlayStation Store: Assault, Engineer, Sniper, Support, Skull 1, and Skull 2 PSN Avatars.
Deluxe Edition
The Deluxe Edition retails for $69.99 and comes with the Deluxe Pack which contains exclusive digital content:
The Huntsman rifle
The Huntsman motorbike
3 emblems
3 weapon camos
3 character customization items
XP booster
Gold Edition
This is a further upgrade in the Ghost Recon: Wildlands experience, adding a Season Pass on top of all Deluxe Edition content and bringing the price up to $99.99. The Season Pass subscription grants access to two future expansions.
Collector's Edition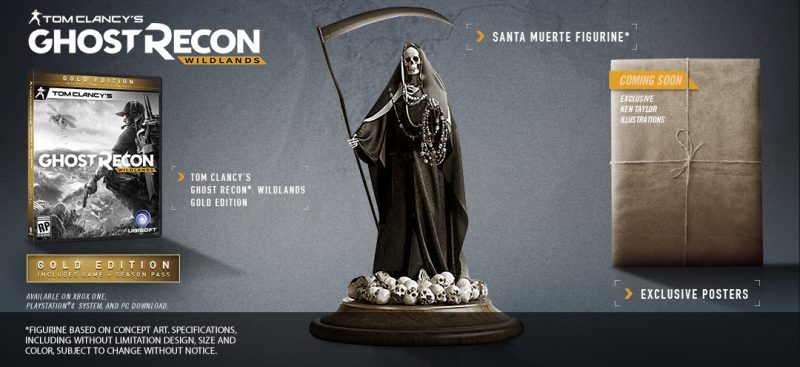 The Collector's Edition comes with a 10.5″ tall Santa Muerte figurine and a limited edition poster set by Ken Taylor. These collectibles can be combined with any of the aforementioned editions of the game, resulting in Collector's Edition Standard ($119.99), Collector's Edition Deluxe ($129.99), and, finally, Collector's Edition Gold ($159.99).
Ghost Edition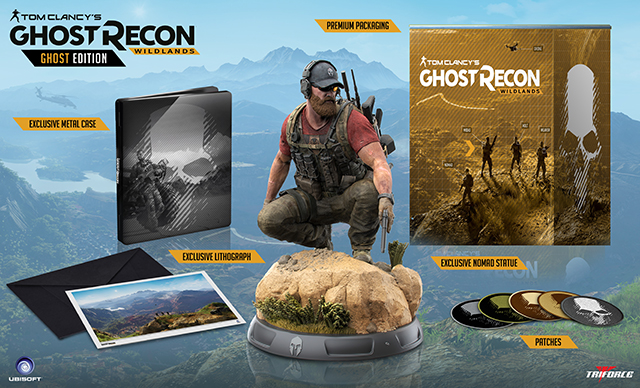 Lastly, we have the $219.99 Ghost Edition, this one exclusive to GameStop. In addition to the Gold Edition of the game, it includes the following:
Premium Collector's Edition Packaging
Exclusive Metal Case
12″ Nomad Statue: a foot-tall, highly-detailed statue of Nomad – Ghost team leader and weapons specialist.
Embroidered Ghost Recon Patches: customize your own gear just like the Ghosts with a set of five embroidered iron-on patches.
Exclusive Lithograph: with the wildlands of Bolivia stretched out before them, the members of the elite special operations team known as "The Ghosts" prepare to finish the Santa Blanca drug cartel once and for all in this lithograph.
War Within the Cartel
Ubisoft is also working on a live-action short titled Ghost Recon Wildlands: War Within the Cartel. The 30-minute film will premier on Ubisoft's Twitch channel on February 16, after which it will become available on Amazon Video, free to Prime subscribers. A teaser for the movie can be viewed via Amazon.
Tom Clancy's Ghost Recon: Wildlands is scheduled to be released on March 7, 2017.
Check out our other upcoming shooter games and upcoming pc games.