This game was released on June 27, 2017 and is no longer available to pre-order. Any incentives that were offered are listed below.
As the name implies, The Golf Club 2 is a golf simulator, developed by Canadian HB Studios and published by Maximum Games. It brings numerous advances compared to its predecessor, most notably Golf Societies with their own clubhouses, in-game bank balances, and the ability to compete with other Societies online and climb the leaderboards. The Player Creator with its almost limitless combinations for customizing your avatar is another significant enhancement, according to the developer. Finally, there also are gameplay improvements as well as better graphics due to the game switching to Unity 5 engine.
Pre-order bonuses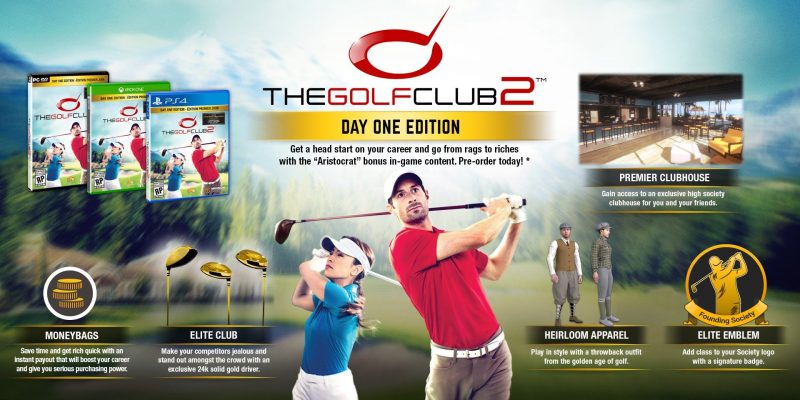 Pre-order Golf Club 2 ($49.99) to secure a copy of its Day One Edition with bonus "Aristocrat" in game content:
Moneybags: save time and get rich quick with an instant payout that will boost your career and give you serious purchasing power.
Elite Club : make your competitors jealous and stand out among the crowd with an exclusive 24k solid gold driver.
Premier Clubhouse: gain access to an exclusive high society clubhouse for you and your friends.
Heirloom Apparel: play in style with a throwback outfit from the golden age of golf.
Elite Emblem: add class to your Society logo with a signature badge.
Additionally, PlayStation Store is offering a Golf Club 2 Theme and ten Avatars.
"First Look" trailer
Golf Club 2 is expected to launch on June 27, 2017 for current-gen consoles and the PC.
Check out our other upcoming simulation games and upcoming pc games.