This game was released on December 06, 2013 and is no longer available to pre-order. Any incentives that were offered are listed below.
Gran Turismo 6 is an upcoming racing simulator developed by Polyphony Digital for the PlayStation 3 platform. This sixth major release of Gran Turismo boasts 71 layouts of 33 tracks – including brand new locations for the series – and as many as 1,200 different cars.
Other improvements in GT6 include a fresh handling system, more detailed environments complete with accurate constellations during night racing, and a variety of challenges for the player to enjoy.
Pre-order bonuses
Remember those 1,200 cars I mentioned? Well, you can get even more if you pre-order Gran Turismo 6 before December 6 this year. Doing so at participating retailers will give you access to even more vehicles.
First-off, the aptly named 5-Car Pack will be available to those who reserve the game at Amazon, GameStop, Walmart, or Best Buy:
Tesla Model S Signature Performance '12
Corvette Stingray C7 '14
Audi R8 LMS ultra '12
SRT Viper GTS '13
Nissan GT-R NISMO GT3 '13
In addition to the aforementioned pack, Amazon will give you $1 million in-game credit: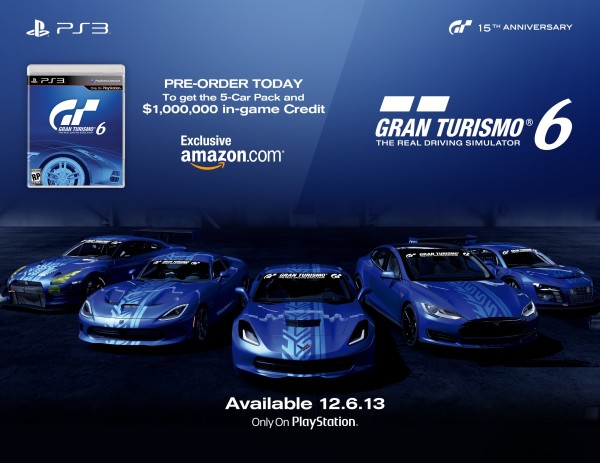 GameStop's exclusive offer, on the other hand, includes 20 more cars, which makes the total number of bonus vehicles 25. The cars all come decorated in 15th Anniversary Edition livery.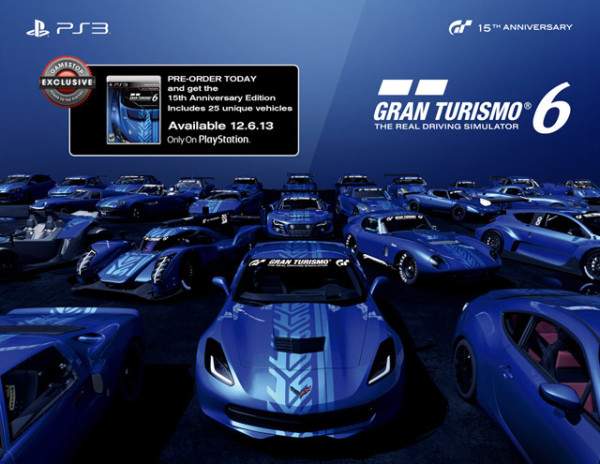 The whole list of rides is as follows:
Ford GT40 Mark I
Pagani Huayra
Renault Sport Megane Trophy V6
Alpine A110 1600S
Lancia STRATOS
Lotus Europa S.2
Volkswagen Scirocco GT24
Honda HSV-010 (SUPER GT)
Audi Sport quattro S1 Rally Car
Ford Mustang Shelby GT500
BMW Z8
KTM X-BOW R
Audi R18 TDI
Lexus IS F Racing Concept
Chevrolet Corvette Coupe (C2)
Cizeta V16T
Mercedes-Benz SLS AMG GT3
Ford Focus ST
Shelby Cobra Daytona Coupe
Toyota 86 GT
This is, of course, in addition to the 5 Car Pack, which GameStop customers shall also receive.
E3 2013 trailer
The trailer introduces new tracks (Willow Springs and Matterhorn) as well as cars in GT6.
Sony is planning to release Gran Turismo 6 on December 6, 2013 worldwide. Despite the availability of PlayStation 4, GT6 remains a PS3-exclusive title.
Check out our other upcoming racing games and upcoming playstation 3 games.