This game was released on September 17, 2013 and is no longer available to pre-order. Any incentives that were offered are listed below.
Grand Theft Auto V is an upcoming sandbox action title from the highly popular GTA series by Rockstar. It takes place in a fictional city of Los Santos (based on Los Angeles) and its environs, and is larger than any other Grand Theft Auto game to date. GTA 5 features three playable protagonists (Michael, Trevor, and Franklin), all sorts of vehicles (including airplanes, helicopters, bicycles, and jet skis), improved car physics, and new weapons as well as better shooting mechanics.
GTA V also offers an online multiplayer mode, with up to 32 people playing together via Xbox Live or PSN. The game is integrated with Rockstar Social Club, which allows the players to form private crews and join public ones, as well as transfer existing crews from Max Payne 3.
Pre-order bonuses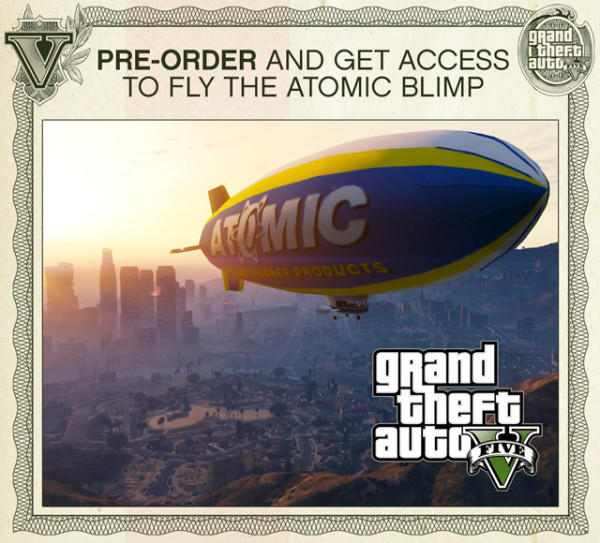 Pre-order any version of GTA 5 and you will be able to fly the Atomic Blimp (pictured above). Additional bonuses are available at the following retailers:
Walmart: GTA V key chain and $4.99 VUDU movie credits.
Best Buy: $10 in Reward Zone certificates for Gamers Club Unlocked members.
Rockstar Warehouse: a free Kifflom t-shirt.
If you'd like some game-themed goodies to mark the release of GTA V, consider one of the two premium editions:
Special Edition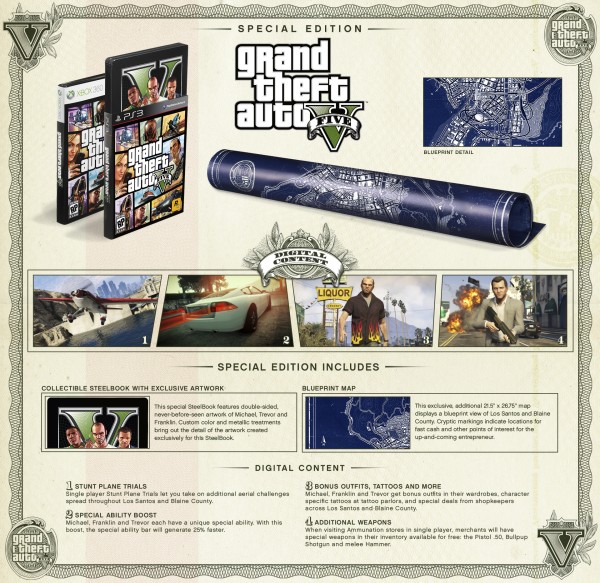 The more modest of the two, Special Edition costs $79.99 and includes the following:
Collectible SteelBook with exclusive artwork of Michael, Trevor and Franklin.
Blueprint Map of Los Santos and Blaine County. Cryptic markings indicate locations for fast cash and other points of interest for the up-and-coming entrepreneur.
Special Ability Boost: each protagonist has his own unique special ability. With this boost, the special ability bar will generate 25% faster.
Stunt Plane Trials will let you take on additional aerial challenges spread throughout Los Santos and Blaine County.
Bonus Outfits, Tattoos, and More: Michael, Franklin and Trevor get bonus outfits in their wardrobes, character specific tattoos at tattoo parlors, and special deals from shopkeepers across Los Santos and Blaine County.
Additional Weapons: when visiting Ammunation stores in single player, merchants will have special weapons in their inventory available for free: the Pistol .50, Bullpup Shotgun and melee Hammer.
The Special Edition isn't exclusive to any one retailer.
Collector's Edition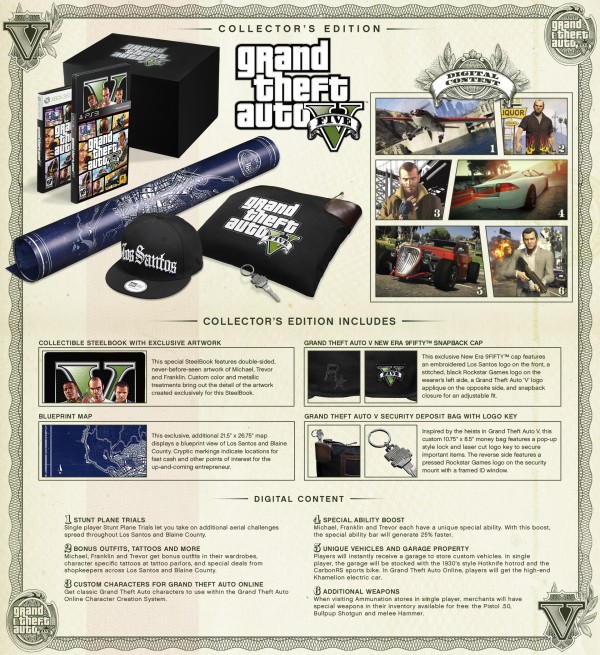 The beefy Collector's Edition includes everything listed under the Special Edition, as well as these extras:
Grand Theft Auto V Security Deposit Bag with Logo Key: inspired by the heists in GTA V, this custom 10.75″ x 8.5″ money bag features a pop-up style lock and laser cut logo key to secure important items. The reverse side features a pressed Rockstar Games logo on the security mount with a framed ID window.
Grand Theft Auto V New Era 9FIFTY™ Snapback Cap: this exclusive cap features an embroidered Los Santos logo on the front, a stitched, black R* logo on the wearer's left side, a Grand Theft Auto "V" logo applique on the opposite side, and snapback closure for an adjustable fit.
Custom Characters for Grand Theft Auto Online: get classic GTA characters to use within the Grand Theft Auto Online Character Creation System.
Unique Vehicles and Garage Property: receive a garage to store custom vehicles. In single player, the garage will be stocked with the 1930's style Hotknife hotrod and the CarbonRS sports bike. In Grand Theft Auto Online, players will get the high-end Khamelion electric car.
The whole package costs $149.99 and is only available via GameStop and Rockstar Warehouse.
Grand Theft Auto 5 will launch on September 17, 2013 for Xbox 360 and Playstation 3 consoles. Next-gen consoles and PCs will get the title at a later date.
Check out our other upcoming action games and upcoming pc games.