This game was released on February 27, 2018 and is no longer available to pre-order. Any incentives that were offered are listed below.
Gravel is an off-road racer developed by Italian studio Milestone S.r.l. While the company is best known for more realistic simulators such as Superbike, MotoGP, and WRC series, it is taking an arcade-style approach with Gravel by prioritizing adrenaline, pure fun, and spectacular stunts.
The game offers four key disciplines – Cross Country, Stadium Circuit, Speed Cross, and Wild Rush – which can be tackled with over 50 licensed vehicles ranging from the 70s all the way to 2017. A variety of exotic locations are available, including mountains, forests, and deserts, and driving over rough terrain like snow, mud, and sand provides unique challenges to the players.
Pre-order Bonuses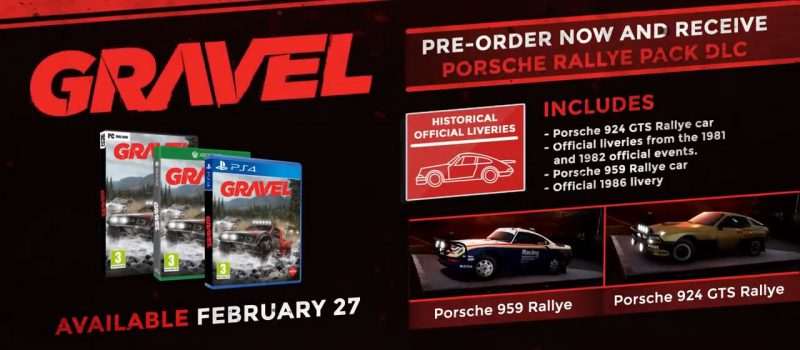 Pre-order Gravel digitally or via select retailers to receive the Porsche Rallye Pack DLC with two licensed Porsche cars and three liveries:
This bonus pack is also a part of the Season Pass, so it will be possible to acquire the cars even if you didn't pre-order the game.
Special Edition
The Special Edition of Gravel costs $69.99 (as opposed to $49.99 regular one) and bundles the base game with the Season Pass. The latter includes "five premium expansion sets", according to the official store description.
Gravel is scheduled to be released on February 27, 2018 for Xbox One, PS4, and Steam.
Check out our other upcoming racing games and upcoming pc games.