This game was released on September 10, 2019 and is no longer available to pre-order. Any incentives that were offered are listed below.
GreedFall is a single-player fantasy RPG from an independent French studio Spiders. The game's art direction is inspired by 17th century Europe, and it takes place on a fictional continent of the Old World that is plagued by overpopulation, pollution, and an incurable epidemic. The only hope is a newly discovered land, Teer Fradee, where the game's protagonist sails off to establish a colony – yet the island is teeming with fantastical creatures and magic-wielding locals.
GreedFall promises a high degree of freedom both in character progression and the way players can approach their objectives. Quests can be accomplished through combat, diplomacy, or deception, and choices made throughout the game influence the story.
Pre-order Bonuses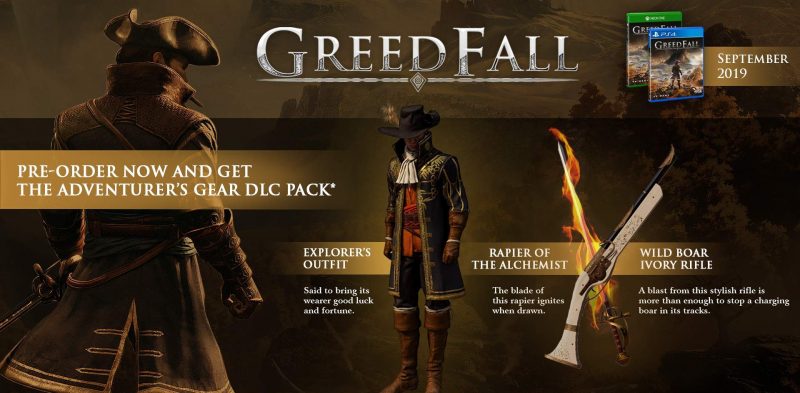 Pre-order GreedFall to receive the Adventurer's Gear DLC Pack containing the following in-game items:
Explorer's Outfit: perfect for any adventurer embarking to strange lands, the Explorer's Outfit is said to bring its wearer good luck and fortune. This complete outfit contains the Hat of the Discoverer, Doublet of Good Fortune, Gloves of the Craftmaster and Weighted-heel Boots.
Rapier of the Alchemist: crafted by a master alchemist of Al Saad, the blade of this rapier ignites when drawn, with the ability to inflict terrible wounds.
Wild Boar Ivory Rifle: this elegant rifle isn't just for style. Though less effective at longer distances, a short-range blast is more than enough to stop a charging boar in its tracks.
The Adventurer's Gear DLC is going to be made available for purchase after the release of the game, so don't fret if you miss the pre-order window.
GreedFall is scheduled to launch September 10, 2019 on PC (via Steam), Xbox One, and PlayStation 4.
Check out our other upcoming action games and upcoming pc games.