This game was released on October 27, 2015 and is no longer available to pre-order. Any incentives that were offered are listed below.
Halo 5: Guardians is the next installment in Xbox's flagship franchise, and the second title in the Reclaimer saga. The story of the game takes place 8 months after the events of Halo 4. Humanity's colonies are under attack, and to make matters worse, Master Chief has gone AWOL. Jameson Locke, a newly-made SPARTAN-IV, is tasked with hunting him down.
Both Agent Locke and Master Chief are playable in Halo 5. The protagonists are accompanied by three squad members who each have their own loadouts and specialties. These companions are controlled by the AI or other players in case of cooperative play. Halo 5 does not feature a split-screen mode, and Xbox Live Gold is required to play with your friends online. The game does come with a two week Gold trial, however. As for competitive multiplayer, there is a new Warzone mode with AI Units and up to 24 players on the map. The devs also promise free DLC maps after launch.
Pre-order bonuses
Reserve a copy of Halo 5 at one of the participating retailers to get an exclusive poster. Not all retailers mention this bonus on their websites, and GameStop claims that quantities are "extremely limited."
That aside, there are some retailer-specific early unlocks and other incentives to be had as well. Rest assured that everyone can eventually unlock the armor and gun skins listed below in-game via REQ packs – pre-order customers just get access to these on day one:
GameStop: Spartan Locke HUNTER-class armor set (Armor & Helmet) for use in multiplayer, Sentinel Battle Rifle with Laser Targeter, Bloodthirst Battle Rifle weapon skin, Rampant Visor, and Emblem Pack.
Amazon: Projection SMG with Long Barrel and Saturnine Visor.
Best Buy: Longshot Assault Rifle with Recoil Compensator and Athlon Iccus Armor. $10 credit and a 20% discount for Gamers Club Unlocked members.
Microsoft: Recon Assault Rifle with Energy Bayonet and Lagrange Assault Rifle Weapon Skin. A digital $10 Xbox gift card.
Walmart: $4.99 VUDU credit.
Xbox Store: as-of-yet unspecified loadout weapon and custom skin usable in the Warzone mode.
Only cosmetic items can be used in the competitive Arena mode to ensure balanced gameplay.
Limited Edition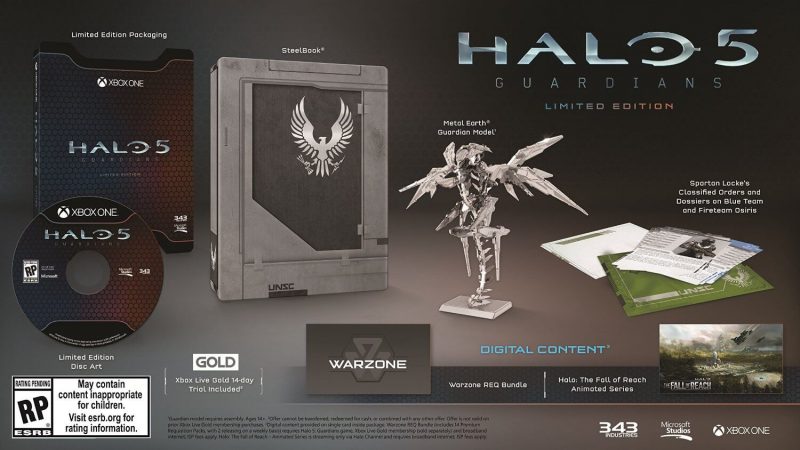 The Limited Edition of Halo 5: Guardians retails for $99.99. It comes in a SteelBook case and includes the following extras:
14 Premium Requisition packs (REQs) for Warzone multiplayer
Halo: The Fall of Reach – Animated Series
Guardian model by Metal Earth
Spartan Locke's Classified Orders
Dossiers on Blue Team and Fireteam Osiris
Collector's Edition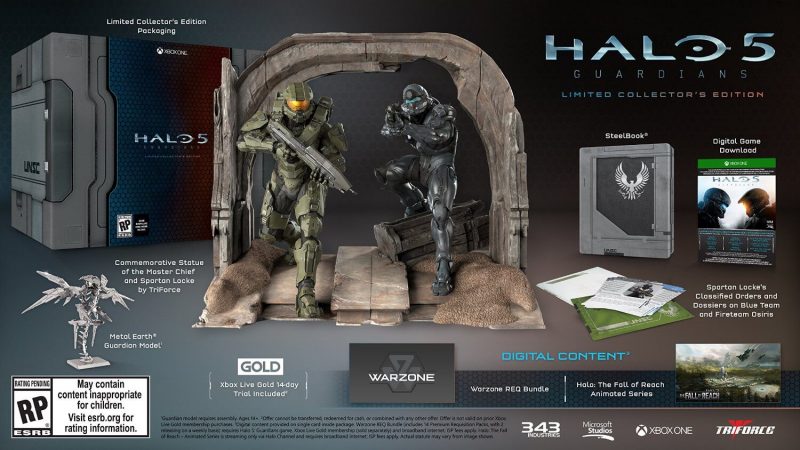 The $249.99 Collector's Edition includes everything the Limited one does, as well as a commemorative statue designed by 343 Industries. According to Microsoft, Master Chief and Spartan Locke are depicted as a team, but the statue can also be split so the two appear ready to face-off.
E3 campaign demo
Halo 5 uses a brand new graphics engine; as a result, the game looks better than the previous installments and runs at 60 FPS. Incidentally, that's also why split-screen had to go, according to the devs.
Halo 5: Guardians is scheduled to be released on October 27, 2015 worldwide.
Check out our other upcoming shooter games and upcoming xbox one games.