This game was released on March 11, 2016 and is no longer available to pre-order. Any incentives that were offered are listed below.
The latest stealth-action game from IO Interactive is titled simply Hitman. It features more sandbox elements, a revamped Contracts mode, and an ability to create your own, custom assassination scenarios and share them with other players. Plot-wise, the new game takes place after the events of Absolution, except for the Prologue, which serves as a prequel and has Agent 47 meeting Diana for the first time.
What's unusual about Hitman is that it is going to be released digitally in seven distinct episodes over the course of the year. Players can pre-order "The Full Experience" ($60) which includes all future episodes like a Season Pass, or get the "Intro Pack" ($15) which only includes the Prologue and the first episode, but still grants full access to Contracts and Escalation modes. The rest of the episodes can then be acquired by purchasing the "Upgrade Pack" ($50) should the player wish to do so. Lastly, boxed versions will be available in late 2016 and include all the content.
Pre-order bonuses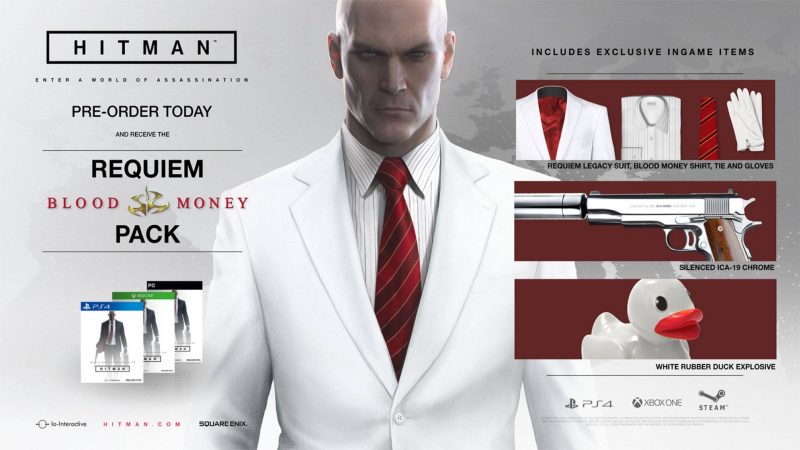 Pre-order any version of Hitman for guaranteed beta access (February 12th through 15th for PS4, and February 19th through 22nd for the PC) as well as the Requiem Blood Money Pack. The latter contains Requiem Legacy Suit, Blood Money Shirt, Tie, Gloves, Silenced ICA-19 Chrome, and White Rubber Duck Explosive.
In addition, PlayStation 4 versions of the game will include six exclusive Contracts called "The Sarajevo Six". Just like the main episodes, these are going to be available periodically throughout 2016.
Collector's Edition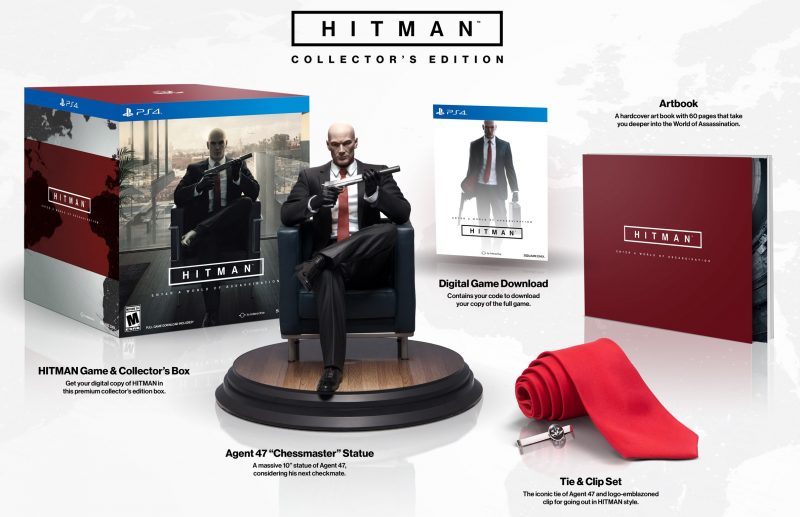 Hitman is also available in a Collector's Edition priced at $140. In addition to the digital download of the full game, it gives you the following extras:
Premium CE box
60-page hardcover artbook
10″ Agent 47 "Chessmaster" statue
Agent 47 tie & clip
You should be able to find the console versions at your favorite retailer. The PC version, however, only appears to be available at the Square Enix store.
World of Assassination trailer
The first episode of Hitman will be released for PC, PlayStation 4, and Xbox One on March 11, 2016.
Check out our other upcoming action games and upcoming pc games.