This game was released on February 15, 2019 and is no longer available to pre-order. Any incentives that were offered are listed below.
Jump Force is a 3v3 tag team fighter developed by Spike Chunsoft and published by Bandai Namco. Celebrating 50 years of the Weekly Jump magazine, it stars the world's most popular manga heroes including Goku from Dragonball, Luffy from One Piece, Boruto's dad from Naruto, Killua from Hunter x Hunter, Yusuke from Yu Yu Hakusho, and many more.
The game is set on modern Earth, or to be more exact an alternate version of it which has merged with the Jump universe, dumping the characters from their serialized manga into reality. The heroes have to put their differences aside and team up against the big bad threatening humanity, battling it out in real-world locations such as NY's Times Square and the Matterhorn Mountain in the Alps. The arenas are fully 3D and allow for verticality and environmental destruction.
Pre-order Bonuses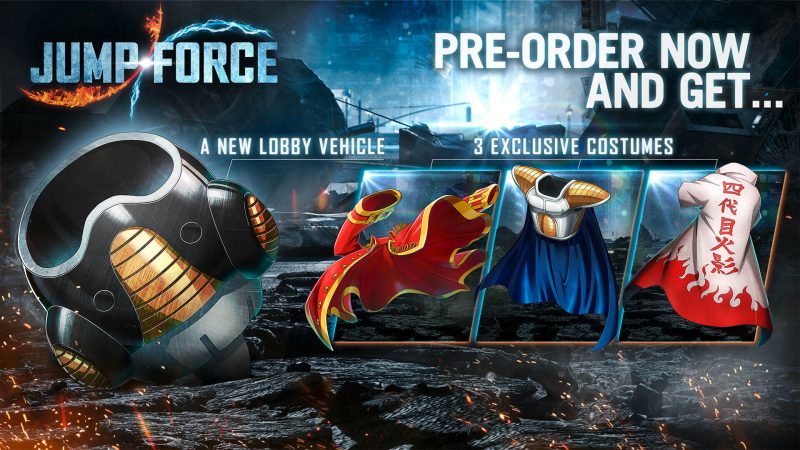 Pre-order Jump Force to receive three exclusive costumes as well as Frieza's Hover Pod lobby vehicle.
Any additional retailer-exclusive bonuses are listed below:
GameStop: an exclusive 16″ x 24″ wall scroll featuring Goku, Luffy, and Naruto (while supplies last). $10 in rewards cash for PowerUp Rewards members.
Microsoft Store, PlayStation Store, or Steam (digital): Shonen Jump and Shonen Jump Pirate Logo branded T-shirts for the player's custom Avatar. Pre-ordering on PSN also grants a Jump Force theme.
Deluxe Edition ($89.99)
The digital-only Deluxe Edition is priced at $89.99 and includes the base game plus the Characters Pass granting access to 9 new characters, as well as their costumes and moves for your Avatar. Each of the characters will also be available for purchase separately, but owning the Character Pass lets you play them four days early.
Ultimate Edition ($99.99)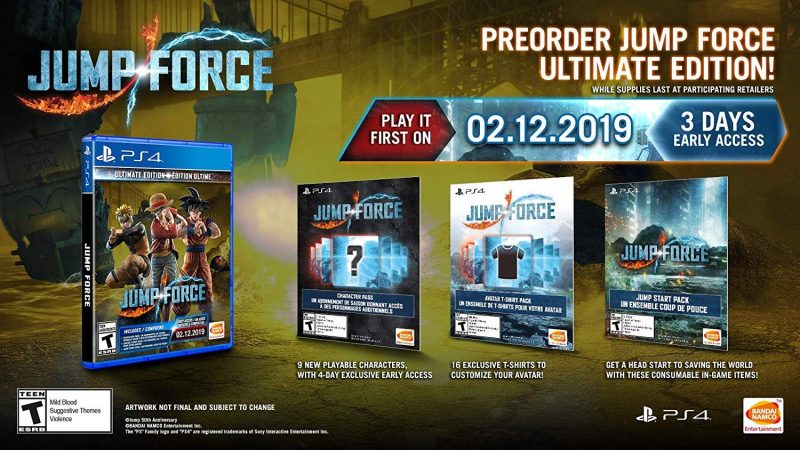 The $100 Ultimate Edition is available both digitally and at retail, and, compared to Deluxe, comes with two additional DLC packs and early access to the game itself:
Three Days Early Access
Character Pass with 4-Day Early Access
Jump Start Pack containing in-game items
16 exclusive T-shirts for your Avatar
Collector's Edition ($259.99)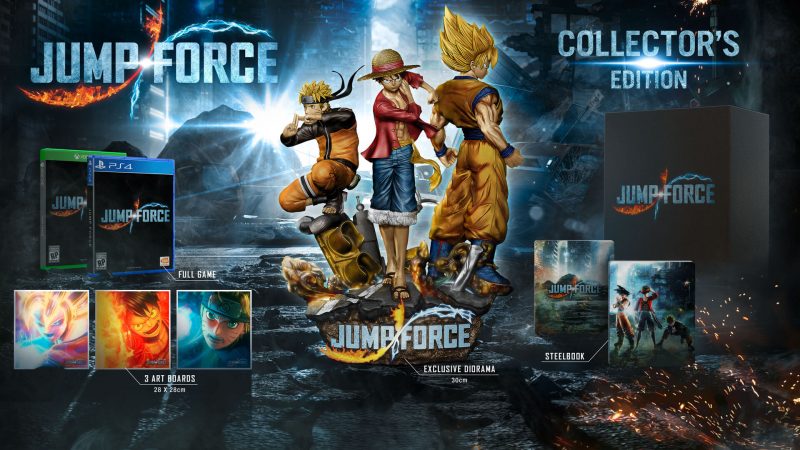 Lastly, the hefty Collector's Edition of Jump Force comes with the following on top of the full game:
30 cm Diorama of Naruto, Luffy and Goku.
3 Art Boards (28 x 28 cm)
Steelbook Case
Unlike its European counterpart, it does not come with the Character Pass, but is accordingly cheaper.
Jump Force arrives February 2019 for PlayStation 4, Xbox One, and Steam. Owners of Xbox One X and PS4 Pro will enjoy enhanced visuals.
Check out our other upcoming fighting games and upcoming pc games.