This game was released on February 13, 2018 and is no longer available to pre-order. Any incentives that were offered are listed below.
Kingdom Come: Deliverance is an open-world action RPG developed by Czech company Warhorse Studios, and published by Deep Silver. It is set in 15th-century Bohemia, a part of the Holy Roman Empire, during the time of great upheaval following the death of emperor Charles IV. Players take on the role of Henry, the son of a humble blacksmith. After his family and entire village is massacred by an invading army, he is drafted into the service of lord Radzig Kobyla, who is leading the resistance.
The game boasts historically-accurate medieval combat: for example, sword blows against armor are deflected, so the player has to find and exploit weaknesses in the opponent's defenses. A classless system is used for character advancement, and proficiency in different weapons as well as skills like lock-picking can be freely learned without restrictions to character archetypes.
Pre-order Bonuses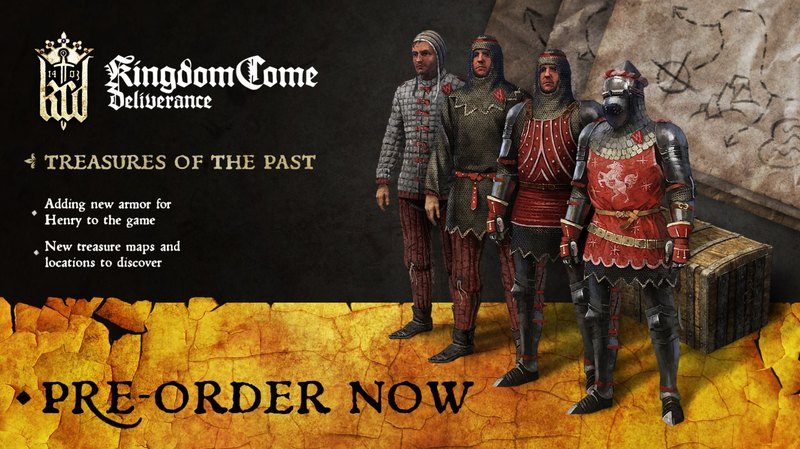 Pre-ordering Kingdom Come: Deliverance grants the in-game Treasures of the Past pack. Here's the official tidbit on its contents from Steam:
Treasure maps of the lords banished by King Sigismund of Hungary, leading to the hidden treasures of those patriots, bandits and schemers.
The mythical armor of the Warhorse tribe. Shrouded in mystery – it is said that the original wearer purged all the dragons from the Kingdom of Bohemia.
Existing Kickstarter backers will receive the aforementioned pre-order bonus as well.
Collector's Edition
Only available at select retailers in certain territories, the Collector's Edition comes with the following:
The official Kingdom Come: Deliverance SteelBook
30 x 30 cm cloth map of medieval Bohemia from the Kingdom Come: Deliverance landscape
15 cm tall polyresin figurine of Henry, painted in silver and with an antique finish
Selection of the official soundtrack on an audio CD
32-page hardcover artbook
Kingdom Come: Deliverance is scheduled to be released on February 13, 2018 worldwide.
Check out our other upcoming action games and upcoming pc games.