This game was released on September 28, 2021 and is no longer available to pre-order. Any incentives that were offered are listed below.
Lemnis Gate is an award-winning first-person shooter game coming to PC, Playstation 4, Playstation 5, Xbox One and Xbox Series X/S. The game is produced by Ratloop Games Canada and published by Frontier Foundry.
Lemnis Gate is unlike anything else in the shooter market! The game is a turn-based first-person shooter that adds time travel to the mix! This will train you to think in the past, present and future, giving each match a unique outcome and many unforgettable moments.
The best way to describe this game is as an FPS chess or a Christopher Nolan video game. It's an FPS where each player plays the same 25 seconds in turns. As each player has their turn, the actions of the previous players are repeated. This adds an exciting element of strategy to the game. Confused? Check out this video!
The game consists of seven unique operatives. Each one has their special abilities and weapons, making them great for different situations. For example, Striker has a zero-drop rifle, which is good for long-range kills. His ability slows down time so you can get kills you wouldn't have been able to do otherwise. But there's a catch. You can only use each character once! So you'll have to be strategic when you use them.
There are also four game modes: Seek and Destroy, Retrieve Exotic Matter, Domination and Deathmatch. For all game modes, you'll be able to play against one or two enemies. Also, depending on game rules, one, two or four players can play simultaneously. This introduces brand new strategies and unique gameplay to the game. 
Pre-order Bonuses
If you make a purchase through these links, we may get a share of the sale.
STANDARD EDITION ($19.99)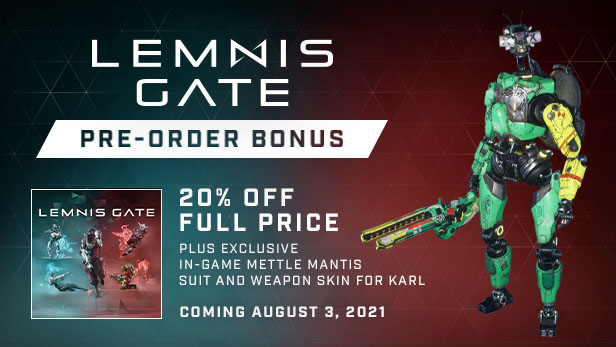 If you pre-order the game before September 28th, you'll not just get the base game, but some exclusive pre-order bonuses like:
20% off the game
Exclusive In-Game Mettle Mantis Suit for KARL
Exclusive In-Game Weapon Skin for KARL
PlayStation:
Xbox:
PC:
The Game is coming out on September 28 and will be available on PC, PlayStation 5, PlayStation 4, Xbox Series X/S and Xbox One.
Check out our other upcoming shooter games and upcoming pc games.