This game was released on November 18, 2014 and is no longer available to pre-order. Any incentives that were offered are listed below.
LBP3 is an upcoming third installment in the core LittleBigPlanet series developed by a British studio Sumo Digital. The game includes three new playable characters – Swoop, Oddsock, and Toggle – each with their own unique powers; Sackboy himself also gains an ability to climb certain objects. In addition, there are new power ups such as the Pumpinator, which releases gusts of wind to move light items.
The Create Mode has also been greatly improved with the removal of the thermometer; HDD space is now the only limit. Furthermore, levels can be made more complex thanks to sixteen available layers, giving them more depth. Players of the previous titles will be happy to hear that LittleBigPlanet 3 is going to be backwards-compatible with the user-created levels from LBP and LBP2, rendering them at a higher resolution in the PS4 version of the game.
Pre-order bonuses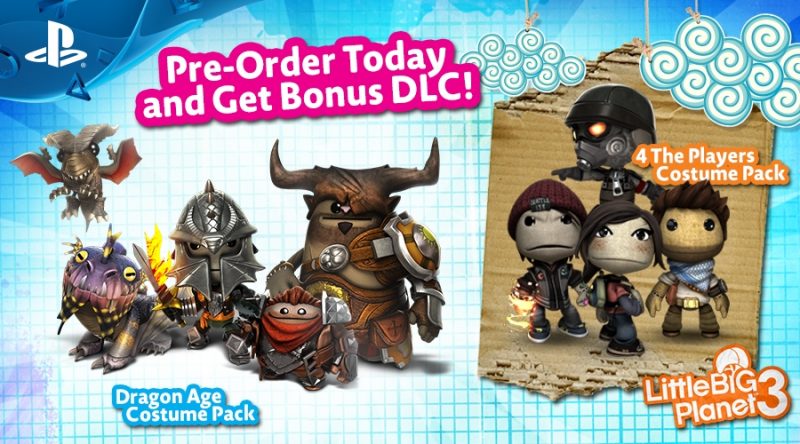 All LittleBigPlanet 3 preorders will be rewarded with the Day One Edition, which includes two DLCs: Dragon Age: Inquisition Costume Pack, and 4 The Players Costume Pack. In addition to the digital stuff, you will also be getting a 6″ Sackboy plushie while supplies last. This toy isn't exclusive to any one retailer, but Target's version comes with their branded hat, if that sounds like your kind of thing.
The game does have some exclusive pre-order DLC as well. Reserve your copy at one of the following places and get even more costumes to dress up Sackboy as well as the three new characters with. Needless to say, these three fine establishments also offer the aforementioned plush toy; however, since supplies are limited, make sure to check with them before you place your pre-order.
Amazon: PlayStation Favorites Pack (17 costumes from titles like Ratchet and Clank)
Best Buy: Hidden Creatures Pack
GameStop: Mythical Creatures Pack
Sony hasn't forgotten the digital version, either: preordering on their store will grant you a LittleBigPlanet 3 T-Shirt Pack instantly, meaning you can download and use it on LBP2 and other games from the franchise.
Create and Share trailer
The release date of Little Big Planet 3 is scheduled for November 18th, 2014 in the US. The game will launch on both PS3 and PS4 consoles on the same day.
Check out our other upcoming platformer games and upcoming playstation 3 games.