This game was released on September 01, 2015 and is no longer available to pre-order. Any incentives that were offered are listed below.
Mad Max is a vehicular combat game set in an open world based on the popular post-apocalyptic movie series. It follows the titular character on his journey across the Wasteland to reclaim the V8 Interceptor that was stolen by Scrotus and his marauding gang of warboys. In order to accomplish this, Max teams up with an oddball mechanic Chumbucket, who helps him build the ultimate combat vehicle – the Magnum Opus.
As most of campaign is spent with the main character behind the wheel, the game offers extensive customization for the Magnum Opus, which can be upgraded by scavenging for materials or hijacking enemy cars. Max's armor and weapons can also be improved, which will come in handy in those brutal melee fights. Mad Max is said to feature a freeflow combat system similar to that found in Batman: Arkham franchise. Players also have the option of taking down an enemy silently with a knife, although frenzied action, rather than stealth, is the overall focus of the game as expected.
Pre-order bonuses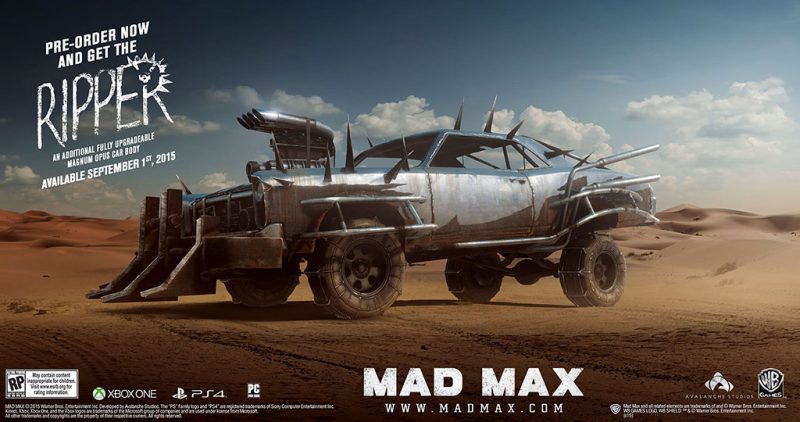 Pre-order Mad Max to receive the Ripper, a customizable Magnum Opus car body which comes with a powerful V8 engine, an upgraded exhaust, custom tires, and other upgrades out of the box. This DLC is available to everyone who pre-orders the game.
In addition to that, GameStop is offering an exclusive 1/64 scale diecast model of the Magnum Opus, as well as an exclusive Mad Max poster. Best Buy, meanwhile, is trying to entice gamers with their usual $10 store credit to My Best Buy members.
Gameplay overview
This official trailer from Avalanche Studios explains the premise of the upcoming game and previews car and gear customization.
Mad Max is scheduled to launch on September 1, 2015 in North America for current-gen consoles and PC, which includes both Windows and Linux/SteamOS operating systems.
Check out our other upcoming action games and upcoming pc games.