This game was released on September 19, 2017 and is no longer available to pre-order. Any incentives that were offered are listed below.
Marvel vs. Capcom: Infinite is a fighting game developed by Capcom which fuses the two titular universes. The crossover features playable fighters like Chun-Li, Chris Redfield, Ryu, and Morrigan from various Capcom franchises, as well as Iron Man, Hulk, Thor, and Captain America from Marvel Comics.
The upcoming game includes modes typical for the Marvel vs. Capcom series, such as Story, Arcade, Training, Mission, and online multiplayer. In the Story Mode, the heroes face the sinister threat of Ultron Sigma, a fusion of villains from two different universes. The battles are fought in a two-on-two format, and are spiced up by Infinity Stones, which grant additional customization for the chosen characters.
Marvel vs Capcom: Infinite is now available on GamerSaloon – Where Gamers Play for Real Money.
Pre-order Bonuses
Pre-order Marvel vs. Capcom: Infinite to receive two bonus costumes depicted below – the Warrior Thor and Evil Ryu:
Any bonuses in addition to that are listed below:
Best Buy: a random Marvel plush clip-on figure from Original Minis with any physical version of the game.
PSN: a PS4 theme.
Also, while this is not a pre-order bonus, it should be noted that the PlayStation 4 version of the game comes with an exclusive Major Carol Danvers costume for Captain Marvel.
Deluxe Edition
The Deluxe Edition costs $89.99, and comes with two additional costumes (Gladiator Hulk and Command Mission X) as well as the "2017 Character Pass", which gives access to six post-launch characters including Sigma.
Collector's Edition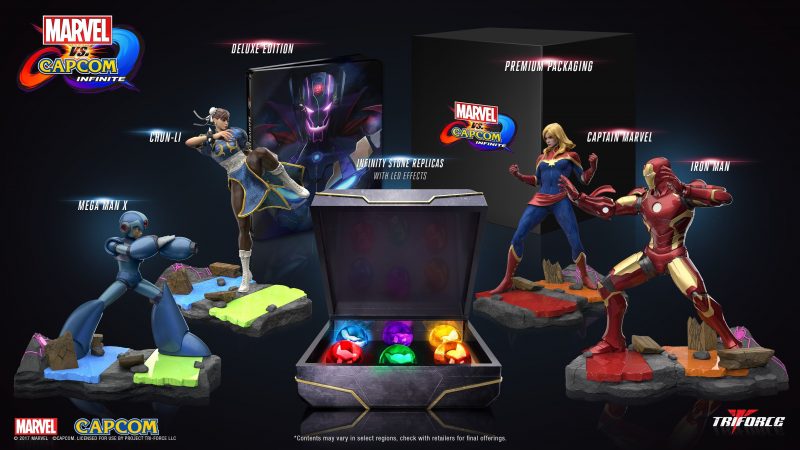 Priced at $199.99, the massive Collector's Edition is available in limited quantities, and comes with the following:
Deluxe Edition
Premium Packaging
Four detailed, interlinking dioramas from TriForce (Chun-Li, Mega Man X, Captain Marvel, and Iron Man)
Six replica Infinity Stones with LED effects in a decorative case
Marvel vs. Capcom: Infinite will launch on September 19, 2017 for PlayStation 4 and Xbox One consoles as well as PC via Steam.
Check out our other upcoming fighting games and upcoming pc games.