This game was released on September 04, 2020 and is no longer available to pre-order. Any incentives that were offered are listed below.
Marvel's Avengers is a third-person action-adventure game that tells an original story beginning with the unveiling of the Avengers Headquarters in San Francisco. When an experimental reactor powering their Helicarrier explodes devastating the city, the Avengers are blamed for the casualties and are forced to disband. Years later, a young Kamala Khan sets out to reassemble the Avengers and stop the villain organization AIM.
Marvel's Avengers can be played solo or in an online co-op of up to four players. The heroes can be customized with unlockable gear and skills. The game's cinematic story will continue in content drops post-launch, with new regions and heroes delivered free of charge as long as the player already owns the core game.
Pre-order Bonuses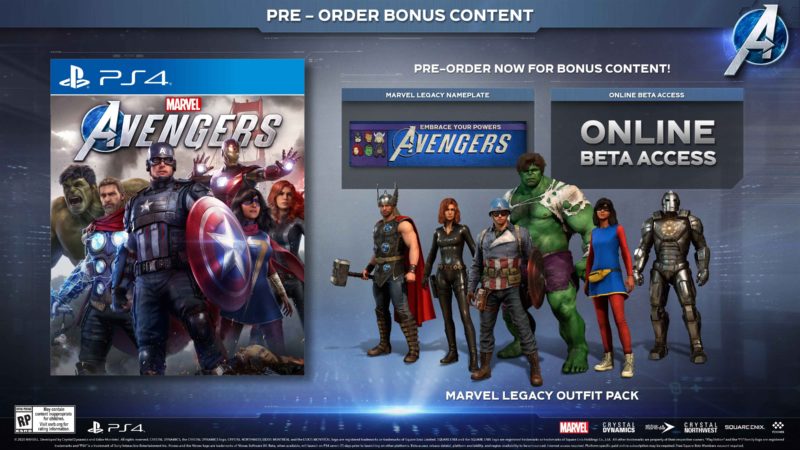 Pre-order Marvel's Avengers for any platform to receive access to an upcoming beta test, a nameplate that can be equipped on the core six Avengers, and the Marvel Legacy Outfit Pack that contains retro costumes inspired by each Avenger's defining moments from the original comics. All the bonuses at a glance are as follows:
Online Beta Test (starts August 7 on PS4 and August 14 on PC & Xbox One)
Marvel Legacy Nameplate
Marvel Legacy Outfit Pack:

Front Line Outfit for Captain America
Classic Stealth Outfit for Black Widow
Iron Will Outfit for Iron Man
Asgard's Might Outfit for Thor
Greater Good Outfit for Ms. Marvel
Breakthrough Outfit for the Hulk
Further bonuses are available at the following retailers:
If you make a purchase through these links, we may get a share of the sale.
PlayStation 4 Bonuses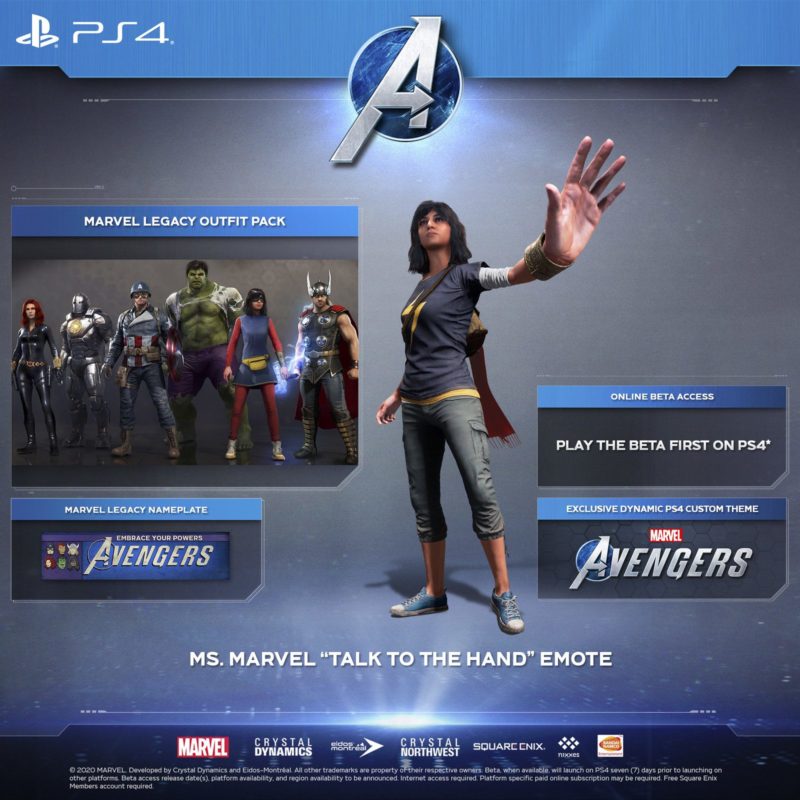 On top of everything mentioned so far, PlayStation 4 pre-orers will be getting additional exclusive content:
First Beta Access (7 days prior to other platforms)
Ms. Marvel "Talk to the Hand" Emote
Marvel's Avengers PS4 Theme (Digital Only)
Not only that, PlayStation 4 is also getting an exclusive digital edition detailed below.
Exclusive Digital Edition ($69.99)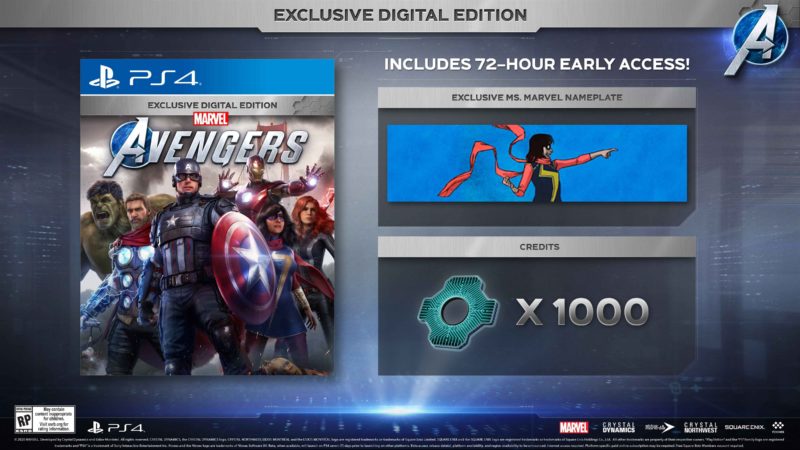 Available exclusively through PlayStation Store, this digital edition comes with the following extras:
72-hour Early Access
1,000 Credits (used for Super Hero customization)
Ms. Marvel Nameplate
Deluxe Edition ($79.99)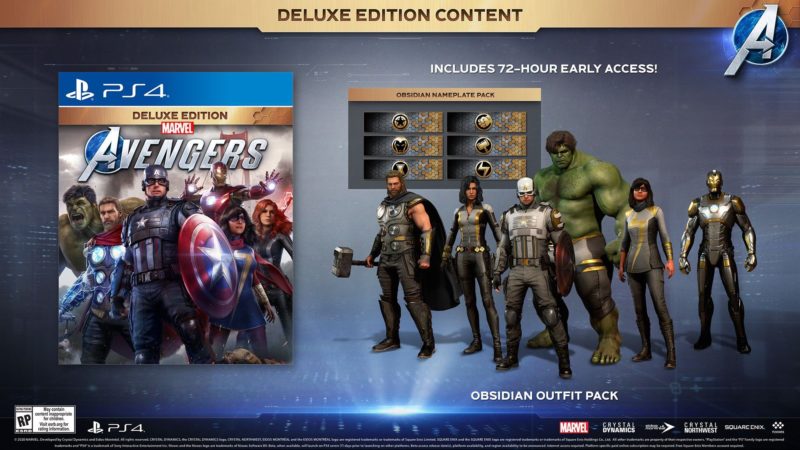 The Deluxe Edition is available both digitally and at retail. It adds the following perks on top of the base game:
72-hour Early Access
Obsidian Outfit Pack for Captain America, Iron Man, Black Widow, Thor, Hulk, and Ms. Marvel
Six Obsidian-themed nameplates
1-month subscription to Marvel Unlimited (physical version only)
Earth's Mightiest Edition ($199.99)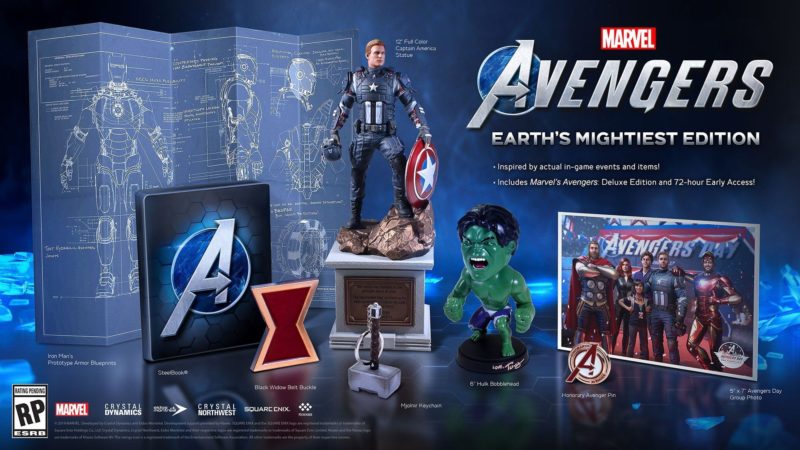 Last but certainly not least is the massive Earth's Mightiest Edition. Fans will be happy to learn that it's not a retailer exclusive, and is already available for pre-order on Square Enix Store and the usual retailers. Here's what you get for laying down $200:
12″ statue of Captain America by Gentle Giant
Copy of Deluxe Edition
72-hour Early Access
Exclusive Steelbook Case
Hulk Bobblehead
Mjolnir Keychain
Black Widow's Belt Buckle
Iron Man's Prototype Amor Blueprints
Kamala Khan's Honorary Avenger Pin
Commemorative Avengers group photo
Marvel's Avengers launches on September 4, 2020 on PlayStation 4, Xbox One, and the PC.
Check out our other upcoming action games and upcoming pc games.