This game was released on July 03, 2020 and is no longer available to pre-order. Any incentives that were offered are listed below.
The latest title from developers at Camouflaj, Marvel's Iron Man VR allows the player to step into the shoes of the genius inventor Tony Stark. Tony might have retired from making weapons, but when Stark Industries locations around the world are attacked by a hacker and anti-corporate activist Ghost, he's forced to don the Iron Man suit once more.
The game is designed from the ground up for VR and requires two PlayStation Move controllers to play.
Pre-order Bonuses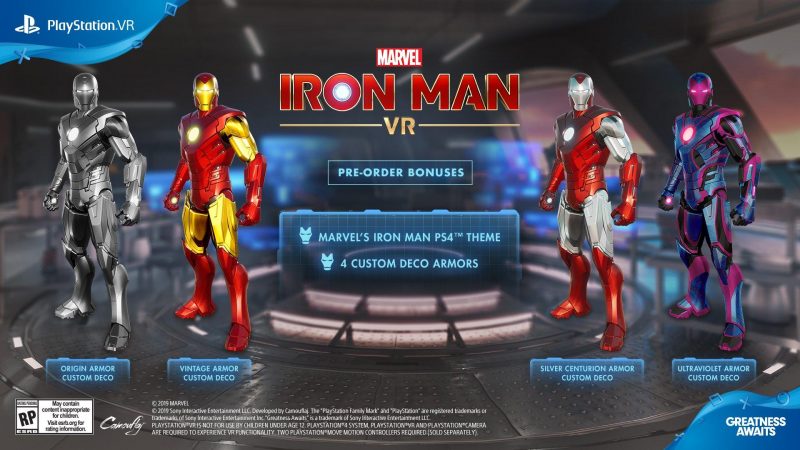 Pre-ordering Marvel's Iron Man VR grants 4 bonus Custom Armor Decos: Origin, Vintage, Silver Centurion, and Ultraviolet. Digital pre-orders via PSN also receive a dynamic PS4 theme as well as a promo code for a 30-day Marvel Unlimited trial.
Playable Demo Bonus
A free playable demo is available on PlayStation Store. Play it to unlock an exclusive Molten Lava Armor Deco in the full game.
Digital Deluxe Edition ($49.99)
For $10 more than the standard edition, you'll receive the following goodies on top of the base game:
4 Deluxe Edition Deco Armors:

Golden Avenger
Black Centurion
Sun Stinger
Stealth Armor

12 Research Points: Research Points are gained by analyzing combat data from Iron Man's performance in the field. This allows Friday to develop new technology (weapons and augments) for the Impulse Suit. Use these Research Points to unlock some weapons and augments early and customize your play style.
Marvel's Iron Man VR Digital Deluxe Soundtrack
Digital Deluxe Edition Iron Man PS4 Theme
PS VR Bundle ($349.99)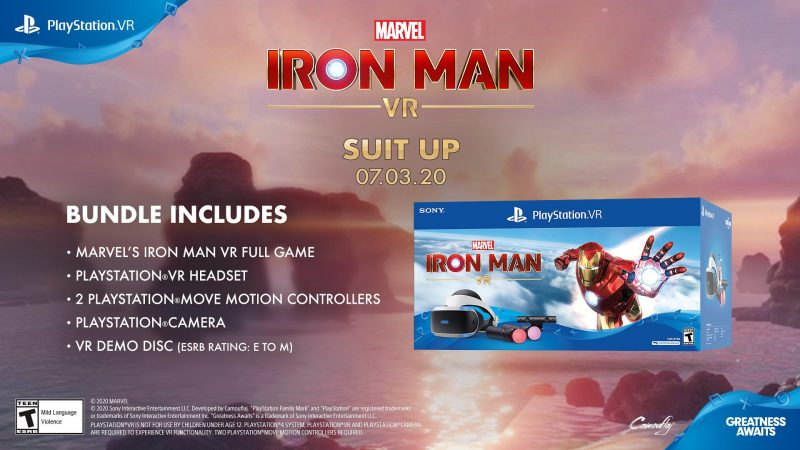 Lastly, Iron Man VR is also available in a bundle with PlayStation VR headset, PlayStation Camera, two PlayStation Move motion controllers, and a PS VR Demo Disc. The bundle can be pre-ordered at retail for $350 and also includes the aforementioned four bonus Deco Armors.
After some delays, the launch of Marvel's Iron Man VR is now set for July 3, 2020.
Check out our other upcoming action games and upcoming playstation 4 games.