This game was released on February 19, 2013 and is no longer available to pre-order. Any incentives that were offered are listed below.
Metal Gear Rising: Revengeance is an upcoming console action game developed by Platinum Games and published by Konami. It features Raiden as the playable protagonist and is set four years after Metal Gear Solid 4: Guns of the Patriots. This title has less stealth elements than previous Metal Gear games, but introduces a new gameplay mechanic called "Blade Mode" instead. This freeform cutting mode slows down time and allows Raiden to make aimed sword strikes, cleaving enemies into pieces.
Pre-order bonuses
The following retailers are offering incentives to those who pre-order Metal Gear Rising: Revengeance with them:
Amazon: Inferno Armor skin which increases grenade carrying capacity.
GameStop: Cyborg Ninja (Gray Fox) skin with Fox Blade, and a 24-page art book.
Best Buy: White Armor Raiden skin with enhanced health recovery, and $20 store credit for Gamers Club Unlocked members.
Walmart: exclusive instrumental soundtrack.
The exclusive armor skins are available with both Standard and Limited editions of the game; more about the latter below.
Limited edition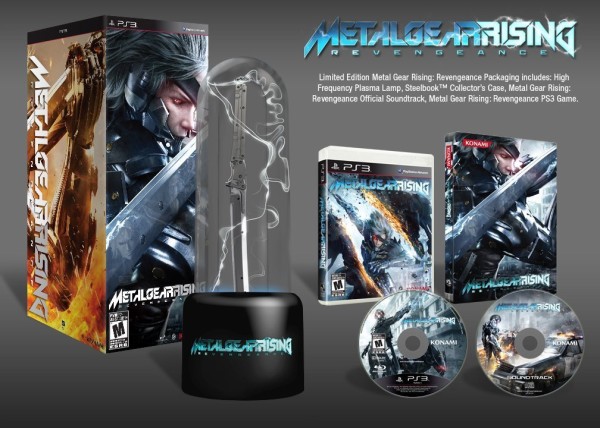 The Limited Edition of Metal Gear Rising: Revengeance is priced at $149.99 and comes with the following items:
High Frequency 14″ x 3.5″ Plasma Lamp
Steelbook Collector's Case
Official Soundtrack
TGS 2012 trailer
This trailer from Tokyo Game Show 2012 introduces 3 enemy bosses and a new enemy type.
Metal Gear Rising: Revengeance is scheduled for release on February 19, 2013 in North America, and February 22 in Europe.
Check out our other upcoming action games and upcoming playstation 3 games.