This game was released on September 01, 2015 and is no longer available to pre-order. Any incentives that were offered are listed below.
MGS V: The Phantom Pain is a direct sequel to Ground Zeroes developed by Kojima Productions and published by Konami. It takes place in 1984 and follows the Big Boss as he investigates the destruction of MSF years prior. The game's vast open-world environments are set in Africa and Afghanistan. The gameplay mechanics of the upcoming title remain similar to those of its predecessor, but there are several new elements such as real-time day and night cycle, dynamic weather, new stealth actions, and different methods of travel.
Mother Base is also making a return in The Phantom Pain, and this time it is both explorable and expandable. Players can choose which upgrades to construct, and customize the color to their liking.
Pre-order bonuses
Preorder The Phantom Pain for any of the consoles to get upgraded to the Day One Edition which grants you the following extras:
Physical Map
DLC Items:

Adam-ska Special Handgun
Personal Ballistic Shield (Silver)
Cardboard Box (Wetland)
Fatigues (Blue Urban Snake Costume)
Metal Gear Online XP Boost
No retailer-specific bonuses have been announced, although Best Buy is offering their usual $10 credit for My Best Buy members.
Meanwhile, the PC (or, more specifically, Steam) version bonuses include a digital, giftable copy of Metal Gear Solid V: Ground Zeroes, a Venom Snake emblem, Mother Base Staff 3, and a Collector's Video.
Collector's edition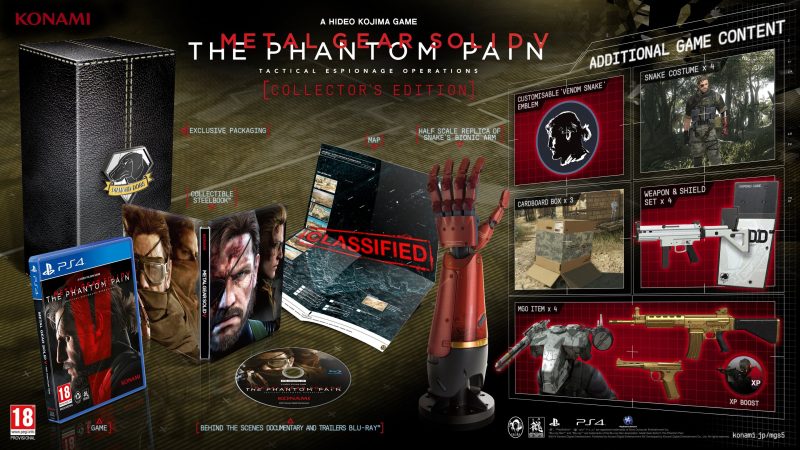 There is also a Collector's Edition of MGSV available which comes with various physical and digital goodies, most notably a 24cm replica of Snake's bionic arm. Fans who fork over $100 for this edition will also be getting SteelBook packaging, a physical map, documentary and trailer BD, and the following DLC:
Customizable Venom Snake Emblem
Weapon & Shield Pack:

Windurger S333 Combat Special Revolver
Adam-ska Special Handgun
Maschinen aktische Pistole 5 Weiss Special Handgun
Rasp Short-Barreled Shotgun Gold
Personal Ballistic Shield (Olive Drab, Silver, White, Gold)

Cardboard Boxes (Rocky, All-Purpose Dryland, Wetland)
Fatigues (Black Ocelot, Gray Urban, Blue Urban, All-Purpose Dryland)
MGO XP Boost
MGO Items (Metal Gear Rex Helmet, AM MRS-4 Gold Assault Rifle, WU S. Gold Pistol)
E3 2014 trailer
Metal Gear Solid V: The Phantom Pain is scheduled to be out on September 1, 2015 for all consoles as well as Windows PCs.
Check out our other upcoming action games and upcoming pc games.