This game was released on February 15, 2019 and is no longer available to pre-order. Any incentives that were offered are listed below.
Metro Exodus is a first-person shooter developed by Ukrainian studio 4A Games and published by Deep Silver. Set in a post-apocalyptic Earth devastated by a nuclear war, it continues the story of Artyom, who leaves the Moscow's metro and travels east aboard an armored steam locomotive, Aurora, in search of a new life. During the journey through the wasteland, the Aurora acts as a mobile station, and will be constantly modified with new cars as the survivors aboard fend off sinister foes and recruit new allies.
Pre-order Bonuses
The generic bonuses you get for pre-ordering Metro Exodus depends on the platform, and vary a lot:
Xbox One: a copy of Metro 2033 Redux, a remastered version of first game in the saga (playable upon Metro: Exodus release).
PlayStation 4: a stunning Dynamic Theme based on the Metro Exodus "Winter" artwork.
PC: a digital art book and the Metro Exodus OST.
As per the official website, these bonuses are available for both physical and digital versions of the game. Furthermore, first-run physical copies come with a panoramic Creatures of Metro Exodus poster: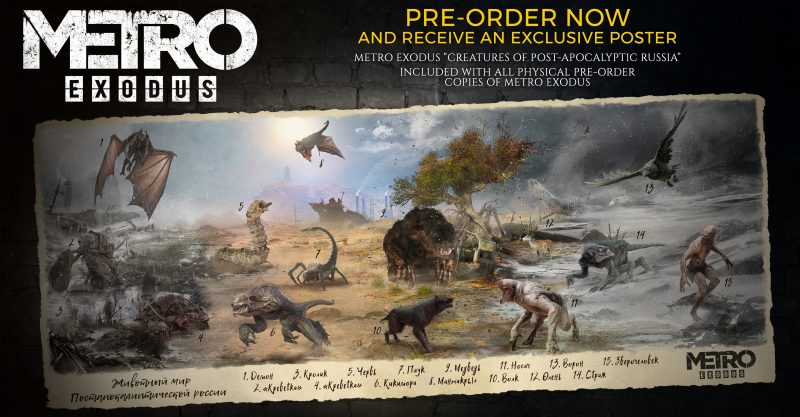 Additional bonuses for pre-ordering a boxed copy are available from the following retailers:
GameStop: a Carabiner Compass inspired by the one Artyom keeps on him at all times to help navigate the deadly wasteland. It is a functional compass with a carabineer-style fastener to secure it to various gear.
Amazon: a digital Spartan Survival Guide that introduces your band of Spartan comrades, the arsenal of hand-crafted weapons and survival equipment, and the terrible creatures you'll meet in the unforgiving wilderness.
Newegg: $10 discount upon adding to cart (standard Day One edition only).
As 4A Games have taken their time to assure the community that no in-game content will be held back from the players in the shape of exclusive pre-order DLC, these are naturally limited to physical goodies and discounts.
Gold Edition ($84.99)
Available digitally for all three platforms, the Gold Edition includes the base game plus the Metro Exodus Expansion Pass. Not many details are available about its contents yet, but the store blurb says to expect "hours of gripping single-player, story-driven action".
Aurora Limited Edition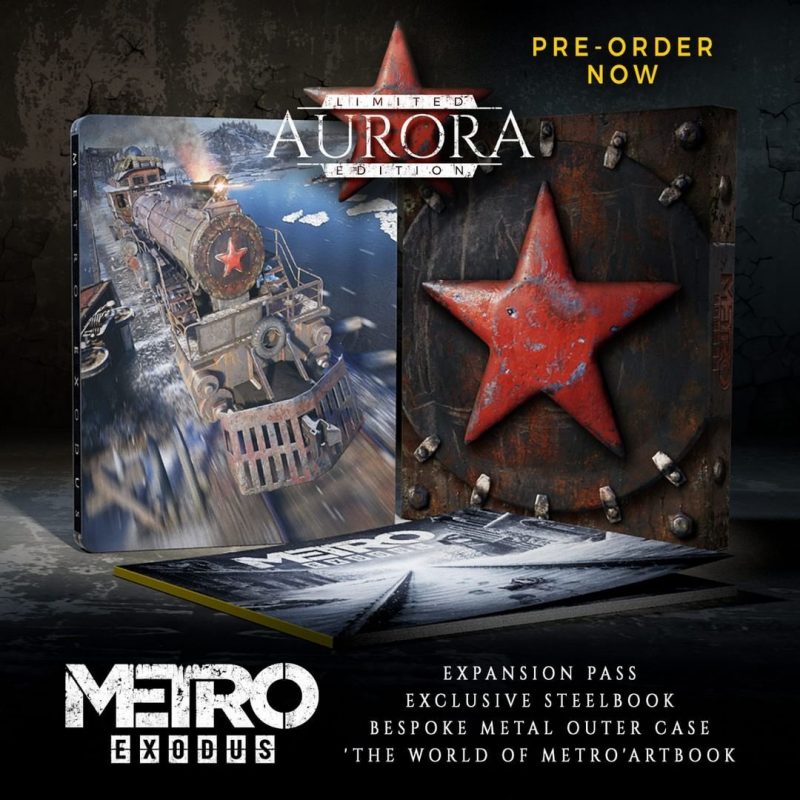 The physical Aurora Edition is a little more exclusive in the sense that it will only be available in limited supply at select retailers worldwide (fortunately, that includes most big retailers in the US: Amazon, GameStop, Best Buy, and Target). On top of the game disc itself, it comes with the following extras:
Metro Exodus Expansion Pass
Exclusive Steelbook
"The World of Metro" 32-Page Art Book
Metal Outer Case inspired by The Aurora
Naturally, this edition comes with the aforementioned pre-order bonuses for the according platform as well.
Spartan Collector's Edition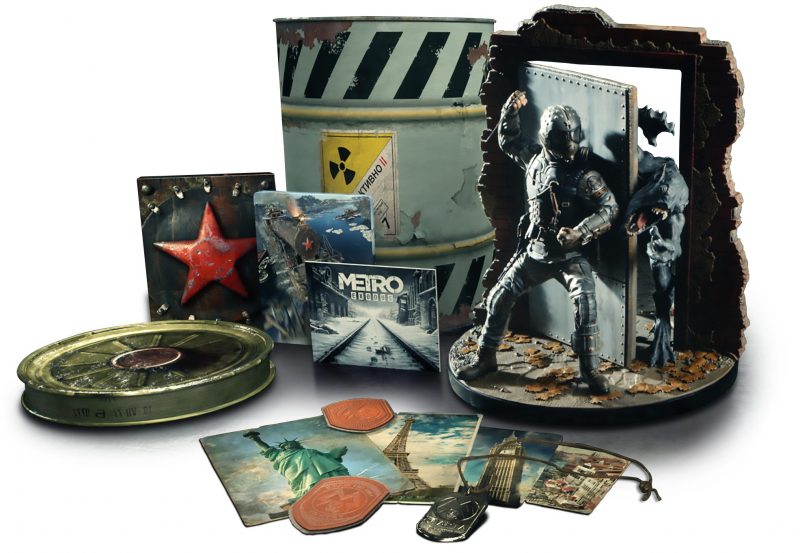 Last but not least is the Spartan Collector's Edition, which by default does not come with the game itself. Instead, it contains the following collectibles:
Premium-Quality Artyom Statue: highly detailed, hand-painted resin statue stands at 10.5″ high and captures the iconic scene from the announcement trailer of Artyom fighting off a deadly Watchman. Each statue is individually numbered.
Authentic Spartan Order Dog Tag: a finely crafted replica of Artyom's Spartan Order tag.
"Artyom's Memories" Collectible Postcards: Arytom's most treasured items from the world before it was devastated by nuclear war. Fans of the Metro series will recognize Artyom's collection, given to him by those he encounters on his journey. Each postcard carries a message from his closest friends and companions.
Spartan Order Patches: two authentic Spartan Order patches.
This edition is only available through the official website of Metro Exodus and costs $149.99 plus a hefty postage fee. When purchased together with the aforementioned Aurora Edition, the price increases to $234.98. (The image above depicts the Spartan Collector's and Aurora Limited editions bundled together).
Metro Exodus will be available for PlayStation 4, Xbox One, and PC (Steam) on February 15, 2019.
Check out our other upcoming shooter games and upcoming pc games.