This game was released on May 14, 2013 and is no longer available to pre-order. Any incentives that were offered are listed below.
Metro: Last Light is an upcoming first-person shooter game with survival horror elements. It is also a sequel to Metro 2033, which was released back in 2010. The game is developed by the same 4A Games studio, but has a different publisher this time: Deep Silver.
The game is based on a novel by a Russian author Dmitry Glukhovsky, and is centered around survivors of a global nuclear war who take shelter in the Moscow Metro and form different factions.
Pre-order bonuses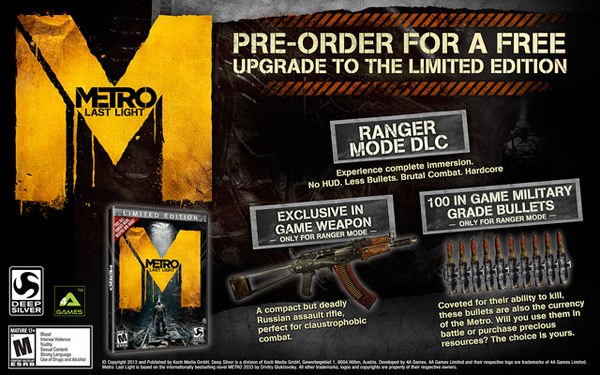 All Metro: Last Light pre-orders get upgraded to the Limited Edition automatically. It includes Ranger Mode DLC (no HUD for better immersion and increased damage), an AKS-74U rifle, and 100 military-grade bullets to go with it. These bonuses are available on all platforms.
Next we have a few retailer-exclusive incentives as well:
GameStop: RPK, an exclusive in-game weapon (a light machine gun developed by Mikhail Kalashnikov in the Soviet Union).
Amazon: $10 Amazon Instant Video credit and a digital comic bridging the gap between Metro 2033 and Metro: Last Light.
Redemption trailer
Metro: Last Light is set to be released on May 14th in North America.
Check out our other upcoming shooter games and upcoming pc games.