Genre
Simulation
Platform
Xbox Series X
Release date
Jul 27, 2021
This game was released on July 27, 2021 and is no longer available to pre-order. Any incentives that were offered are listed below.
With its rich history spanning four decades, Microsoft Flight Simulator is one of the most ambitious and beloved home flight simulations around.
Developed by Asobo Studio and published by Microsoft. Microsoft Flight simulator offers an authentic yet enjoyable look into what it takes to get a plane off the ground and soaring above the clouds. Microsoft Flight Simulator will be available on Xbox Series X/S this summer.
With the power of Azure AI and satellite data, Microsoft was able to create a world that looks both visually stunning and accurate to real life. Featuring over 37,000 airports, 2 million cities, 1.5 billion buildings, numerous mountain ranges, roads, trees, rivers, animals as well as realistic traffic.
In Microsoft Flight Simulator, get to fly planes of all shapes and sizes – commercial to military, as you pilot your way over iconic cities such as Los Angeles and Paris. The world is at your fingertips.
Pre-order Bonuses
If you make a purchase through these links, we may get a share of the sale.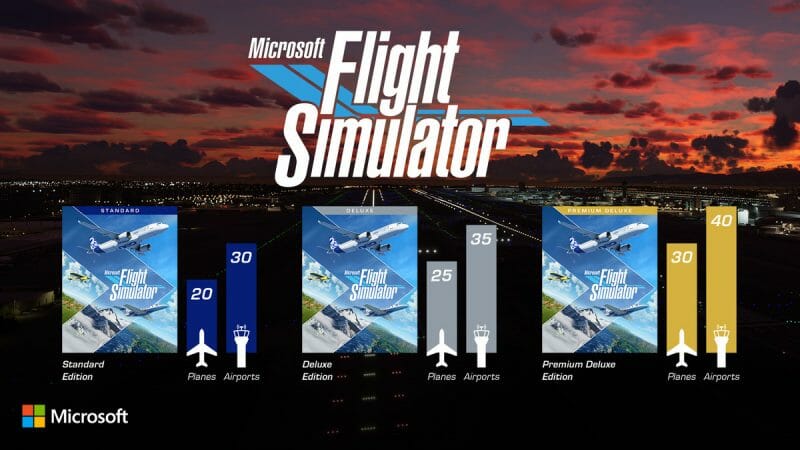 Standard Edition ($59.99)
Purchasing the Standard Edition of Microsoft Flight Simulator gets you the base game plus add-ons such as: 20 highly detailed planes with unique flight models and 30 hand-crafted airports.
Deluxe Edition ($89.99)
The Deluxe Edition of Microsoft Flight Simulator comes bundled with the same add-ons as the Standard Edition, plus a Deluxe pack which gets you the 5 extra enhanced airports and 5 additional aircrafts listed below:
Aircrafts
Diamond Aircraft DA40-TDI
Diamond Aircraft DV20
Textron Aviation Beechcraft Baron G58
Textron Aviation Cessna 152 Aerobat
Textron Aviation Cessna 172 Skyhawk
Airports
Amsterdam Airport Schiphol (Netherlands)
Cairo International Airport (Egypt)
Cape Town International Airport (South Africa)
O'Hare International Airport (USA)
Adolfo Suárez Madrid–Barajas Airport (Spain)
Premium Deluxe Edition ($119.99)
The highest tier version of Microsoft Flight Simulator is the Premium Deluxe Edition. This version comes bundled with 5 enhanced airports and 5 aircrafts on-top of those already in the Deluxe edition making it 10 aircrafts and 10 airports in total. The additional 5 included are:
Aircrafts
Boeing 787-10 Dreamliner
Cirrus Aircraft SR22
Pipistrel Virus SW 121
Textron Aviation Cessna Citation Longitude
Zlin Aviation Shock Ultra
Airports
Denver International Airport (USA)
Dubai International Airport (United Arab Emirates)
Frankfurt Airport (Germany)
Heathrow Airport (United Kingdom)
San Francisco International Airport (USA)
Xbox Series X/S
Microsoft Flight Simulator will be released on July 27th 2021 and will be playable on Xbox Series X.
Check out our other upcoming simulation games and upcoming xbox series x games.