This game was released on January 12, 2022 and is no longer available to pre-order. Any incentives that were offered are listed below.
Go on an epic adventure slaying ferocious monsters in spectacular fashion in Monster Hunter Rise. Monster Hunter Rise is an action RPG developed and published by Capcom. Initially released on Nintendo Switch early this year but will be coming to Windows PC early 2022.
Kamura village is a beautiful landscape with a rich ecosystem riddled with monsters for you to take on in fearsome battles. The monsters that plague the land offer unique challenges with each having distinct attack patterns and tendencies that you have to adapt to In order to become victorious.
Combat is varied and intense as you will have 14 different weapons at your disposal. Fire at monsters from range with your powerful bows or hack them to bits with your mighty greatsword. Collect loot from fallen beasts to upgrade your armor and weapons, making you the ultimate monster hunter.
Pre-order Bonuses
If you make a purchase through these links, we may get a share of the sale.
Standard Edition ($59.99)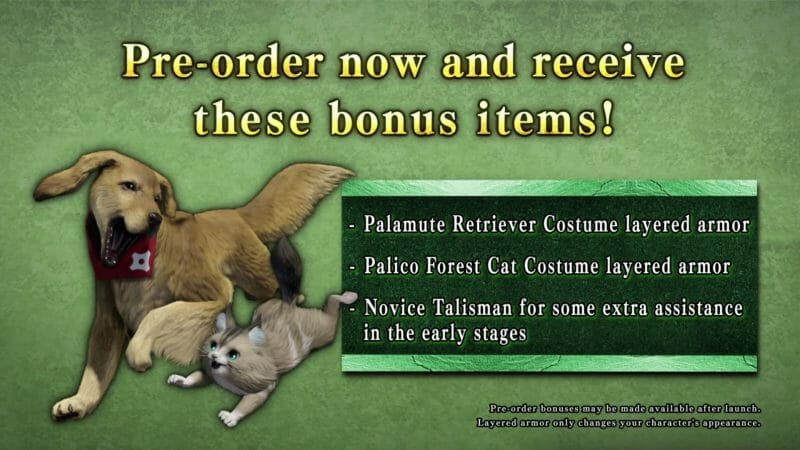 Preorder the Standard Edition of Monster Hunter Rise to get the base game plus some exclusive preorder bonuses that include:
Palamute Retriever Costume layered armor
Palico Forest Cat Costume layered armor
Novice Talisman for some extra assistance in the early stages
Deluxe Edition ($70.48)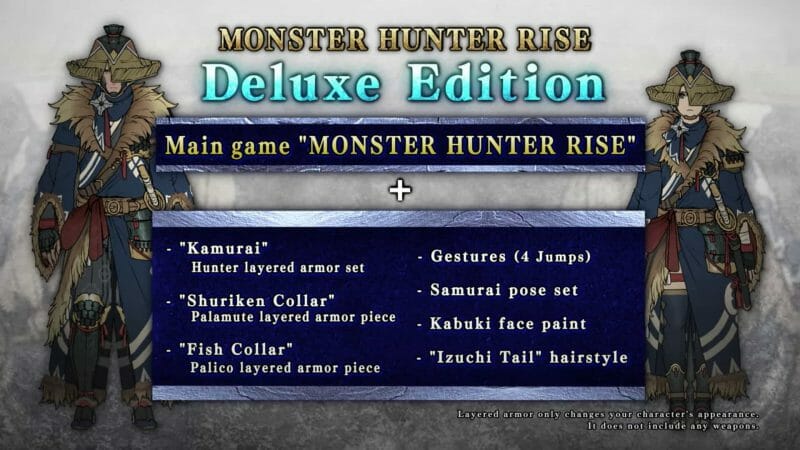 Monster Hunter Rise has a deluxe edition that gets you the base game as well as a bunch of exclusive in-game content such as:
"MONSTER HUNTER RISE" base game
"Kamurai" Hunter layered armor set
"Shuriken Collar" Palamute layered armor piece
"Fish Collar" Palico layered armor piece
Gestures (4 Jumps)
Samurai pose set
Kabuki face paint
"Izuchi Tail" hairstyle
Microsoft Windows
Monster Hunter Rise will be released on January 12th, 2022, and will be playable on Windows PC.
Check out our other upcoming action games and upcoming pc games.