This game was released on July 09, 2021 and is no longer available to pre-order. Any incentives that were offered are listed below.
Monster Hunter Stories 2: Wings of Ruin is a turn-based RPG spinoff, set in the same world as previous Monster Hunter games. 
You quickly find yourself in a dangerous situation. Your character meets a Wyverian girl, named Ena, who is in possession of a Rathalos egg. You need to help Ena protect the egg and find out why the Rathalos species is disappearing.
Throughout your adventure, you tame monsters that you can afterwards ride and lead into battle. 
The game is developed by CAPCOM and will be launching for Nintendo Switch and PC on July 9th, 2021. 
There are five preorder editions you can choose from and each comes with bonuses.
Pre-order Bonuses
If you make a purchase through these links, we may get a share of the sale.
1. Standard Edition & All Other Editions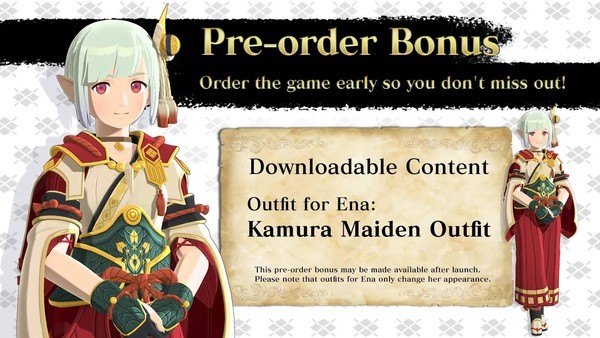 All editions of Monster Hunter Stories 2 offer a special bonus, the Kamura Maiden outfit for Ena.
You can get it on Amazon, Best Buy, GameStop and other popular retailers.
2. Monster Hunter Stories 2: Deluxe Edition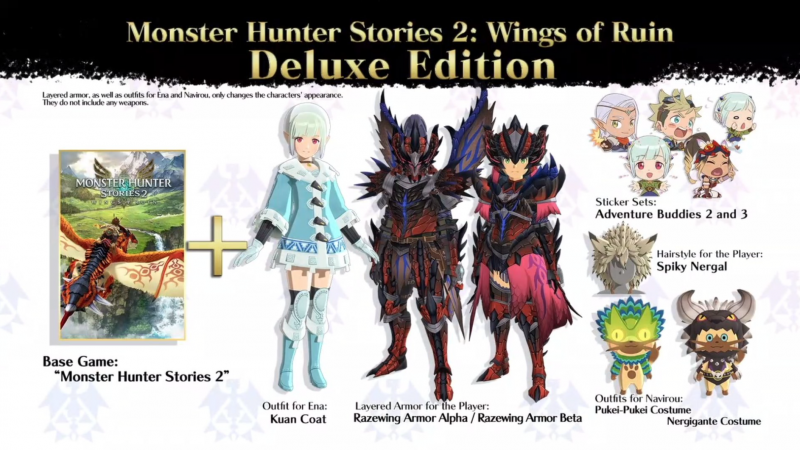 The Deluxe Edition of this game has a special price of $70, is available for pre-order on the Switch eShop and on Steam and comes with a pretty big package of bonuses. 
When pre-ordering the Monster Hunter Stories 2: Deluxe Edition, you will get: 
the Kuan Coat for Ena, 
the Layered Razewing Armor Alfa and Beta, 
the Spiky Nergal hairstyle, 
the Nergigante and Pukey-Pukey Constumes for Navirou and 
two sticker sets.
3. Monster Hunter Stories 2: Collector's Edition
You can pre-order the Collector's Edition for $100 exclusively at GameStop. The Monster Hunter Stories 2: Collector's Edition is only available for Nintendo Switch but we do have some great news for you:
Not only do you get all the bonuses included in the Deluxe Edition, you also get:
the Razewing Ratha Amiibo, 
an enamel pin and 
a sticker pack.
4. Monster Hunter Stories 2 Amiibo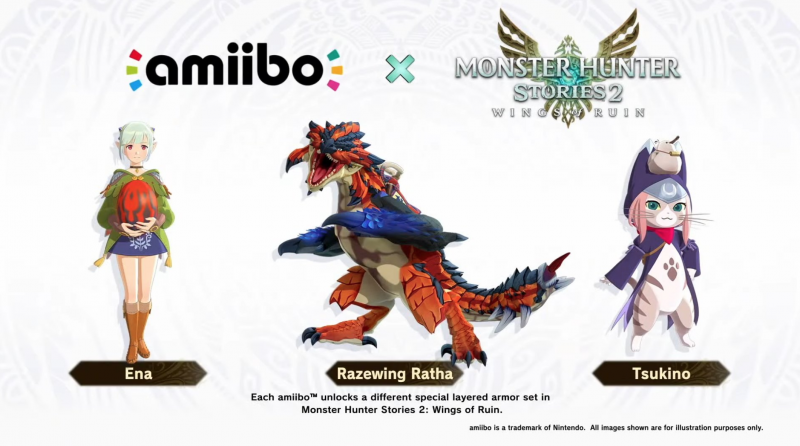 There will be three new Amiibo joining the lineup at launch! Each of the three Amiibo costs between $20 (Ena and Tsukino) and $23 (Razewing Ratha). Each of them unlocks a layered armor set for your character.
Check out our other upcoming rpg games and upcoming nintendo switch games.