This game was released on January 26, 2018 and is no longer available to pre-order. Any incentives that were offered are listed below.
Monster Hunter World is an open-world action RPG developed and published by Capcom. As the fifth main entry in their highly successful Monster Hunter series, it introduces seamless transitions between zones, larger maps, and an online co-op for up to four players without region lock.
The game has the player take on the role of a hunter on a research expedition to a newly discovered continent. It offers fourteen varied weapon types, such as dual blades, greatsword, lance, and bow, each with unique attacks and status effects. Furthermore, it is possible to switch between weapons mid-quest.
Pre-order Bonuses
Pre-order Monster Hunter World for either console to receive the Limited Edition bonuses:
Origin Armor set: a nostalgic must-have for series fans, this full armor set (head, chest, arms, waist, and legs) comes with enough defense to carry you through the early quests, and also features plenty of skills useful for gathering.
Fair Wind charm: carries a skill that increases your attack power, and one that adds a chance of reducing the damage you take. The charm also has a nice visual impact, as equipping it will add a glowing aura effect to your left arm.
Pre-order from the following retailers or digital storefronts for additional bonuses:
Best Buy: a Monster Hunter World SteelBook case
PlayStation Store: a PS4 theme based on art from the game
Digital Deluxe Edition
The Digital Deluxe Edition includes the following in-game extras (depicted above, in order of listing):
Samurai Armor set
3 Gestures: Zen, Ninja Star, Sumo Slap
2 Sticker Sets: MH All-Stars Set, Sir Loin Set
1 Face Paint: Wyvern
1 Hairstyle: Topknot
The PS4 version will also get 14 profile avatars featuring stylized icons of every weapon type in the game.
Collector's Edition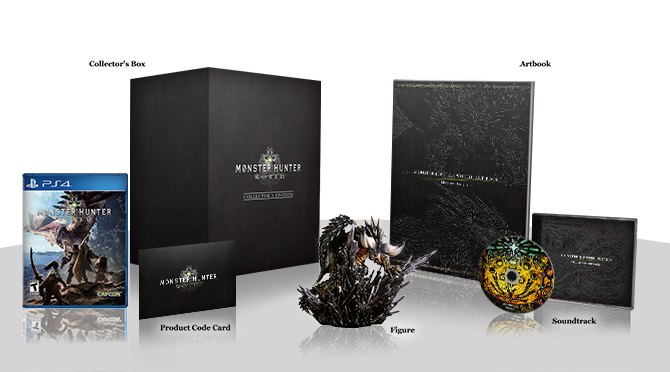 Lastly, the GameStop-exclusive Collector's Edition comes with the following, in addition to the game itself:
Deluxe Kit download code (aka all of the aforementioned contents of the Deluxe Edition)
Nergigante figure sized 140mm x 170mm x  125mm
Soundtrack download code (10 tracks)
"Monster Designs" 32-page art book
Naturally, the pre-order bonuses are applicable to both premium editions as well.
Monster Hunter: World is scheduled for a worldwide launch on January 26, 2018 for PlayStation 4 and Xbox One. The game will also be released for Windows at a later date.
Check out our other upcoming action games and upcoming pc games.