This game was released on June 12, 2020 and is no longer available to pre-order. Any incentives that were offered are listed below.
Mortal Kombat 11: Aftermath is a major expansion for MK11 that continues the story where the original game left off. It adds three new playable characters to the roster – Robocop, Sheeva, and Fujin – as well as three new skin packs that will be released over time. One skin pack can be obtained on day one by pre-ordering the expansion as detailed further below.
Aftermath can be purchased separately as a digital upgrade, or bundled together with the original Mortal Kombat 11 for those who don't yet own it.
Pre-order Bonuses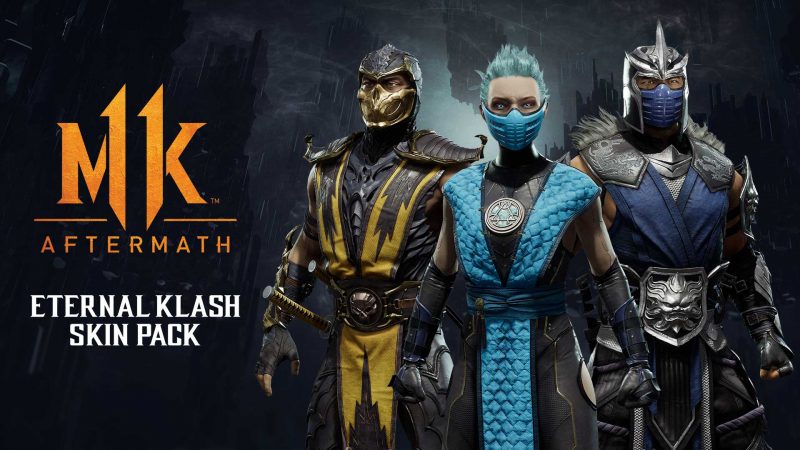 Pre-order Mortal Kombat 11: Aftermath for any platform to receive access to the Eternal Klash Skin Pack upon launch. The DLC includes three skins:
"Unbound Rage" Scorpion – inspired by Mortal Kombat (2011)
"Son of Arctika" Sub-Zero – inspired by Mortal Kombat: Deception
"Kori Power" Frost – a Klassic version of the Lin Kuei warrior
On top of that, the following retailers are offering pre-order bonuses of their own:
GameStop: after purchasing Aftermath, you can buy the animated Mortal Kombat Legends: Scorpion's Revenge movie discounted to $9.99. The offer will be available until June 30 – so, for a couple weeks until after the launch.
Best Buy: free HBO Max for 30 days (new subscribers only).
Amazon and Walmart: ~$10 discount on the Aftermath Kollection.
Let's have a look at what options you have when pre-ordering this game.
Mortal Kombat 11: Aftermath Expansion ($39.99)
Existing owners of the game can purchase the expansion digitally for $40. You get the aforementioned pre-order bonus but no other bells and whistles.
Mortal Kombat 11: Aftermath + Kombat Pack Bundle ($49.99)
The digital expansion can also be purchased bundled together with the first Kombat Pack for $50. Once again, ownership of Mortal Kombat 11 is required.
Mortal Kombat 11: Aftermath Kollection ($59.99)
Lastly, the Kollection includes the base MK11 game, the Kombat Pack, and the Aftermath expansion. It can be purchased for $60 digitally or at your favorite retailer.
Mortal Kombat 11: Aftermath launches digitally on May 26, 2020 on Xbox One, PlayStation 4, Nintendo Switch, and PC via Steam. The physical release of the MK11: Aftermath Kollection will follow on June 12, 2020.
Check out our other upcoming fighting games and upcoming nintendo switch games.