This game was released on March 23, 2018 and is no longer available to pre-order. Any incentives that were offered are listed below.
Ni no Kuni II is a role-playing game developed by Japanese studio Level-5 and published by Bandai Namco. While set in the same world as the award-winning Wrath of the White Witch, it takes place during a different time period, and follows an entirely new cast of characters.
The game's protagonist is a young cat-eared prince named Evan, who becomes king after his father's abrupt passing, but is immediately ousted from the position by the nefarious royal adviser, Otto Mausinger. Barely escaping with his life, Evan embarks on a quest to reclaim his kingdom, with some help from a band of sky pirates and a visitor from another world.
Pre-order Bonuses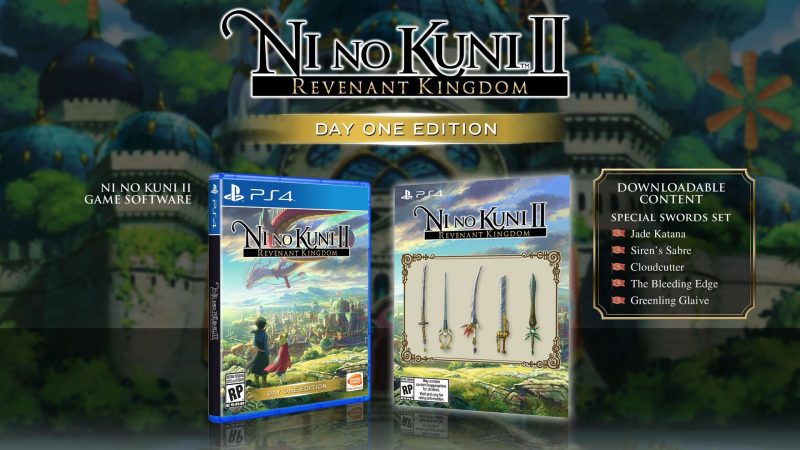 Pre-order Ni no Kuni II to receive the Day One Edition with the Special Swords Set DLC depicted above. The set includes five rare weapons, namely Jade Katana, Siren's Sabre, Cloudcutter, The Bleeding Edge, and Greenling Glaive. Any additional bonuses from retailers or digital storefronts are listed below:
GameStop: an exclusive Lofty keychain. Previously, a Ni no Kuni 2 poster was offered.
Best Buy: an exclusive enamel FiGPiN of game's protagonist Evan.
PlayStation Store: Evan, Roland Crane, Lofty, Fire Higgledy, and Tani Avatars, as well as a PS4 theme.
Bandai Namco Store: an exclusive physical map replica, only with pre-orders of the Collector's Edition.
There also are three premium editions of the game available in the US, as detailed below.
Digital Deluxe Edition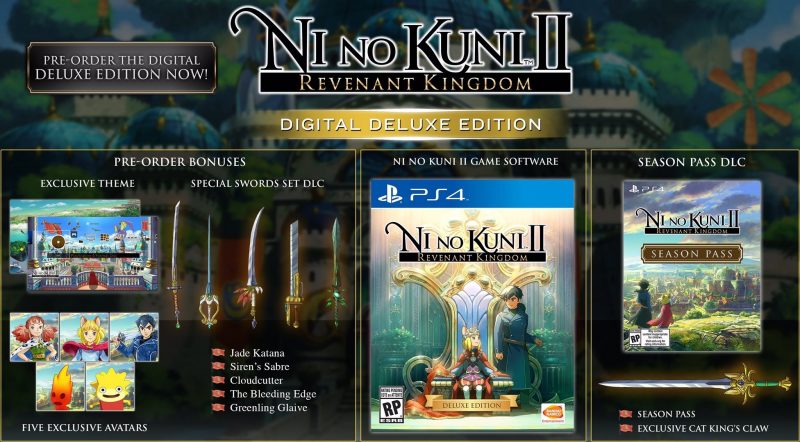 The Digital Deluxe Edition is priced at .99 and includes the game, the aforementioned pre-order bonuses, a starter equipment package, and the Season Pass. The latter grants access to two future game expansions that are said to add hours of additional gameplay.
Premium Edition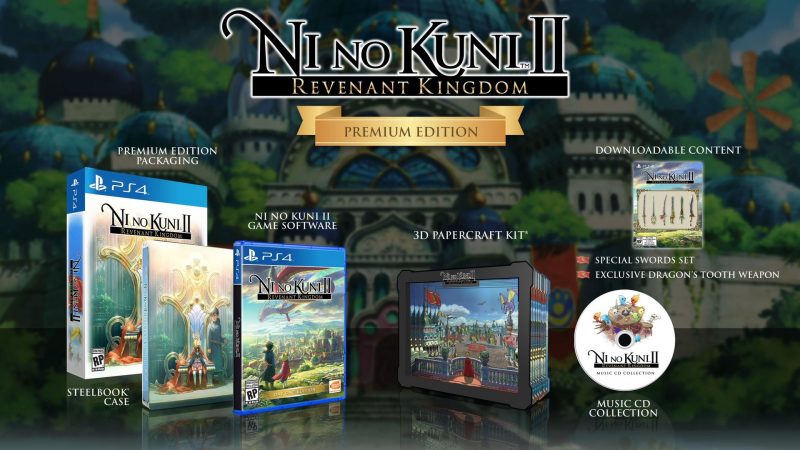 Also priced at $79.99, the physical Premium Edition does not include the Season Pass, but comes with the following extras instead:
Premium Edition Packaging
Steelbook Case
3D Papercraft Kit
Music CD Collection
Dragon's Tooth Sword DLC
Collector's Edition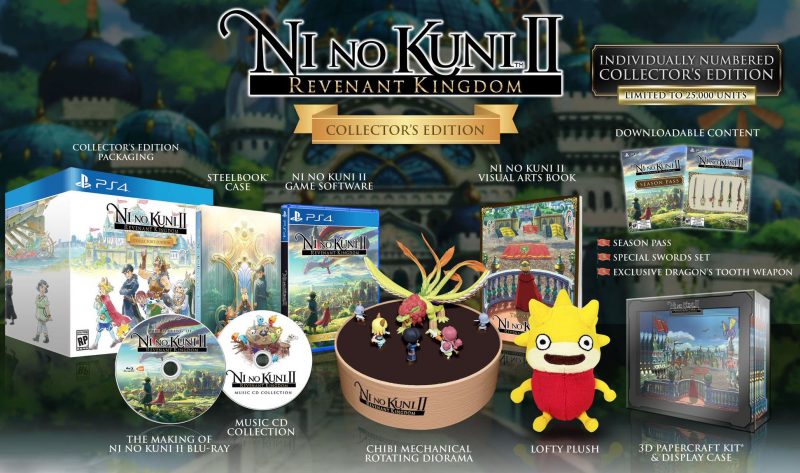 Finally, there's the massive $199.99 Collector's Edition, of which only 25,000 individually-numbered units will be manufactured. In short, it includes everything listed under the previous two editions, and more:
Collector's Edition Packaging
Steelbook Case
3D Papercraft Kit with Display Case
Music CD Collection
The Making of Ni no Kuni II Blu-Ray
Lofty Plush
Chibi Mechanical Rotating Diorama
Ni no Kuni 2 Visual Arts Book
Dragon's Tooth Sword DLC
Season Pass
After being delayed twice, Ni no Kuni II: Revenant Kingdom will be released on March 23rd, 2018 for PlayStation 4 and Steam simultaneously.
Check out our other upcoming rpg games and upcoming pc games.